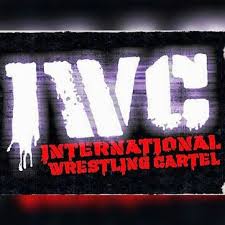 Yesterday afternoon, while I was about half way through an article on the status of WWE star, Bray Wyatt's impending return (look for that sometime tomorrow), I received a text from the great Pat Maclaughlin, my wrestling pal that sometimes gets mentioned in this column for reviews of All Elite Wrestling live events. Pat, despite his aging status has been a true friend and mentor for several years, offering advice since he's older and wiser. So, I always look forward to getting the chance to hang out with him since it's always a fun experience. Maclaughlin is a father of four, and I'm convinced that he's secretly building his own pro wrestling stable, but that's pure speculation.
After a few days spent watching his three youngest kids, Mac was given the green light by the boss of the house, Mrs. Maclaughlin, to check out some of the local wrestling action so he asked if I'd like to tag along to see the International Wrestling Cartel's Caged Fury event, the organization's annual cage match card that has been a staple of the Pittsburgh wrestling calendar for many years. Since I'm often announcing events for other local organizations or covering the mainstream shows, I rarely get a chance to watch the local scene as purely a spectator, something that gives you a completely different viewpoint since you don't have the pressure of the performance as the matches unfold.
For those that might be unaware, Norm Connors, the godfather of the Pittsburgh independent scene, was one of the founding members of the IWC group along with Bubba The Bulldog, a local radio DJ for the past few decades. Norm was there for the upstart league's first event at the tiny Emerald Room in McKees Rocks in 2001, and promoted the brand for nearly a decade, bringing in names like AJ Styles, Christopher Daniels, CM Punk, and many others during its heyday.
After almost 10 years as the IWC promoter, and I would guess to preserve his sanity, Norm sold his interest in the promotion to Chuck Roberts, who worked as a ring announcer for the organization. After a five-year stint as the head of IWC, Roberts looked to move onto other ventures so Justin Plummer, originally a backstage correspondent, bought the company in 2014. By all indications, Plummer will soon reach his own 10-year milestone with IWC, making him the longest-tenured owner of the organization.
Just as the pitter-patter of rain on the windshield started, Maclaughlin and I began the quick ride to Marx's Court Time in Elizabeth, Pennsylvania, as serve thunderstorms were expected for Western, PA that night. A quick side note that might sound trivial, I want to mentioned that the venue is very nice, and while I hadn't been there in several years, there were new additions that made it a good building for professional wrestling. It was a stark contrast to some places within the indy scene where the venues look like something from the Saw franchise.
As we entered the building, I had a chance to talk to Nick Lendl, a ring announcer and broadcaster for the organization. Nick is a great guy that had success in Pittsburgh and outside of it,doing some work for Ring Of Honor and All Elite Wrestling in the past. All things considered, I wouldn't be surprised if Nick lands a full-time gig somewhere nationally, he has the talent. Maclaughlin had the chance to catch up with M-Dogg Matt Cross before bell time since he was an acquaintance from years earlier. It must be said that even after almost 25 years in the ring, M-Dogg can still go.

The show started promptly at 7 PM, which is always good and a sign of professionalism from organizers. The event opened with a very touching tribute to Kevin Kareis, a longtime IWC fan that recently passed away. Kevin was known for his smile and positivity so it was very classy for the company to recognize him.
To parse details on each match would be too lengthy, but I'm going to attempt to highlight a few things and encourage those who haven't seen it to check it out online.
One of the most interesting aspects of the indy circuit is that you get the chance to see athletes before they potentially develop into major stars, and it's always neat to get a peek at that potential. Several youngsters on the IWC roster showed glimpses of that potential throughout the night. Anthony Young, Anthony Catena, Matthew Jaeger, and others showed that they have promising careers ahead of them.
Spencer Slade beat Flip Gordon to retain the High Stakes belt under specific rules. I don't really see anything special about Flip, as he has a very generic presentation and doesn't do anything in the ring that you can't see others perform elsewhere. Spencer is on the other end of the spectrum with seemingly all of the tools to be in the big leagues, Slade looks like he belongs on national television.
As the night progressed, there was an intermission to allow for the cage to be set up, and there were three cage matches scheduled. Cole Karter was originally advertised, and I'm not sure if I missed something, but he wasn't at the event. Instead, Ganon Jones Jr., a tremendous athlete that looks like someone that was built from the ground up to be a pro wrestler, squared off with Andrew Palace, one of the mainstays of the Pittsburgh area that has been a consistent quality in-ring competitor for several years. These two had a very solid, fast-paced match with a conclusion that allowed the villainous owner Justin Plummer's associates to assist Palace for the victory. Isaiah Broner challenged Bill Collier for the IWC Heavyweight title, and this was a physical bout that saw Collier retain. Collier is a guy that probably should've been offered a national deal at some point in the mid-2000s, he's an agile big man that provides quality action.
The main event saw Jock Samson, a charismatic country brawler from the Buckeye state, put his career on the line against the previously mentioned Justin Plummer. The argument could be made that the heel owner storyline is passé, but it worked in this segment. The crowd was behind Jock, and Plummer generated animosity from the audience. The performance allowed for this segment to be more organic instead of a recycled concept. The narrative was simple, but effective. Plummer had interference that put hurdles in Jock's way and the momentum tilted toward the conclusion of the bout. Jock is a prime example of what can be accomplished with storytelling inside the ring ropes, and he's a great performer. Plummer was lacerated after he hit the steel cage so you have to give the guy credit, he was quite literally willing to bleed for his company.

Just as it looked like the odds might overcome the fiery fan favorite, Duke Davis, the tag team partner of the previously mentioned Ganon Jones, made his return to IWC to make the save for Samson. Duke's family suffered a tragedy earlier this year and he had to step away from the professional wrestling industry. Despite his massive frame and intense look inside the ring ropes, Duke is one of the kindest people I've met in wrestling. I've known Duke since he started training to be a wrestler several years ago in a smaller organizations and announced some of his first matches. He was always so polite and humble even after he gained notoriety as a member of The Mane Event tag team.

The crowd erupted and it was one of the loudest reactions I've ever heard on the local scene. In true "Meta Human" fashion, Davis ripped the door off the cage and cleaned house. After Duke dispatched of the goons, Jock climbed to the top rope and dropped an elbow to put Plummer through a table. Jock got the victory and celebrated with the crowd.
The highlight of the night was absolutely the return of Duke Davis, and I'm really happy that I had the chance to be there live for it. The crowd reaction showed how much love and appreciation that the local scene has for Duke, and he deserves all of it. Sometimes, professional wrestling can have very special moments, both for the athletes and the fans.
For more information about IWC, you can go to iwcwrestling.com
What do you think? Share your thoughts, opinions, feedback, and anything else that was raised on Twitter @PWMania and Facebook.com/PWMania.
Until next week
-Jim LaMotta
E mail drwrestlingallpro@yahoo.com | You can follow me on Instagram, Facebook, & Threads @jimlamotta89