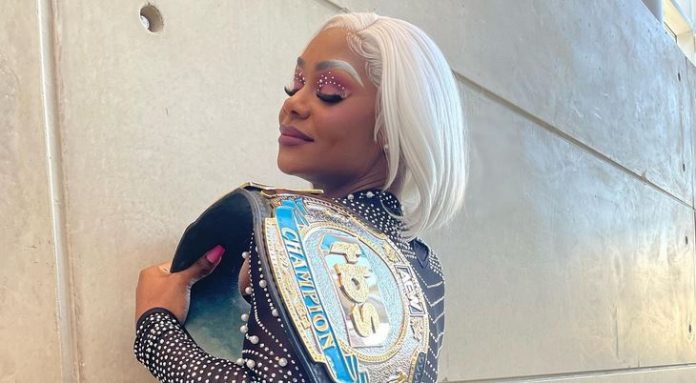 Jade Cargill recently sat down for an extensive one-on-one interview with Bootleg Kev covering all things pro wrestling and AEW.
During the discussion, the undefeated TBS Women's Champion spoke about getting a big push on TV straight out of the gate in All Elite Wrestling despite her lack of experience.
Additionally, "That B*tch" revealed advice given to her by former AEW Women's Champion Dr. Britt Baker, D.M.D.
Featured below are some of the highlights from the interview where she touches on these topics with her thoughts.
On how she came out of nowhere and was given a top spot on television despite her lack of experience: "I just came in out of nowhere. These other girls have been grinding on the indies for years; they have a fan base. Like, they've given a lot of their time and work and all their bodies to the sport, and here I am, I'm coming in and I look good, and it's like, 'Okay, you're kind of being shot to the top right now.'"
On advice Britt Baker gave her: "[Britt is] not even our champ but she's on TV, she's right there with our champ, she's on flyers, she's on this but she puts asses in seats. So, that's one woman I had a heart-to-heart with and I spoke about it like, 'How do you deal with it?' And she gave me some great advice, and now I could care and give a f**k less about any of that. I'm placed in a position, and I have to understand that I have to hold my head high and keep it moving. And I have to trust in our owner that he put me into this position for a reason."
Check out the complete Jade Cargill interview with Bootleg Kev via the YouTube player embedded below. H/T to WrestlingInc.com for transcribing the above quotes.