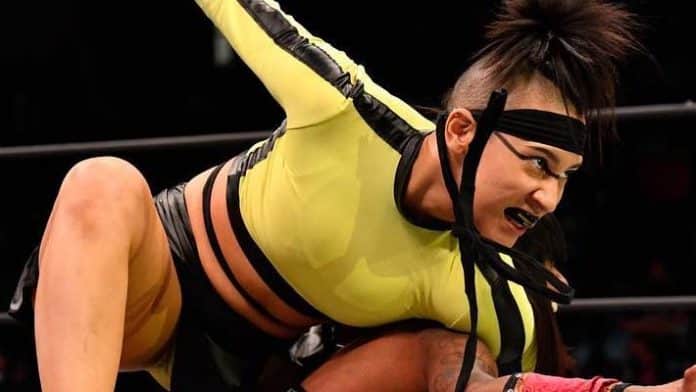 In an exclusive interview with PWMania's Scott Mitchell (@ScottsScoop44), Janai Kai opens up about getting started in the world of professional wrestling, switching from kickboxing to professional wrestling, what's next for her, and more.
The Beginning of Janai Kai
When she was a kid, Janai Kai started watching wrestling with her father. "He would take me to shows, and we would just watch it religiously every week," Kai tells PWMania. "I did Tae Kwon Do at the time, so I loved seeing the one-on-one fighting. I fell in love with both Tae Kwon Do and wrestling, which is why I really wanted to get into it."
Growing up, Kai was a big fan of Rob Van Dam, Tajiri, and Victoria. "Tajiri was very comical, and he always captivated my attention with his style," says Kai. "When it came to the women, Victoria always made me feel that in-ring intensity. The way she just went hard, I could feel everything she did."
For Kai, there were two points in her life where she strongly considered professional wrestling training. "The first time was when I was 13," states Kai. "I told my mom I really wanted to see how I can get into professional wrestling training. In around 2006, I did my own research and there weren't many schools at the time."
However, Kai did stumble across a couple in her google search. One of which, was located in Virginia where she happened to be living at the time. "Mickie James went there, and that was enough to excite me and bring me in to check it out," says Kai. Kai's mom brought her to the school and Kai got to speak with the owner a little bit.
"He asked me if I really wanted to do this because I was so young," states Kai. "I said yes, but I wasn't able to due to financial reasons, but it never left my mind as to how to get into this world." As time went on, Kai got into other things and began getting more serious in her kickboxing training.
"I was training for a fight that I had to lose 20 lbs to get to her weight class," says Kai. "It was a lot hard work. The week of my fight, my opponent pulled out and there wasn't anyone else for me to fight. I questioned if I wanted to keep going through this training after this."
Kai always loved kickboxing, but wrestling remained on her mind as well. "I was in college at the time, and my college in particular had trouble with the program [fashion marketing] I was in," states Kai. "A lot of the professors were leaving, and I just got a bad vibe, and after my program told me it wouldn't be succeeding as much as the others, that just told me that it was time to leave."
When Kai left college, it freed up a lot of her time, so she decided to finally get into professional wrestling training. "I researched, and it was like 2017, so there were a lot more schools around to begin training," says Kai. "I found one in Florida, so I decided to move there and begin training."
Janai Kai Begins Training
Immediately upon joining training, Kai received help from a very reputable women's wrestler, Santana Garrett. "That school had an all women's class on Monday nights, so I went there," says Kai. "Santana Garrett was running the classes, and immediately I was welcomed."
Garrett took Kai under her wing and helped to guide her in the right direction. "She helped me with anything that had to do with the business," states Kai. "She helped me with social media, taught me how I should run my social media, and she did really well with reaching me the fundamentals inside the ring."
Another person who helped Kai get started was Erik Lockhart. "He was from Reality of Wrestling, Booker T's school, but he moved to Florida as well," says Kai. "He became a trainer at my school and helped me a lot. He helped me find myself in the rind and helped me figure out the character I really wanted to portray."
Kai's first match was against Santana Garrett in a student vs teacher type of match in a show for her school. "Santana was great with making me feel comfortable in the ring," says Kai. "She knew me from the very beginning, and knew how to work with me to make me feel comfortable."
"I was a little bit anxious heading into this match, but also felt very comfortable as well," states Kai. "Being a martial artist, I knew how to strike and hit people, but you obviously don't want it to look to real. You want to find a happy medium."
Kai was able to get the fundamentals of wrestling down rather quickly. "While I had my fundamentals down pat, I was hoping this looked good and made my trainer proud," says Kai. "It was great, and made me want to work even harder. All the feedback I got, I saw I was able to grow even more, and just get better. That's what makes me love a sport even more. Overall, this was a great experience for me."
Janai Kai becomes the "Kick Demon"
A couple of years back, Kai would occasionally fight for a promotion called CFU, Combat Fights Unlimited. "This was the first ever taping that we had," says Kai. "There was a company in Japan that watched it on IWTV, and were giving everyone nicknames. They gave me the nickname of Kick Demon."
Kai liked this nickname a lot. "It was funny at first, but sounded cool and different," says Kai. "I had another moniker at the time, but I wasn't feeling it 100%. I wanted to get rid of it anyways, and when I hard Kick Demon, I knew right away I wanted to go with it."
Kai takes over the Independent Wrestling scene
Janai Kai has gotten the opportunity to wrestle all over. She has built up a name for herself in her young career, and has been making waves. One of the promotions she wrestled at was RISE before it closed down. Kai enjoyed working at RISE and found it to be a very cool experience.
"This was my first experience working with other women who were definitely at higher levels than I was," states Kai. ""I was very nervous. That's the #1 thing I remember was just how nervous I was. I was still trying to figure out my whole character, and then there was just a lot of nerves going into it."
Coming into RISE, Kai wasn't sure what to expect. "The locker room was all incredibly welcoming," says Kai. "They all had something different, and seeing how they wrestled, they were all very confident. They took care of me, and it was such a great learning experience. It was very inspiring to me, and I thought to myself how I really want to be that person to someone someday."
Kai also got the opportunity to wrestle at arguably one of the biggest independent wrestling companies in the world, GCW. "I started off with JCW, and then got brought into GCW," says Kai. "When I first got into it, I was very nervous. They had a lot of eyes on them, and their fanbase is very passionate."
This got Kai thinking about the whole character, and confidence part of wrestling. "A lot of people there have their own character, and their confidence is everything," states Kai. "They have that theme song where fans immediately know who it is, and they have their own brand in a way, which helped me discover my brand as well." Wrestling for GCW was another great learning experience for Kai.
Kai also got the opportunity to wrestle at another one of the great promotions around today, Shimmer. "It was great working here," says Kai. "I never thought I'd be able to wrestle here." During that time, Kai began to create more of a name fo herself.
"This was when the Kick Demon moniker just started, and it was a sign to me that I was ready," says Kai. "Shimmer is a historical place to be. I was automatically comfortable because I knew I had something of myself already, branding-wise. This made me not too nervous."
When she found out she was going to wrestle Nicole Savoy, Kai saw Nicole's tweet about wanting to wrestle her for her birthday. "I knew this was going to be really, really good," states Kai. "A lot of people compared us already, so I knew we would bond in some sense. We did too. We teamed up after that match to take on The Hex which was also really cool. Wrestling for Shimmer was a cool experience. I love and miss it and hope to be back one day."
Janai Kai Goes All Elite
Janai Kai has gotten the opportunity to wrestle for All Elite Wrestling on multiple occasions. She has wrestled Jade Cargill, Red Velvet, Leyla Hirsch, and Athena so far in her time competing for AEW. "It was a great experience," says Kai. "Everyone was very welcoming, and helpful all the times I've been there."
Not just her opponents, but agents, and backstage producers were all very helpful to Kai. "They gave me good advice and were just very easy to talk to," states Kai. "In that sense, it was very comfortable. When it came to my opponents, not much changed."
"Working with Jade was great," says Kai. "She's great. It was awesome working with someone who didn't really come from wrestling. She came from the entertainment field, and she just gets it. It was so much fun, and very easy to work with her. She just gets it."
Prior to signing with AEW, Red Velvet worked with Kai before. "I worked with her a little bit prior to her signing," says Kai. "Although we never went one-on-one, getting the chance to finally make that happen on the platform we did, was great."
Kai was supposed to have a match on the indies with Leyla Hirsch, but unfortunately that never happened. "I was very excited to work with her and I hope it happens again," says Kai. "I know people were excited because we were both very shooter heavy and had similar backgrounds."
Kai went one-on-one with Athena at Warrior, prior to their match at AEW. "I loved that match," states Kai. "To do it again on AEW was great. I love Athena, she's great and she's one of my all-time favorites when it comes to learning from in the ring."
Working on the indies, and working TV although similar, can be very different. "You have the camera angles, which they teach you on the indies," says Kai. "The timing is very particular, they way you do anything, you have to show it big enough for everyone to see."
Prior to appearing on AEW, Kai would prepare her mind for how her character would do just that. "My facial expressions are a very strong part about my character," says Kai. "My kicks as well, all had to be very on point. I also needed to make my opponent look very good. I wasn't actually crazy nervous, just a little bit anxious."
What's next for the "Kick Demon" Janai Kai?
Coming into 2023, Kai hopes to go more overseas, like Japan. "I recently had matches with Joshis, and I loved working with all of them," says Kai. "I was very comfortable in the ring with them, and I always loved the Japanese style. I connected with it so much, and that's definitely a goal as to why I want to put my name more out there."
If you wish to follow Janai Kai, you can do so on Instagram and Twitter. If you'd like to buy merch, you can shoot her a DM or email on Instagram, or Twitter.