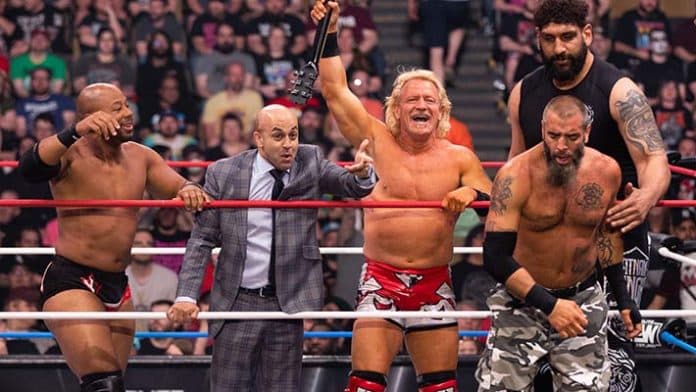 AEW stars Jeff Jarrett and Jay Lethal exclusively spoke with PWMania.com's Ari Barkan about a wide range of topics, including Tony Khan, adding a new member or two to their faction, Sunday's Double or Nothing PPV, AEW All In at Wembley Stadium and much more.
You can check out the complete interview below:
You both have worked with many promoters throughout your careers. Where does Tony Kahn rank?
Jeff Jarrett: It goes without saying Tony, at the end of the day, has a passion for wrestling. Certainly, like myself. I'm not gonna speak for Jay. I don't know that I've seen a man with more passion for the business. Obviously, he's somewhat new to the promotion game. And so even folks that have been around for years and years, it's not the easiest thing. But I can tell you this. Nobody in the entire history of this business, to my knowledge, has put together a company and under five years, have five hours of broadcast television globally. So I think that alone speaks for itself.
We're getting live shows with AEW now. How do you feel the live house shows are doing? And do you think ultimately we'll have weekly house shows?
Jeff Jarrett: It's a crawl-walk-run process. I think that is a sound strategy because diving into anything like an undertaking non-televised live events. We've only done three. We have two more on the calendar, obviously, with the launch of Collision. I'll say on the books in the first quarter of this year. So you know, originally looking at Fridays and Saturdays to do House Rules events.
The calendar, as far as television productions doubled, essentially, yes, we have pay-per-views. But you know, instead of a Wednesday- only television show now we're Wednesday, Saturday. And so that obviously factors into everything, but we're gonna get there. But I think the underlying theme is crawl, walk, run, but coming out of the gate, a sellout and you know, bigger buildings in Corbin and Salem, both very, very, you know, good crowds, super lively. My broadcast partner, Conrad Thompson says it better than me that, you know, it's the only event you can go to, you know, we're coming up on Double or Nothing. That's obviously the people in the arena are gonna love it. But it's driven for the Pay Per View audience, the Wednesday and Saturday come shows, those are television. So you have commercial breaks, and all the necessary necessities that you have to do with producing TV content. At a live event, when you come, that show's for you. And that just speaks for itself. It's a very, very much more interactive experience.
Double or Nothing – we got a packed card, you know, what can we expect from the both of you? And can we see the Lethal Connection getting an additional member this weekend?
Jay Lethal: Double or Nothing, I think Jeff and I have said it plenty of times on national television, or any time anybody will ever listen to what we're saying, we're going to become the next AEW Tag Team Champions and you ask will we get a new member, and I hope that you're not hinting at that being Mark Briscoe because Mark Briscoe, one of my best friends in the whole world and you know, Jeff's warming up to him. And he's known Sanjay forever. I would say that he's already an honorary member of the Lethal Connection. If I can use that name that you've dawned us with.
Let's say you do win the Tag Titles. Are the Trios next, either with Satnam Singh or with this new member?
Jeff Jarrett: I'll clear that up. A friend of Jay's, is a friend of mine. It just goes without saying, but Briscoe, he has a job to do this weekend. And we keep kind of using the same kind of mentality, he's going to do the right thing when the time comes. I'll leave it at that. But the Trio's Title, I'll say this, I think Satnam Singh has the most potential of anybody on the AEW roster, candidly, bar none. But when we win those Tag Titles, me and Jay, don't plan on losing them anytime soon. With the addition of Karen, you kind of look at our unit. A lot of names are bannering around; Lethal Connection, Triple J, I hear a name here and there. At the end of the day, we want to be called winners. And that's what we plan on doing when we win the Tag Team Titles.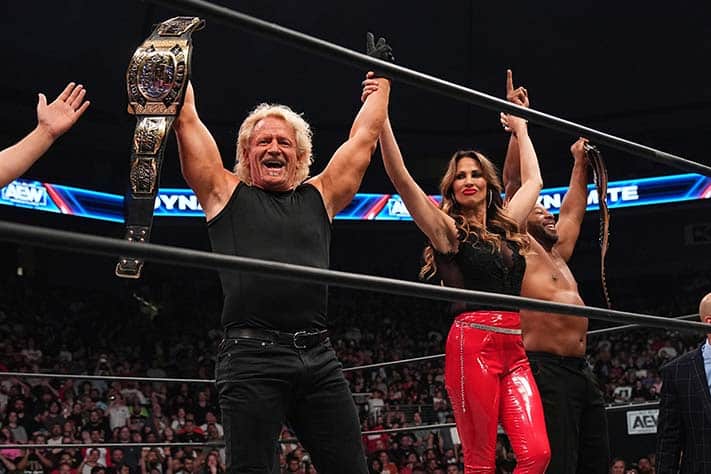 All In, we'll be in London, Wembley Stadium. Everything about this event is historic. What does it mean to you both to be able to perform in front of so many fans across the pond? Do you see AEW doing more international tours? And do you see yourself both coming into this event As Tag Team Champions?
Jay Lethal: I'll start with the last part of that question. Do we see ourselves coming in there as Tag Team Champions?, 100%. To touch on what this means to me and I can't speak for Jeff, but growing up, for most people who got into the wrestling business when I got in, there was only one company to work for to be on a show this large. To be on a show of this level and on this stage, this magnitude, this amount of buzz, there's only one place and luckily, I've never had to go there in order to reach this dream, this level. I gotta tell you, that means the world to me. It's super exciting that for wrestlers of my generation, there's more than one place to go. And right now if you want to be at the top, there is really only one place and I'm telling you I put my money on it and my life on the line. Every time I step into the ring, AEW is the place to be if you want to be anything in professional wrestling, and we're going to have one of the wildest, craziest, most hyped events in London. I can't wait to go.
I love the UK. I know a lot of people are always like, 'Oh, well look. The weather is always a little doom and gloom. It's always a little cloudy, overcast.' I love that weather. I moved to Tampa, Florida because I like the heat. But what I don't like is the cold. I'll take a little rain. I'll take a little overcast. I'll take a couple of meat pies. I love the food there. I love everything about the UK. I think I stayed there one time for about a month and a half. That's how much I loved it. I went over for one or two shows and ended up staying for a month and a half. So yeah, I can't wait. And this is going to be a big, big thing to check off my list when I finally write a book if I ever do.
Jeff Jarrett: Wembley 1992, I'd been in the business about six years, and I can remember watching that show, SummerSlam 92. And you know, wrestling hasn't been in that stadium since. I've wrestled in Madison Square Garden and essentially every major arena around the world. So to get the opportunity to be international soil, I think it goes without saying I'm a huge fan of the international wrestling scene, no matter whether it's Australia, Japan, Europe, India. I think these those are the emerging markets in our industry, but to go into Wembley, on the 100 year anniversary, for AEW and how kind of the stars aligned.
I'll get a little sentimental here but if you would have told me six months ago that I have the opportunity to be heading to the ring with Jay Lethal, Sanjay Dutt, my wife, and Satnam Singh, which is truly a one in a billion, and maybe another member or two, I'm gonna throw that little clickbait out there for you. But no, it really is a dream come true. For this opportunity to come at this stage of my career. It is a chapter that I never ever thought that I'd see happen. And I'll say this, 60,000 tickets sold and we're three months out, that's amazing and says a lot. So yeah, to say I'm pumped for that, that's an understatement.