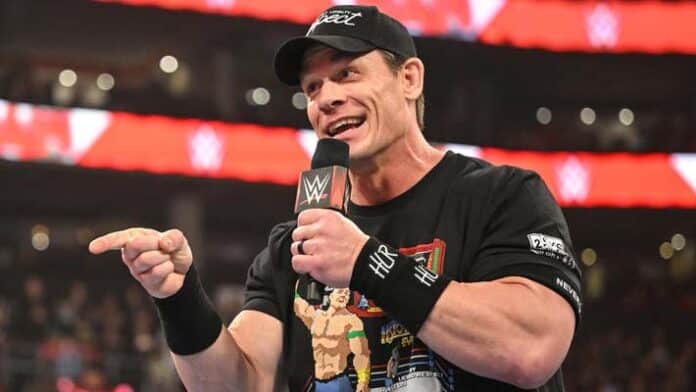 Is WrestleMania Goes Hollywood the swan-song for John Cena's legendary WWE career?
The future WWE Hall of Fame legend recently spoke with Dan Gelston of the Associated Press for an interview, during which he clarified a comment he made about WrestleMania 39 being the last time WWE fans will see him in the ring.
Featured below are some of the highlights from the interview where he touches on this topic with his thoughts.
On the comment he made during his Raw promo about his Austin Theory match at WrestleMania possibly being the last time WWE fans will see him in the ring: "I tried to put it in words in Twitter. I guess I didn't explain myself correctly. It was the first time I came out into the arena knowing that this has a definitive end. Normally, you come out, you get all excited, OK, this is the next one and I'm waiting for the next one. I'm not done, of course. I made that statement accepting a match at WrestleMania so I know I have at least one more in front of me. But what I was trying to convey was, that was the first time I looked at all that excitement and energy and realized this is the twilight of that journey."
On why he's coming back for a rivalry with Theory: "You would be surprised at my answer. Because that's what I was told would happen. I don't do that. I don't say, I want to do this. I want to work with that person. I don't ever do that. I've never done that. I just try and do what I'm told to do and do it to the best of my abilities. Instead of dictating my terms, I often just try to make the performance the best it can be. What I don't do and what I've never done is curate the direction of the narrative. I don't pick opponents, but I love to tell stories. I didn't pick Austin Theory but I certainly spoke from the heart (on RAW)."
On his schedule and where he's at in life: "I'm feeling my age, so to speak. I could use a little bit of rest, but all my choice. These are wonderful things to be a part of. This one I'm really excited for because this movie does not stop. It is going to be action from the opening credits. We have a great team that mixes action and comedy. I'm also trying to do my best to, I hate the term work-life balance, but I'm trying to do my best to not fall into the trap of workaholism where I just hide in my work and I'm not a fully open, vulnerable human being to the people around me, the people that I love. I haven't yet sacrificed my relationships for my work. I'm at a pretty good pace right now where I can hit on all cylinders."
Check out the complete interview at APNews.com.