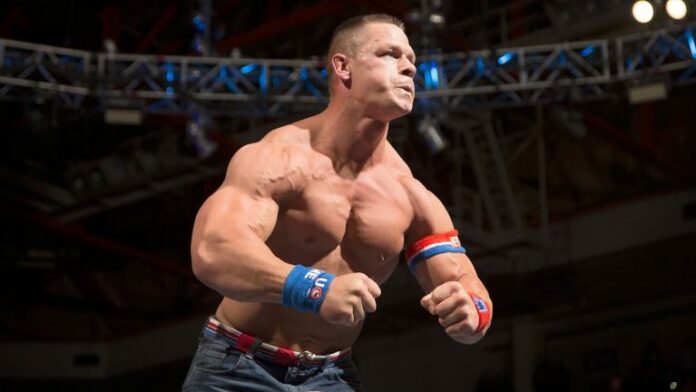 John Cena chats with Chris Van Vliet from WSVN-TV in Miami before the premiere of Season 2 of American Grit. Cena talks about his conversation with Ric Flair after tying Flair's record, how many more titles he thinks he'll win, what's in store for his return to SmackDown Live on July 4th, who he will pass the torch to in WWE and more.
How his schedule has changed since he started doing movies and hosting TV shows:
"I'm used to living a pretty fast life in the WWE world so it's no different, it's just dividing up the hours a little bit differently. But American Grit Season 2 was something I was very happy to be a part of. I think Sunday nights, everyone who watches the show on FOX is going to feel the same. It's a wonderful journey for all of our contestants who have self proclaimed that they've lost their grit."
Did he wrestle the entire match at WrestleMania 33 with the engagement ring in his pocket:
"There are some secrets that should be kept secret my friend. That one's for me to know. I like the fact that a lot of folks ask me where I kept the ring. I know where I kept it and I think that's a secret I'll keep with me."
What we can expect from his WWE return on July 4th:
"I just want to get back in the fray. I think it's a wonderful time to be a fan, to be a member of our WWE Universe. The rosters on both sides, SmackDown Live and Monday Night Raw, is packed with very capable, unbelievable superstars and I'm just waiting to get back into the mix and try to prove my worth once again."
His interaction with Ric Flair immediately after tying his record at the Royal Rumble:
"I have a longstanding friendship with Ric Flair. He's been a mentor to me over the years. It was very important to me that he was there for me that night. He was nothing but encouraging, so honorable and so inspirational. He's a wonderful guy and a lot of fun and I'm really happy that he was there. It was a great moment for all of us."
How many more title runs does he think he has left?
"I truly don't look at it like that. I just want to be able to be able to perform at an elite level. I know that at 40 years old and 15 years in the WWE now it's been a long journey, longer than most. I have to find my grit every day to keep working hard to keep up with all of these young, strong guys. It truly is a young man's game but I feel really good. I look forward to July 4th and I think everybody will see that I haven't lost a step yet."
Who should John Cena pass the torch to?
"I think it's been passed without me. There's a lot of folks who are currently doing a lot of damage on the roster. The show is thriving in my absence. I think it's extremely competitive. I did win the 16th Championship at the Rumble but I was unfortunate in my first defense at Elimination Chamber and before that I hadn't really been in the Championship picture for a while. I think the company is moving on quite well. I don't know if there needs to be a formal anointment but they're really doing well without me."