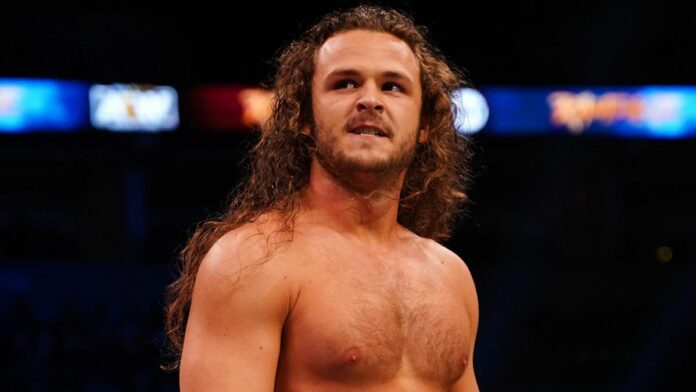 Jungle Boy is ready to make history on Sunday night.
Ahead of the Four Pillars AEW Championship main event at AEW Double Or Nothing 2023 this Sunday night in Las Vegas, NV., "Jungle Boy" Jack Perry spoke with Paste Magazine for an interview promoting the show.
During the discussion, the former Jurassic Express tag-team member spoke about the Four Pillars of AEW — which includes himself, Sammy Guevara, Darby Allin and AEW Champion MJF.
Featured below are some of the highlights from the interview.
On how each man is uniquely different from the other but they all share a common goal: "At first, it really didn't mean a lot to me, I think the whole thing was kind of propaganda by MJF, realistically. It was a way to position himself as the best of the four pillars. And I think that's why he came up with the phrase. But I do think he was onto something. And then I think, when you look at the four of us, we're all super different in a lot of ways. But we're all young, hungry guys, who really try and push what we're doing every time we're out there. And I think, you know, in the beginning it wasn't even a thing, but I never thought "I want to be a 'pillar' of this company." I just wanted to go out there and have the very best matches that I could have, every single time. And I think those three guys are very similar in that respect. And we do it in different ways. But I think that's a very kind of common goal that we've all had from the beginning. And I guess it's yeah, it's nice to see people recognize that, you know, just the group of us and what we're kind of trying to do and help push the company forward and grow with it and whatnot."
On similarities among the four pillars of AEW: "Honestly, I really don't particularly like any of the three, like, personally. So no, there's not really like any sort of group or anything. But that's what I think is kind of cool about it. It's like, I think we have these similarities, but we're also so different, and we're all kind of really on our own path. But there's just kind of that common thread. I think it's gonna be a very interesting match. Just because we are so similar in a lot of ways. And we are also different. I really kind of don't really even know what to expect out of it."
Check out the complete interview at PasteMagazine.com.