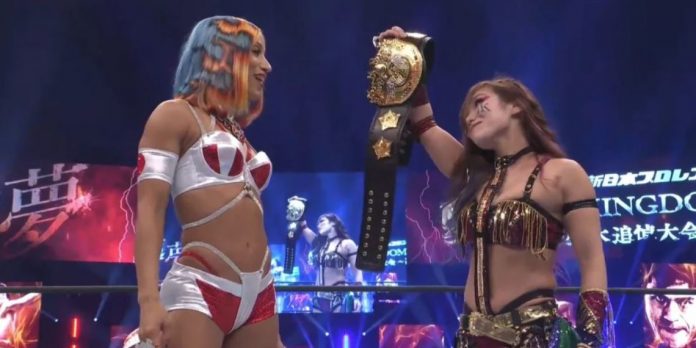 KAIRI has her eyes on all the top women's wrestling talent in the world.
Ahead of her showdown against Mercedes Mone, the women's wrestling star spoke with Dark Puroresu Flowsion for an interview, during which she gave her thoughts on the former WWE Superstar previously known as Sasha Banks, as well as her thoughts on a potential showdown against AEW Women's Champion Jamie Hayter.
Featured below are some of the highlights from the interview where she touches on these topics with her thoughts.
On how she thinks she and Mercedes are going to have a killer match at Battle in the Valley: "I respect her very much. She has always been kind to me in private, and when I returned to Japan from America, she gave me many wonderful gifts. I still cherish them. I believe Mone and I can make a great match that people will remember forever."
On naming some of her wrestling influences: "In WWE, Asuka, Iyo [Sky], Shinsuke, Becky Lynch, Bayley, Mone, Alexa Bliss, Candice [LaRae], Shayna [Baszler], and Nattie. Many others! Additionally, I have a lot of respect for my coaches Sara [Del Rey] and TJ Wilson."
On how she's interested in a match with AEW Women's Champion Jamie Hayter: "Of course! In fact, I never met her. But I often hear that she was very active in the STARDOM ring. Hello Jamie, I'm KAIRI! I hope you read this."
Check out more from the KAIRI interview via the tweet embedded below. H/T to 411Mania.com for transcribing the above quotes.
I spoke with IWGP Women's Champion KAIRI. We discussed her Mercedes Mone match "I believe Mone and I can make a great match that people will remember forever" among introducing herself to Jamie Hayter & expressing interest in a match with her. pic.twitter.com/LeIStP8Scw

— Dark Puroresu Flowsion (@PuroresuFlow) January 24, 2023