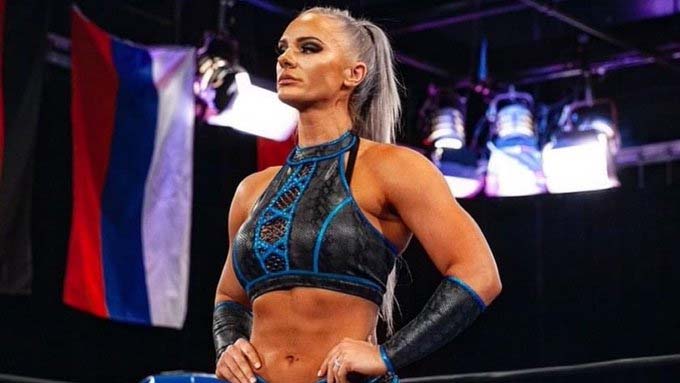 Kamille recently appeared as a guest on the Women's Wrestling Talk podcast for an in-depth interview covering all things pro wrestling.
During the discussion, the women's wrestling star spoke about teaming with top IMPACT Wrestling stars for the upcoming AAA World Cup.
Featured below are some of the highlights.
On how Jordynne Grace reached out to her on Instagram once they found out they'd be competing in the AAA World Cup: "Girl, it came out of nowhere for all of us (invite to the AAA Lucha Libre World Cup). I got a message about doing it probably a couple days before they announced it and then I got a message from Jordynne (Grace) too on Instagram because we've actually never even — Jordynne and I have never worked together… That's the beauty of Instagram. You can reach out and talk to anybody and she reached out and she was like, 'Hey, so I think it's me, you and Deonna' and I was like, 'Oh! Okay.' That's how you find out and then they announced it."
On the rest of the team: "But, we got a couple of little things planned to really make us a cohesive team and stuff like that and so I think it's gonna be a lot of fun and once again, great group of girls. I mean, on the rest of the 'World' team, there's Taya (Valkyrie) and Natalia Markova, Christi Jaynes and then you got Sexy Star, the new Sexy Star. You have so many big stars from their respective places coming together."
On how she is very used to singles matchup and is prepared for a whole new ballgame with tag team wrestling: "Let me be honest, I'm the women's champion, I do one-on-one matches, right? That's all I'm used to so this is gonna be a whole new ballgame for me. I've tagged maybe a couple of times in my career, never done a trios thing. I'm not even sure how this tournament is working; if we're doing trios, if they're splitting it. We're gonna all find out together. So, it's just gonna be really exciting. I know that it's gonna be a big weekend for me because I have a match at Battleground (Championship Wrestling) in Philadelphia the night before and then I'm flying into Mexico the day of so it's gonna be a big weekend but I'm really excited about it."
Check out the complete Kamille interview from the Women's Wrestling Talk podcast via the YouTube player embedded below. H/T to POST Wrestling for transcribing the above quotes.