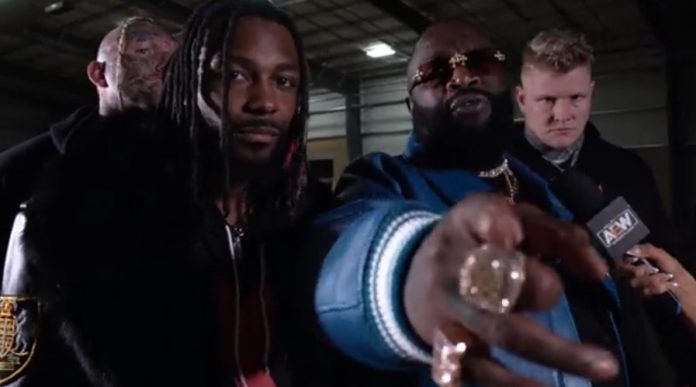 Rick Ross is a "boss."
"Limitless" Keith Lee has signed off on this fact.
The pro wrestling veteran spoke highly of the hip-hop legend during a recent appearance on the Grapsody podcast for an in-depth interview.
Featured below are some of the highlights.
On crediting Rick Ross and how he did his promos in AEW in one take: "Hey, man. The Boss. He's great. No one knew and everyone read it that they wanted him back the moment we were on live television and he created another meme. Rick is fantastic, dude. I enjoyed him, every conversation we had. He's a glowing individual in his own way. He's got such a positive energy. He's just fun. He's confident and I like that. A lot of people won't believe this, but that promo, one take."
On how Rick Ross had a wonderful time in AEW: "Yeah. Welcome to being me attempting to be a professional in the moment, but really wanting to be like, 'Get me the hell out of here.' Oh, man. He was great, dude. I don't regret any of it. I had a blast. I think he had a great time. I think his people had a great time. I mean, I regret getting a cinder block through my chest. But, outside of that, him as a person, great individual. Super fun. More intelligent than anybody would actually give him credit for and as an intellectual, I appreciate that more than most. It was great."
Check out the complete interview at Fightful.com.