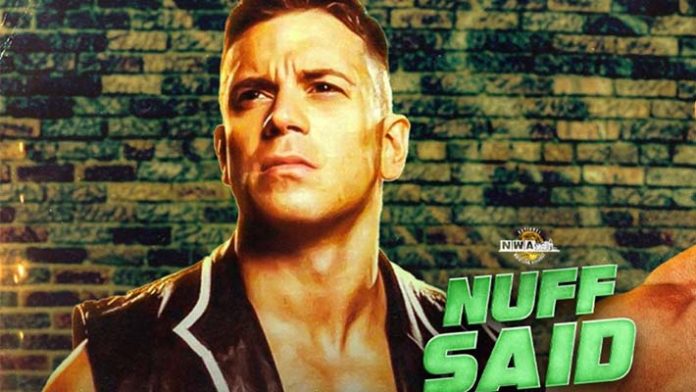 In an exclusive interview with PWMania's Scott Mitchell (@ScottsScoop44), Kevin Kiley, formerly known as Alex Riley in WWE, shares his story about how he got started in wrestling, making his return to professional wrestling six years later, the upcoming NWA "Nuff Said" show, and more.
The Beginning of "The Rare Breed" Kevin Kiley
Growing up, Kevin Kiley got into the sport of professional wrestling when he was around 12 years old. "It was something that my friend and I used to watch and I just gravitated towards it," Kiley tells PW Mania. "I was a football player and an athlete overall. Professional wrestling was athletics, and entertainment combined into one. I loved the product and I loved what they were doing."
Kiley really took a liking to professional wrestling around the days of the Attitude Era. "The Rock, Stone Cold, The Undertaker, and Shawn Michaels were all just fantastic television," says Kiley. "The stuff they were doing was just magical. Worldwide, wrestling is one of the biggest driving forces in entertainment. People don't always see it that way, but it really is."
"Professional wrestling is a staple of entertainment and programming in the United States and around the world," states Kiley. "It's something I've always been fascinated with. It's athletics, entertainment, improv, comedy, and drama. When you try to pinpoint what entertainment is, you can not have entertainment without professional wrestling. It's a genius creation and it will always be there."
In his opinion, professional wrestling is beginning to take over the world. "You have NWA, WWE, AEW, and Impact," says Kiley. "It's always going to be there. It's an art form that takes a lot of talent to pull off."
When he was younger, one of his biggest inspirations was Randy Orton. "I got to work with him which was a ton of fun," says Kiley. "Undertaker too. I always loved the characters. What kind of got to me is did I have the talent or ability to cross over from a regular person to a wrestler, or an entertainer?"
"The magic that's created from the time you go through the curtain to the time you leave is incredible," states Kiley. "I remember getting to be backstage with Triple H when he was just a talent at the time, and just to be sitting in the same room as these guys were incredible."
The Early Days of Kevin Kiley (fka Alex Riley)
When he was younger, Kiley was big into football. However, when that was over for him, one thing remained constant, his love for professional wrestling. "I always watched it, but I didn't know if I had the courage to take that opportunity," says Kiley.
"It's different than just playing sports, and the truth is, I didn't know if I would be able to do it," states Kiley. "I didn't know if I was going to be one of those people to be talented enough to pull it off." However, as he matured and got older, he decided to give it just one shot.
"If it didn't work out, at least I tried," says Kiley when asked about getting into the world of professional wrestling. "I didn't know if I was going to be that good. I just tried to take it one day at a time, and as cuts came and I was still there, they gave me an opportunity with The Miz."
Working with The Miz was great for Kiley. "It was a huge opportunity to be put with a guy who was that talented," says Kiley. "We played off each other very well, and I even got a spot on WrestleMania because of it. When I was put on NXT, I thought I was doing pretty well. We just got paired up naturally and it was great. He's a really good guy, has a good heart, and was always good to me."
NWA "Nuff Said" return match: Kevin Kiley vs. EC3
This Saturday, February 11th, Kevin Kiley will be making his return to televised professional wrestling. This match marks Kiley's first televised match in six years as he gets set to take on EC3.
"It was something I always wanted to do," states Kiley. "I was always trying to come back at some point. COVID really screwed a lot up, that was a space in time where I really had to focus on my family."
"Tyrus and I have always been pretty good friends," says Kiley. "He did a podcast and asked me to be on it, and we started reconnecting again that way. Trevor Murdoch was there, Aron Stevens, EC3, and I kind of found a little bit of a family again."
"It was the logical next step for me to re-integrate into the business, and just re-integrate into the world again," says Kiley. "With EC3, he's a really intelligent guy. By looking at his work, what he talks about and speaks about, it's a deep message. Control Your Narrative."
EC3 is an interesting addition to any #wrestling show. But perhaps even more intriguing is what happens when he meets his former(?) friend, a debuting Kevin Kiley!

Don't miss a sold out #NuffSaid LIVE from Tampa, FL!

Only available on @FiteTV !

👉 https://t.co/0UkaDCMm7N pic.twitter.com/pHNxZEdivb

— NWA (@nwa) February 5, 2023
"Be in control of your life. Be in control of your story," says Kiley. "We all are stories at the end of the day, and sometimes if we're not careful, we become the stories the world tries to tell us to be, but we're not. We tell the stories that we tell ourselves that we are with positive thoughts and positive thinking."
"Now, if you're out there to control my narrative, that's another issue," states Kiley. "That's just not going to happen. I'm going to control my own narrative, and he will control his. When I saw his work, I was really impressed with it. This is a great opportunity for me to step back into the business with someone that I'm kind of on the same wavelength with."
What's Next for Kevin Kiley?
When asked about what was next for him, Kiley had a short, but simple reply… "I don't know." Right now, Kiley is really focusing on his upcoming match with EC3. "This is my first televised match in six and a half years," states Kiley. "I'm going to go out there and just do the best I can with these guys."
"They have been performing for a long time and they haven't stopped," says Kiley. "I had to step away because I had some family issues going on, along with some other issues going on. I just really needed to take a break."
"Now, I'm back," states Kiley. "I'm getting myself back into the world, and back into life, and this is the next step for me. I just hope to be the best I can be and generate a lot of money, and attention, for whoever I'm working with."
"That's my job," says Kiley. "My job is to sell tickets, and get people to watch. I want to generate as much attention as I can for the people who love me, the people who are looking out for me, and the people who are hiring me."
If you wish to follow Kevin Kiley, fka Alex Riley, you can find him on Instagram.
The sold-out NWA Nuff Said pay-per-view will take place this Saturday, February 11 at the Egypt Shrine Center in Tampa, Florida. The pre-show will begin at 7 p.m. ET on YouTube, and the main card will begin at 8 p.m. ET on FITE. We will have complete coverage of the event. Click here to order NWA Nuff Said on FITE.
🚨COMPETITION TIME!🚨

Watch #NWA's #NuffSaid for FREE on #FiteTV!https://t.co/viN6ffqCoF has a free @NWA PPV pass to GIVEAWAY!

To enter:

– RT & Like this post
– Follow @PWMania and @FiteTV
– Reply with the match you're most looking forward to

Winner announced on 2/11 pic.twitter.com/3CM5Z3pmdp

— PWMania.com – Wrestling News (@PWMania) February 9, 2023