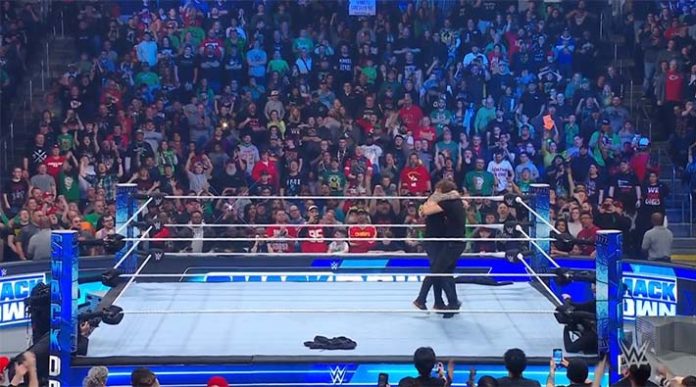 This week's episode of WWE SmackDown kicked off with Cody Rhodes.
Rhodes called Kevin Owens out to the ring to try to talk things out with Sami Zayn. Even after Zayn suggested that Owens KO punch him or yell at him to remove whatever is preventing the two from reuniting, Owens continued to reject the idea. After the commercial break, Zayn approached Owens and told him to forget about fighting together because all he wants is for him to know that he loves him because they are brothers.
Zayn and Jey Uso later faced-off in the ring during the main event. Jey stated that he did not like or trust Zayn from the start, but as time passed, the fans and everyone else in The Bloodline grew to like him. Jey stated that he thought Zayn loved him, but he betrayed, embarrassed, and made him look stupid in front of the world. Jey then called Zayn a "fake ass Uce."
Zayn responded to Jey by saying that he chooses to take Roman Reigns' abuse and that he believes Jey is upset with himself because he didn't get to hit Reigns with the chair first. This resulted in a brawl with Jimmy assisting his brother Jay in an attack on Zayn until Owens emerged from the crowd to save Zayn.
The crowd chanted "hug it out," and Owens embraced Zayn. Cody Rhodes was seen backstage, smiling as SmackDown went off the air.
Click here for WWE SmackDown results. Below is a clip from the segment:
WHAT. A. MOMENT. 🤩@FightOwensFight and @SamiZayn just took on Jimmy and Jey @WWEUsos TOGETHER!

And yes, they hugged it out. 🫂#SmackDown pic.twitter.com/WV2raUQ8t8

— WWE (@WWE) March 18, 2023