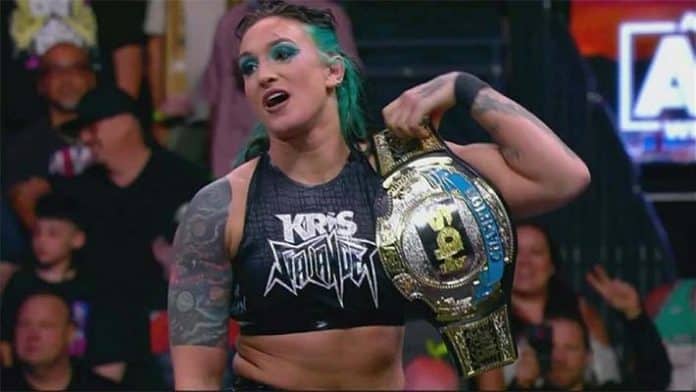 On Sunday, May 28, AEW held its annual event, Double or Nothing. This year's pay-per-view was headlined by an insane Anarchy In the Arena match between the Blackpool Combat Club and The Elite. It also saw the four pillars in a four-way match for the AEW World Championship.
The show was solid from top to bottom, however, the moment of the night came after Jade Cargill successfully retained her TBS Championship over Taya Valkyrie. Cargill's victory over Valkyrie cemented her at 60-0 and made her legacy that much better. However, after the match, we saw the return of Kris Statlander.
Statlander made her return and was given a match against Cargill immediately. This match saw Statlander be the 1 in 60-1. Statlander would defeat Cargill, becoming the first woman to do so, and became the new TBS Champion in the process. This was absolutely best for business for All Elite Wrestling.
Since joining AEW, Statlander has developed quite the following. As someone who followed her career prior to AEW, including seeing one of her first matches inside the squared circle at Create-A-Pro Wrestling Academy, it was easy to see that she would be going places. This was just the first of many accomplishments she'll have in the professional wrestling world.
Statlander made her AEW debut in November of 2019, where she would go on to team with Big Swole in a losing effort against Britt Baker and Riho. Early on in her AEW career, Statlander would come up just short in a match against Riho for the AEW Women's Championship, but still had a great showing.
Unfortunately, she would be sidelined in June of 2020 with an ACL injury. In late March of 2021, she would make her triumphant return alongside Trent Baretta, joining The Best Friends. From there, she would join Chaos and her career would go on to reach heights it has never seen before.
In August of last year, Statlander would suffer a completely torn ACL, putting her out of action for nine months. However, last night she would finally make her return in a big way. The AEW Women's division got that much better with the return of Kris Statlander, and it happened in such a big way.
Kris Statlander as TBS Champion is best for business
With all due respect to Jade Cargill, ending her reign last night and putting the TBS Championship on Statlander was absolutely best for business. Statlander is by far one of the most over people (… or aliens) in All Elite Wrestling. Fans have gotten fully behind her, and putting the championship on her last night was a perfect time.
The fact is, Cargill's reign got stale. There were no new challengers for Cargill, and it may be time to see if Cargill can make a run for the AEW Women's Championship. Seeing Statlander as TBS Champion can open up the door to a whole bunch of new challengers and matches.
All in all, Kris Statlander as the TBS Champion is the best thing AEW has done in quite some time in regards to the Women's Division. The AEW Women's division is great from top-to-bottom, and with a new TBS Champion at its helm, it's up to Tony Kahn and other members of AEW Creative to keep the momentum rolling.
What do you think? Share your thoughts, opinions, feedback, and anything else that was raised on Twitter @PWMania and Facebook.com/PWMania.