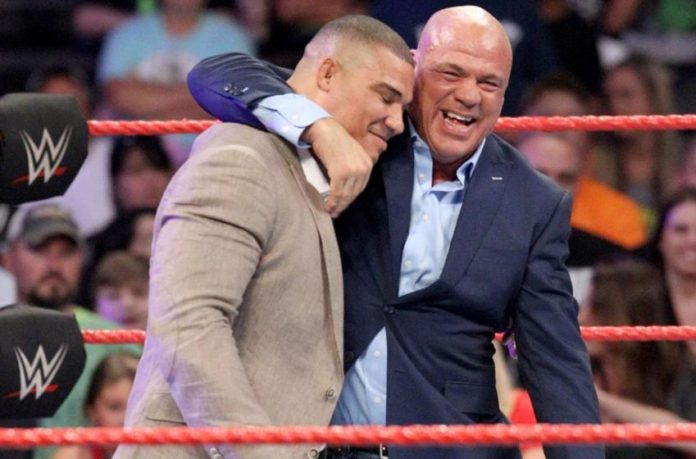 Even before he returned to WWE this year for a Hall of Fame induction and subsequent on-screen role as Raw General Manager, fans wondered if Kurt Angle would ever wrestle for the company again.
The Olympic gold medalist didn't let past or present injuries stop him from working in the ring with TNA or on the independents, but getting cleared by WWE doctors to perform with a surgically repaired neck and a litany of other issues on his medical record was a whole nother ballgame.
Even though he hasn't taken a physical yet, Angle remains confident he'll be lacing up the boots as a part-timer in the future. He told Fox Sports Australia he thinks the storyline which will bring that about is already underway.
"I would say I will most likely wrestle. I have not taken a physical yet. I'm basically waiting on the boss. It's up to Vince McMahon," Angle said.
"I would imagine I will. I'd imagine the storyline is going to go somewhere with Jason Jordan, so I'm just being patient and enjoying the general manager job.
"Hopefully, eventually, I'll get back to wrestling."
During the interview, he also revealed that even though he's not an in-ring performer, he is drug tested under the company's Wellness Policy.
"I know Vince wants to go nice and slow with me and make sure I'm staying healthy and staying clean. They have an incredible drug policy and wellness policy — the physical is not very easy to pass," Angle said.
"Vince is making sure I'm in a position where I can do this and he can rely on me. I understand that it's a process and I have to wait for my turn."