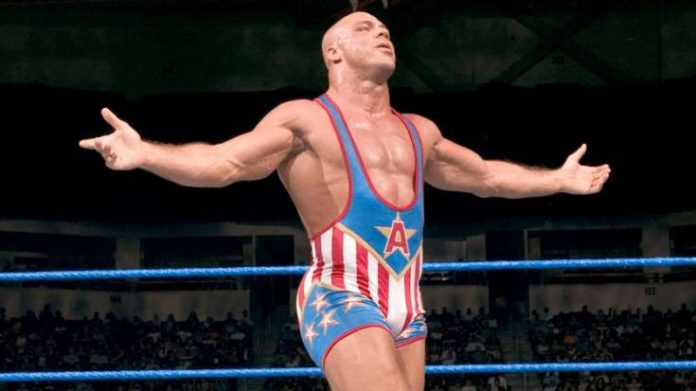 – On Saturday, Kurt Angle celebrated his four year anniversary of remaining sober. Regarding this, the Raw General Manager posted the following on Instagram.
Angle's struggle with addiction is well-documented. Prior to the 1996 Summer Olympics, Angle fractured two of his cervical vertebrae but was able to wrestle by receiving Novocaine injections in his neck. Angle eventually became addicted to Vicodin and was taking 65 extra-strength Vicodin a day at the height of his addiction. After he moved from WWE to TNA in 2006, he began mixing his medication with alcohol and his life spiraled out of control.
During a Reddit AMA in March, Angle said his wife, Giovanna, threatened to leave him if he didn't clean himself up.
"[She said], 'Listen, I love you, but you have had 4 DUI's already. I love you but I can't stay with you. I can't live like this. You pass out every night at 7 o'clock and you don't spend any time with the kids,'" Angle recalled when asked about his lowest moment.
That's when Angle realized he had to turn his life around.
"She wanted me," Angle said. "She wanted the Kurt Angle that she knew. So I decided to check into rehab. That's where my rock bottom came."
– At Sunday night's WWE live event in Ottawa, Ontario featuring SmackDown LIVE talent, Baron Corbin came out to a new theme song. You can hear a snippet on WWE's Snapchat.
– In John Cena's latest "Hard Nocks South" video documenting his various workout routines in his gym of the same name, the WWE Superstar increases weight on cleans and squats.