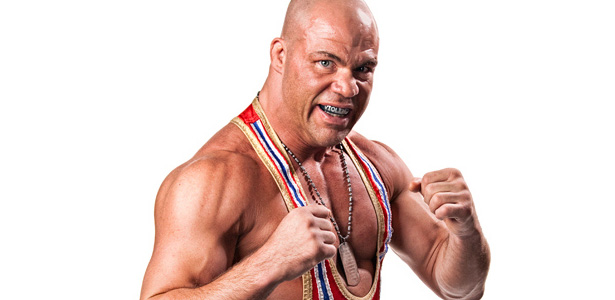 Amid speculation that many former WWE Superstars have been approached with returning to the company due to the upcoming brand split, the possibility that Kurt Angle could be one of those talents got some fans excited.
Unfortunately for those fans, that will be an unrealized dream as WWE officials confirmed Thursday to Dave Meltzer of F4WOnline.com that Angle is not returning to the company.
The story started when Angle was on Mark Madden's Pittsburgh radio show on Monday and said that Triple H had called him, but that no deal was in place. Although nobody officially said it, the story grew to a point where it was rumored that a deal was done.
On Friday, Angle addressed the rumors with a vague statement.
He wrote on Facebook, "In response to some of your questions today regarding the WWE, and all of the media fanfare about it the last few days, I want to, once again, say that our confidential conversation never discussed the brand split. A few wrestling sites seem to have put a spin on this by twisting some words around to fit their agenda, something that I have no control over. What I CAN control is my own life, and my life isn't only wrestling. I do not expect to be in wrestling much longer. I AM excited about my future. Thank you."
The 47-year-old wrestler finished up his TNA contract in March, and has been working select occasional matches against the likes of former WWE Superstar Rey Mysterio and British grappler Zack Sabre Jr.
Angle, who last wrestled for WWE in 2006, was released from his contract in August of that year for "health reasons." While in TNA, Angle claimed that he asked for his release from WWE because he could not take time off and was working hurt, severely on some occasions.