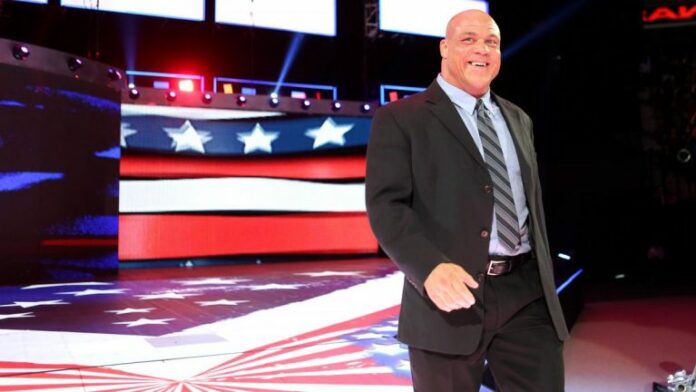 WWE Hall of Famer Kurt Angle recently spoke with Metro UK about various topics. Here are the highlights.
You're now firmly back within the company, where you're currently playing the General Manager of Raw where you've just begun an intriguing storyline. How does that feel?
"I always wanted to end my career in WWE, but I knew it would take a lot of hard work to come back. I also knew how valuable Kurt Angle was, but at the same time if you have all those DUIs, you're not going be looked at. For WWE to even talk to me I had to get clean for four years, and I understand that they're going to continue to monitor and drug test me to make sure I do stay clean. I'm okay with that, but I also know I bring a lot of value to the company. It's kinda nice to start this program, and however it ends up, whether I wrestle or not it'll be good."
We have to end this by asking about Finn Balor as you mentioned him there. What is it about him that makes you want to wrestle him so much?
"I've known Finn for ten years because I was wrestling over in Japan when he was there. I remember him as this young kid with a Justin Bieber style haircut with the hair spinning all over his head. When I came back to WWE, I didn't even know he was the same person. He said hi to me a couple of months ago and I just said hi back and walked past him. He was like 'you don't remember me do you?' and I was like you're the kid from Japan!
What he's been able to do over the past ten years is incredible, not just wrestling in the junior division in Japan to the heavyweight division, but bringing this character to life. Finn Balor, the Demon. He has transcended himself to being one of the most popular wrestlers in the world, and I remember him as a cruiserweight in Japan. You can't believe how blown away I am by him. I know that he was main eventing a lot of shows in Japan before he came to the United States, and he went through the Dojo camp over there. Wrestling Japanese style which is very stiff and he was able to survive it. He's on top of the world, one of the top three guys right now and he's just started. Being able to do a program with him would be awesome. I'm sure he dreamed of wrestling me back then, now I'm dreaming of wrestling him."