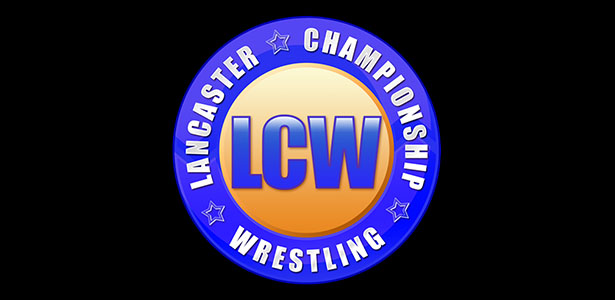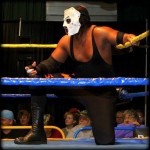 The Super Wrestling Weekend in Pennsylvania continued as Lancaster Championship Wrestling held a card, along with The Ultimate Wrestling Experience, for a crowd of over 1,200 people at the Lancaster Host Resort, Expo center, in Lancaster, Pa. While Jeff and Karen Jarrett had to leave after the UWE event for New York, Mick Foley made his way to LCW to serve as a special enforcer in Saturday night's main event. The card kicked off with a preshow match that saw LCW mainstay and favorite, Suicide Meyers take on Aiken Pembroke. We started the night off with a shocker, as the nerdy, but quick, and intelligent, Pembroke upset Meyers with a roll up, along with two big handfuls of tights. Meyers was not happy, and I am certain will demand a rematch with the nerdy Aiken as soon as possible.
The advertised show officially kicked off with LCW owner, "The Perfect Owner," Jason Smith, along with his bodyguard, and the Lancaster Heavyweight champion Shane Douglas, coming to the ring. The "Perfect Owner" wanted to welcome the throngs of fans that came to see a hardcore legend, a former world champion, and a major wrestling star, Shane Douglas! Shane then proceeded to shoot on Vince McMahon and the WWE, and rip into Mick Foley for "kissing Vince's bare ass." Douglas finished by telling Mick that he had better stay out of his way in tonight's main event, when he, and the UWE World Champ, Kevin Murphy would be taking on former Lancaster Heavyweight champion, The Red Scorpion, and UWE star, Sage Strong.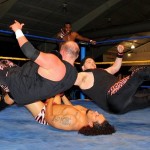 In the official first match of the advertised card, That 80's team, Joey Money and Petey Noxious, would take on a returning AC Rock! AC Rock, the Monster Factory tag team champions didn't seem prepared for the riled up 80's team. I noticed a clear change in Money, and Noxious, after their hard fought loss to Douglas, and Jarrett, on Friday as they were much more aggressive, and used tactics that were unlike them. AC Rock hit all their high spots, and double team moves, but tonight, That 80's team just refused to lose, and overcame all of AC Rocks offense. Money and Noxious used hardnosed fighting, and a strong will, and maybe some tight pulling and rope holding to gain the pinfall victory.
In a special attraction match, the 500 plus pound Dr. Ruthless would take on three young Lancaster Championship Wrestling students. While the three young men gave a valiant effort, Ruthless was just way too much humanity for them to overcome. The good Dr. proceeded to toss them around like rag dolls, nailing a huge corner splash onto all three, followed by a leaping splash onto all three, after he piled them up on top of one another. You could have counted to 100. Dr. Ruthless then gave the Lancaster crowd what they wanted to see, his dance routine, that begins with him removing his t-shirt to show everyone everything he is working with in that ring. It's a sight to behold, I'll leave it at that.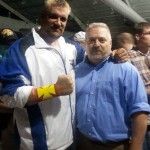 Next up was LCW star, the big, tough, German Supremacist, Josef Von Schmidt. He came to the ring, surprisingly with much fanfare and adoration, daring anyone in the back to challenge him. He insisted that no one could beat him, especially with a submission, and if anyone was stupid enough to try, to come out and try.  Ken Phoenix, LCW star, and Future of Honor competitor, made his way to the ring to do just that. While Phoenix was the much smaller man, he fought hard, using his agility, and quickness to keep on the offensive with the huge German, all match long. Finally though, Von Schmidt caught Phoenix and delivered the most powerful chops I have ever witnessed in my 33 years of watching professional wrestling! The chops Von Schmidt delivered to Phoenix sounded like shotgun being fired inside the venue. They were so powerful, I wanted to run into the ring and plead with Von Schmidt to stop! To his credit, Phoenix kept fighting, nailing moves on Schmidt you wouldn't think were possible. As is the legend, this Phoenix kept rising! After two failed sharpshooters from Phoenix, Von Schmidt lowered the boom, and caught Phoenix in his dreaded German Hammer submission, and forced him to submit. As Von Schmidt celebrated, Braden Shocker made his way into the ring and challenged him. Von Schmidt seemed annoyed more than he seemed challenged, and told Shocker to sign a contract and he'd return next month to destroy him too. Shocker, dressed in camouflage pants, and t-shirt didn't back down, and wanted the fight right then. Schmidt laughed him off, calling him "fat Brock Lesner." Shocker was unfazed and promised that the contract would be signed for June 21st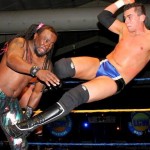 The next match was for the Lancaster Tag Team titles, as team CK, Kage, and Sean Carr, as they challenged LCW's Boy-Boy's XXXTasy Incorporated of The Sexy Psycho Adrian Bliss, and Eddie Valentine. Team CK didn't know what to make of LCW's very own version of Boy George, as Boy-Boy served as a distraction all match long. It didn't help that Valentine always appears ready to lose the tiny little speedo tights that he keeps wearing to wrestle in either. KAGE and Carr dominated most of the match, but Valentine and Bliss managed to stay in it, and keep from getting pinned, until Boy Boy found his moment, and sprayed his perfume in the face of KAGE, as he prepared to come off the top rope onto Bliss. Kage was then rolled up and pinned, ensuring those Lancaster Tag Team title belts stay around XXXTasy's inc.'s waits for a bit longer. The LCW crowd loved Team CK though, and chanted "please come back," as Boy Boy and his "men" scrambled out of the ringside area.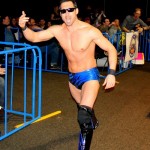 Eddie Smooth and James Dempsy were set to tag in the next bout, but instead a young, tall, lanky man made his way to the ring, with Eddie Smooth. He told the crowd he was James brother, and that he had some horrible news. James was injured on LCW's last card and the doctors had advised him to retire! Eddie then took the microphone, and said how horrible this was to hear. Eddie proceeded to tell us how he had recently lost his dad to cancer, and how he understood how bad turns in life could hurt so much, because he misses his dad every day. Then, suddenly, Eddie superkicked James brother, and tossed him hard, over the top rope, onto the arena floor! Eddie then took the mic and said he didn't need James Dempsy because he is the best wrestler in the business and Dempsy only held him down! Suddenly, Adam Flash ran in from what seemed to be the crowd, and a match was underway. Flash was on fire most of the match, seemingly coming to LCW to prove a point, and seeing what Smooth did, figured that would be the time to make it! Smooth, caught unaware, seemed off his game. However, Smooth having joined "Hollywood's Finest" of the UWE, learned their underhanded tactics, and feigned injury to his knee, after a big moonsault. As the referee called for paramedics, Smooth nailed Flash with a huge fist to the groin region, and rolled him up. When the ref turned around to check back on Smooth, he counted the 1-2-3 for the new, indifferent, Eddie Smooth.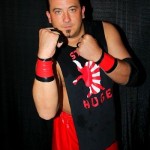 Next up was Damage Inc. lead to the ring by Jason Smith's bodyguard. They were challenged by a fed up, and frustrated, Big Ed House, and Kras Van Tassel. House and Kras were determined to stomp Shatter and Sinister X for their alignment with Jason Smith, and their constant screwing over of anyone not aligned with them in LCW. Kras had brought his son to ringside to celebrate his birthday, that very day. The LCW crowd sang happy birthday to the young man before the bout got under way. This match was mostly a huge brawl. Not a lot of technical moves to be found as all four men just laid into one another. House gained a distinct advantage until he was shoved from the top rope, to the venue floor. Kras, fought hard against Shatter and Sinister X, until Boy Boy, of XXXtasy Inc. came out and literally kidnapped Kras young son from ringside! This obviously caused Kras to be distracted, so Shatter and Sinister X laid power move, after power move, on him and got the 1-2-3 for the victory. Why would Boy-Boy abduct Kars's son? I am not sure, but I am on a mission to find out.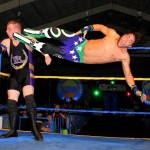 In the next to final match of the night, Andy Header, a man who rightfully won the "Wrestler of the Millennium" award at LCW, was challenged by the man who said the award should be his (so much so he went out and had one of his own made) Louis G Rich. While Rich is pompous, and annoying, he is a great wrestler and went to toe to toe with the agile, fast, and high flying, Header for over fifteen minutes. Several times Rich thought he had the match won, but Header got to the ropes. Rich succeeded in keeping Header grounded for much of the match, but not all of it, as Header scored the pinfall victory. Seemingly unfazed by his second loss in as many nights, Rich grabbed the house mic and challenged Header for one more match, on July 21st. This time, he promised it will end the debate on who the wrestler of the millennium is, as he wants it to be a ladder match, with both awards hanging above the ring! Header readily accepted.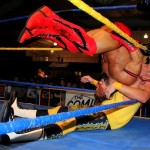 Finally it was time for the big main event! Mick Foley was introduced as the special outside enforcer. Foley took the house mic and showed off his Buddy The Elf t-shirt, and then announced that he had seen to it that fired referee Tonya Stevens was given her job back, and that SHE would be tonight's referee! An unhappy Jason Smith, and his ever present bodyguard, then escorted the Lancaster Heavyweight Champion, Shane Douglas, and The UWE World Champion, The Untouchable Kevin Murphy, to the ring. Shane and Foley jawed at each other a little until Sage Strong's music hit as he was introduced to the roaring throng of people, followed closely by The Red Scorpion, Mark Hazel! Both Sage and Mark have been completely screwed out of the titles of UWE and LCW respectively, and as such had something to prove. Early in the match, The Perfect Owner involved himself in the action, so Foley grabbed him by his tie and dragged him to the back of the venue, through the curtain. The two big men, Sage and Scorpion, then began to toss both Douglas and Murphy around the ring with ease, but often, the two crooked, and paper champions, would find a way to fight back and get an advantage. At one point, Murphy and Douglas managed to keep Strong on their side of the ring for a long period of time, doing lots of damage to a man that had wrestled in a brutal hardcore match the night before. Finally Scorpion made the hot tag and cleaned house! Douglas resorted to grabbing a steel chair, but Mick Foley refused to allow it. Douglas went to attack Foley, but instead found a taste of Mr. Socko, much to the crowds delight. Jason Smith rushed back to the ringside area only to also get the Socko treatment. As this was going on, Sage Strong nailed a huge moonsault onto Murphy after a TKScorpio from Mark Hazel, giving the mega fan favorites a huge victory! Both Sage and Scorpion then posed for the crowd, each with one foot on top of Murphy, the fallen UWE world champion.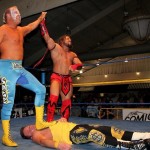 That concluded the incredible wrestling weekend in Central Pennsylvania. My dream of seeing the UWE and LCW work together was everything I had hoped it would be. The future is theirs for the taking, as both shows together drew over 2,000 people! For interviews with the stars of the show, including Mick Foley, David Starr, Shane Strickland, and Ed House, as well as others, tune in to my podcast here- FROM The Top Turnbuckle Podcast on Monday night. I will also discuss WWE, TNA, ROH, House of Hardcore, and CZW as well as other indy wrestling around the Country.