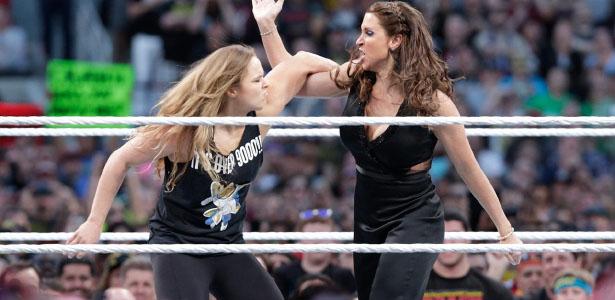 – PWMania.com reported over the weekend that WWE's idea for Ronda Rousey and Stephanie McMahon is not a tag match with The Rock and Triple H but a singles match between the two – Rousey vs. McMahon. While there is no deal in place, there is said to be an understanding between the two sides that they want the match to take place at WrestleMania 32.
WWE has wanted to do the singles match between Rousey and McMahon since Rousey attended the 2014 SummerSlam pay-per-view when The Four Horsewomen helped Stephanie with her ALS Ice Bucket Challenge, according to Dave Meltzer of The Wrestling Observer Newsletter.
Obviously there are many factors that would have to be worked out in order for Rousey to compete in a WWE ring due to her being under contract to UFC, if UFC would even consider it. With that said, the Rousey vs. McMahon singles match could easily end up being something like The Rock vs. Triple H with Rousey and Stephanie in their corners.
(Source: F4Wonline.com)