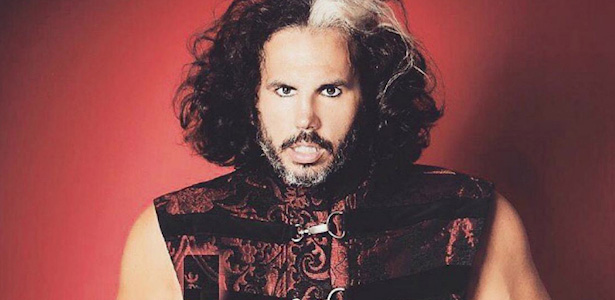 You can expect to see Matt Hardy's 'Broken' character in WWE.
Dave Meltzer reported Monday night on Wrestling Observer Radio that WWE is working on a deal with Impact Wrestling to use the character on television.
The 'Broken' gimmick has been at the center of a legal dispute between the Hardys and Impact Wrestling.
Shortly after the departure of Matt and Jeff from TNA was made public, Matt's wife, Reby, went on a social media tirade in which she repeatedly slammed TNA, the company's new management and the way in which contract negotiations between the company and the Hardy family were conducted.
A few weeks following this, the bad blood between the two sides intensified, so much so that the new management of TNA (now renamed Impact Wrestling) Anthem Sports & Entertainment issued a cease and desist letter to The Hardys' new promotion Ring of Honor (ROH), in which Anthem essentially ordered ROH as well as any broadcasting company airing ROH's 15th Anniversary pay–per–view show (on which The Hardys were to participate in a match) to not in any way speak of, indicate or acknowledge the existence of the Broken Matt and Brother Nero characters and instead to refer to The Hardys as simply Matt Hardy and Jeff Hardy.
The issue with this is that while The Hardys were in TNA, they had full creative control over the 'Broken' gimmick, with them even filming their own segments to air on TNA programming in some circumstances, thus making the Hardy family (in their belief) the owners of the 'Broken' gimmick. It is believed that civil litigation will follow and a potential court hearing will take place regarding the final outcome on who owns the 'Broken' gimmick: Anthem or the Hardy family. Until then, the status of the 'Broken' gimmick remains undecided.
Despite this, Matt has been using some of the mannerisms of the 'Broken' character on television since returning to WWE at WrestleMania 33 earlier this month. He has also been switching his Twitter description, using "#BROKEN", "#Version1" and "#Mattitude."
Recently–appointed Impact Wrestling President Ed Nordholm credits the invention of and the vision behind the 'Broken' gimmick to Jeremy Borash, Dava Lagana, and Billy Corgan, and while Borash specifically had the most input into the gimmick of the three aside from Matt, the Hardy family deny that Borash was the sole person behind the gimmick.