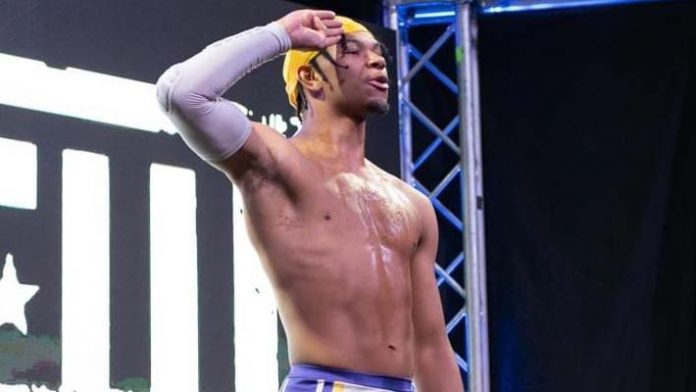 It would be hard to find many British wrestlers who had a better 2022 than Leon Slater. When you take in the fact he only turned 18 in that year, it makes the statement even more astounding. The high flyer is making waves around the world and after a year that saw him take on everyone from Zack Sabre Jr and Michael Oku to Big Damo, RKJ and Lio Rush, it's hard to think that 2023 will be anything but a continuation on what is an amazing start to his career.
In the run-up to Slater's big match against Tate Mayfairs at PROGRESS Chapter 148: Start Spreading The News, PWMania.com got the chance to chat to him about his career to date, the match against Mayfairs and all his 2023 ambitions.
You're only 18 but already making waves around the world, so how did you get into the world of pro wrestling?
I can't remember a time in my life when wrestling hasn't been my life. I used to always go to my cousins' house and play the wrestling video games, and after he grew out of wrestling, I got all his hand-me-downs. All the figures, magazines, games, the belts and so from there, I was obsessed.
Because of that obsession, I started training at 10 years old. So, even though I'm young, I've been at this for nearly half my life. I was looking for schools for a while and the majority I found were ages 14 and up or super far away, but eventually, I found a school called UKW which ran out of Wakefield and I was there a long time, until April 2021.
Post-pandemic, I moved to Pursuit Pro Wrestling, based in Sheffield, and where I am now. I have been very fortunate to be around the people I am around week after week, getting better and better. I still train there twice a week, you got to keep the iron hot and continue to improve.
So, basically, half your life, there's been this real boom period in British Wrestling. Was this something you were aware of in your early teens as you trained?
It wasn't really, you know. I first started to see clips on YouTube from British wrestlers when I was around 15 years old, seeing these amazing venues that I wanted to wrestle in and wrestlers with great moves that I wanted to learn and perform.
When I was younger I watched a lot of IMPACT wrestling and loved watching people like AJ Styles and follow his career, so it wasn't until a bit later that I saw how big British wrestling was and the amazing talent that was going around the country and the world to perform.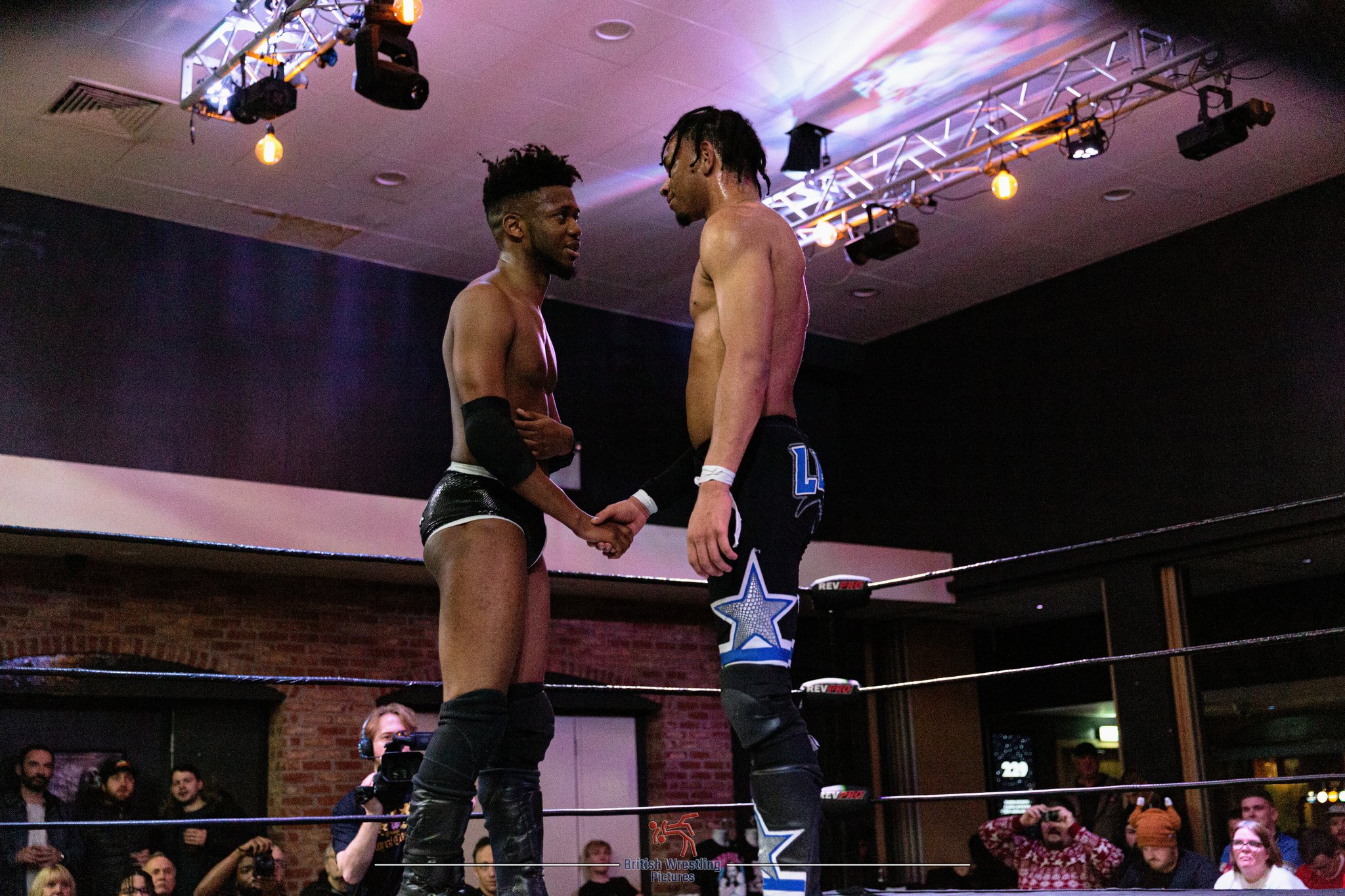 So, alongside AJ Styles, who did you look up to, and who influences you now?
There are a lot, but definitely, at first, it was Jeff Hardy. He was my guy as I loved the look, the crazy moves, and the hairstyle he had. My top 3 growing up were Hardy, Shelton Benjamin, and RVD. They were the ones I wanted to be like.
Once I got more into the world of wrestling and training and being part of ring crews, I would say people like Michael Oku, who to this day I will say is my hero. I really look up to him. Dan Maloney is another person I have looked up to with Dereiss, they are great.
Also, with my style, I really look up to Will Ospreay. He is phenomenal. I think people like him and Ricochet show how amazing the talent is out there now which I aspire to be like.
We at PWMania first saw you take on RKJ at PROGRESS as their shows began at the start of 2022 and you stole the show and have done so more and more across the year. How did getting involved with PROGRESS come about?
It was what I always dreamed of, I got to say. It's amazing. PROGRESS were one of the first to give me a spot on an event, outside of a pre-show, and performing at the Ballroom and all the other top venues the company run has been amazing.
I first got on Roy Johnson's Everything's Patterned show at The Dome during PROGRESS' anniversary week and was in a 4-way and I think I made a good impression as they brought me back a few times after that.
Stuff has moved so fast for me, with PROGRESS, Rev Pro, GCW all being so great for me, so I sometimes take a step back and realise how fortunate I am. PROGRESS has been so good to me and so beneficial in where I wanna go, it's one of my favorite places to work.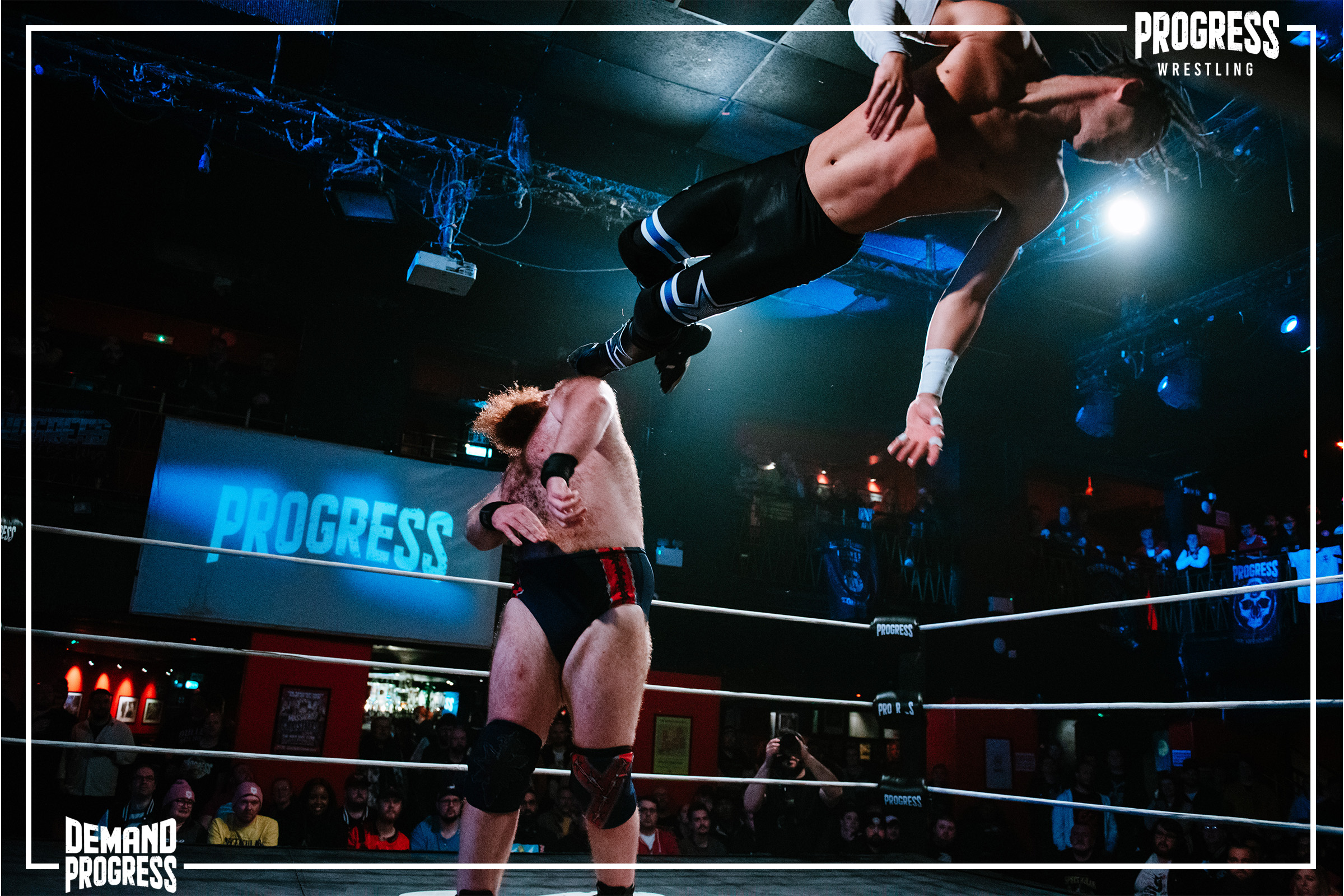 With that said, your next PROGRESS show is at Chapter 148 against Tate Mayfairs. How do you feel about the match?
I'm excited because the last time we had a match, it was tough, and although he beat me, I fucked him up. I messed him up good, so I'm excited to go again, especially in a big venue like the Electric Ballroom. It's very cool to have a match with someone who is also up and coming and who has huge hunger like me.
I don't like Tate Mayfairs but I respect him, he wants it real bad. He truly believes Tateness is Greatness and I respect that. I feel the same about myself. I believe I'm the best in the country every time I step through the curtain and I'm sure he does too, so let's see what happens.
2022 saw you take on some major names. What's your favorite match from last year?
That's a tough question as I took on some incredible wrestlers. Zack Sabre Jr. Mike Bailey. Lio Rush. RKJ. So many solid names there's so many to mention. But I'd say my match in PROGRESS against Konosuke Takeshita was the best. It was crazy man and he is amazing. The crowd were so into it and everything felt right, so that's a real stand out for me.
You started the year wrestling for GCW in Chicago and have this big match at Chapter 148. Alongside these, what are your ambitions throughout 2023?
I mean, it's been an amazing start to the year. I spent New Year's at Atlantic City and then to be performing at such a great company like GCW, to have your hotel paid, flights paid and perform in front of a great crowd was amazing. The same can be said for January 22nd, so I just want to keep performing at these big shows.
I want to perform in more places across America, Japan would be a dream, I would love to go there and back home, I want to compete against the best everywhere I can as I truly think it's a big year for me.
Catch Leon Slater vs Tate Mayfairs as part of PROGRESS Chapter 148: Start Spreading The News on Sunday, January 22nd at the Electric Ballroom, London. Tickets are available by clicking here.