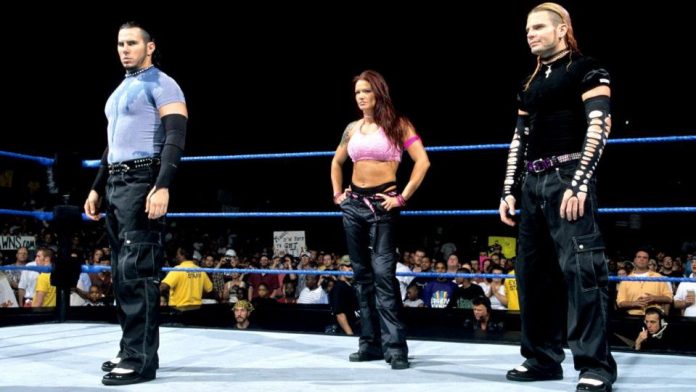 Thanks to Mohammad Saif for passing along this Day Two recap from a recent Q&A that Lita did in Paris:
Day Two:
What are your thoughts on Tag Team titles for the women?
There has been talks of tag titles for the Women's Division and I think that I love that they first introduced the MITB briefcase, that's been a long time coming and that adds an element of surprise within the title picture. I would love to see these rumored tag titles appear sooner than later, but for that to happen, I hope they bring up these women that are already at NXT or some women they've seen on the Mae Young Classic and expand the roster.
What is your favorite match throughout your WWE career?
I would say a lot of my favorite matches would happen on the live events, when the cameras aren't rolling because we can be a little loose. In my heart, my favorite match would be when I won the title against Trish Stratus in the main event.
What went through your head during your match with Trish when you hit that suicide dive and almost broke your neck?
A lot of people think that suicide dive was when I broke my neck, that was three years after I broke my neck. So, I dove out and because Trish is much shorter than me, the trajectory had to go down and I did what we call a Scorpion Dive. I didn't know what happened on that suicide dive. When performing such move, people can catch their feet on the ropes.I knew I cleared the ropes and when I hit the ground I just didn't understand like 'Whoa, how did that happen' and I pop up confused. I heard the crowd gasp, and I think 'uh okay, I think that might have looked pretty bad, I'm gonna go ahead and take all 10 seconds of the ref counting to relax and refocus so that I could continue on.
What are your thoughts on a Team Bella vs Team Bestie match?
I think it would be really fun, because if you look at my career or Trish's career when we first started to how much we evolved throughout our career is quite an evolution within our characters. Then seeing when the Bellas came in, they had to keep fighting that stigma 'They are not wresters', they keep having matches until finally they had matches with everyone from Charlotte to Stephanie McMahon and all people who are considered competitors to finally start to change some people's opinions about the Bellas. So I think it would be really good to have two teams from two different times that have had quite an evolution in their ability, in the ring and their overall character, to fight it out and just put on a really entertaining show.
Now that the Hardy Boyz are back, would you like to work with them again?
I don't think that it's Team Xtreme without Lita, so all I want to say is keep your eyes open if you see a third member, whoever the Hardys are facing, messing around with them and their needs to be an equalizer potentially for a 'One Night Only' attraction, I think that would be fun.
Which one of the Four Hoursewomen would you pick to have a match with?
I think theres something very special there. When things click and come together, theres a lot of stars that align. So for Bayley, Sasha, Becky and Charlotte to pull that down as the modern-day Four Horsemen, that as a unit is very special but if I had to take one of the colors out of the rainbow, it would be Charlotte, if I could just pick one.
Between Edge and Kane, who did you prefer working with and why?
Man, you guys ask the tough questions, same as if I have to pick ONE of the horsewomen, it's tough. Fortunately, over the years, everyone that I worked with really embraced the partnership of working together. With Essa Rios, with The Hardys,, and with Kane, and with Edge.. even if Edge was in the ring and I was outside, or if it was backstage, whatever it was, I wasn't the background to them. It was a unit, together. Fortunately, Kane and Edge, and the Hardys, and Essa Rios, all embraced the same sentiment and I'm so lucky for that. Because a lot of the women over the years in the locker room come to me and have said 'Whoever is not happy working with me.. How do you deal with that?', and it is difficult to answer. If you're forcing me to pick just one, it would be Edge.
Commentating, it something you would do in the future?
So, when I was asked to call the action alongside JR for the MYC, it was a big honor and I love being able to come full circle. JR is the one who hired me initially to start my journey with the WWE so to work on that capacity on the other side behind the desk with him, I was really excited not only with that but the unprecedented history-making of a 32 women tournament is also very exciting to be a part of. So while I was very honored, I will say that I felt a lot of pressure and I was very nervous because I've watched million wrestling matches and I've listened to commentating but when I'm watching, I'm not talking i just go like 'Wow, thats cool' and so to translate to all-of-a-sudden jump in to be a commentator… (Looks at Sylvain Guernalec) I hear you're a commentator. It's hard right? Because you wanna do justice to the hard work thats happening in the ring. I had just met these 32 incredible women and tried to do justice to them and to their matches. So yes, I was honored but at the same time I was pressured, they're saying a lot of things to you in your ear, you're trying to hit time queues, its a whole thing.. Very challenging but I enjoyed it.
Who is the current WWE Superstar that impresses you the most, today?
Again with these tough questions… But if I had to pick one: Shinsuke Nakamura. He's a rockstar, and that's what drew me to get into wrestling, being both a rockstar and an athlete in one job.
Who is your favorite wrestler prior 2000?
Hmm.. I'm gonna go with Dory Funk Jr., do you know him? Terry Funk's brother, he helped train me so I have a special place in my heart for him. OH and, Shawn Michaels.