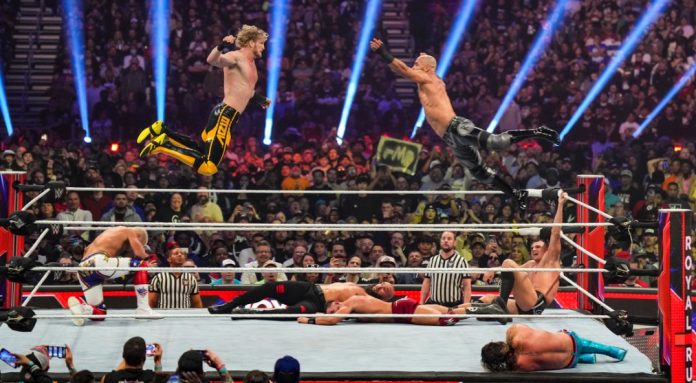 At the WWE Royal Rumble, there were many great moments, but the collision between Ricochet and Logan Paul in the air stood out to many fans.
Ricochet and Paul used the top rope to springboard across the ring from opposite ends of the apron, colliding in midair with a double clothesline.
Logan reflected on the spot when he was chatting on his Impaulsive podcast.
"The move, we both do a springboard…when this move was pitched to me, I was like, 'is that possible?' Generally, when I have that reaction, it's a good thing because if it is (possible), it's incredible. I don't think it's been done before. The wrestling purists will perhaps come down on me for this, but I don't think it's been done before, which is what I like to do. I like to chase those moments that are really fresh and create that social media buzz. Mid-air, me and Ricochet clothesline the shit out of each other at 1000 miles an hour and then, when we landed, because we're falling from seven, eight feet, I crawl out of the ring, I have some time there to sit on the edge. Someone gave me PRIME, shoutout to that person. Got back in the ring and managed to finish it," he said.
Logan made it to the match's final three competitors before being eliminated by Cody Rhodes.
Paul's girlfriend Nina Agdal was concerned about him backstage, especially after he had just undergone surgery for a Grade 3 MCL tear at WWE Crown Jewel.
"I told her in the room, 'I just have to tuck my chin.' Every wrestler I passed on the way out was like, 'tuck your chin.' She's like, 'this is a thing, you knew it was a thing, and you didn't do it? You moron.' Look, I'm learning as I go. It's hard. I'll be honest, none of it matters because I eliminated Seth Rollins," Logan said with a laugh.
You can check out the complete podcast below:

(h/t to Fightful for the transcription)