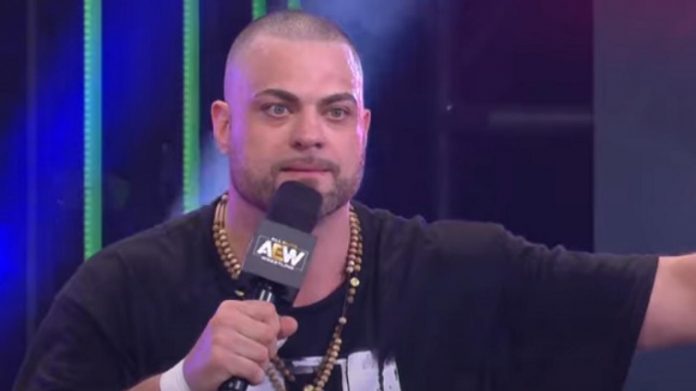 This weekend's AEW Revolution card has the potential to be the best in the company's history, with a lot of depth to the line-up, even if the argument could be made that there's one or two extra bouts on the broadcasts that aren't necessarily needed. The more important point being that several of the performers sold this pay-per-view very well to the potential viewing audience, an aspect of the business that is key when trying to sell traditional pay-per-view in the modern era.
The AHFO vs. Sammy, Darby, and Sting seems like a bout more for Rampage, but is probably an attempt by Tony Khan to shoehorn more talent onto the show, another potentially pitfall with too many names on the roster. You can have an entire roster of great talent, but there's only a limited amount o time for a broadcast. As talented as the competitors are in this match, there might've been better use of a few of them while leaving some others off the main card than a rather pedestrian six man tag match. I'm going to pick the baby faces to get the win here, but that's more of a guess than anything else. Hopefully, this match is booked for after the dog collar match because other than pacing, there's not a lot of substance to this contest.
The three-way tag team title match should be a fun spot fest, but let's hope this doesn't get the usual twenty minutes that most championship matches are slotted for on AEW PPV. A fire works show can build to a finale, but it's important to know when to go to the finish so you can avoid a flat conclusion to the segment. The Jurassic Express title reign is rather undistinguished so unless Tony Khan has something already lined up for Jungle Boy on his own or a particularly compelling angle for The Young Bucks/Red Dragon, I would guess that the champions retain the belts. Granted, the selling point of this bout is the high spot stuff, but it's one of the few matches on the card that lacks a story so unless Khan has something better planned, it makes sense to allow Jurassic Express to continue their title run.
On any other card, the TBS championship match would probably be one of the more featured contests ahead of the PPV, but the card has a lot of depth, including the anticipated Thunder Rosa/Britt Baker rematch, so this one might be overlooked before the bell this weekend. That said, Tay and Jade have done very well with the promos to build this match-up. Tay portrays the persona of the sentimental baby face very well, and Jade's work overall continues to evolve as she gains more experience. The common thought was that the TBS title was more or less created to showcase Jade, which is fine, but at the same time, I'm not necessarily sure two women's titles will be a wise decision long-term. That's not a knock on the talented female on the roster, either. It's rather a look at the numbers. Generally, more men than women pursue pro wrestling in the United States so it's understandable that there will be more men on the AEW roster. However, if you're going to book two women's championships then Tony Khan must make it a priority to sign as many top female wrestlers as possible to provide the depth for two belts. How the former Ember Moon isn't already under AEW contract is puzzling. More than the depth of the female division, it appears that the presentation of the belts put the TBS title as the secondary women's belt, which is fine, but in the future, specially after Jade drops it, the company has to establish that there's a path to the AEW Women's world title. Jade gets the win for what should be a solid match.
Jon Moxley vs. Bryan Danielson is a match that I'm really looking forward to, and based on the promos, this will be a bloody bout. It's important to note that if there's blood here and obviously blood is expected during the dog collar match, that it's key for the placement of each of those bouts on the card. In some ways, this looks like it might be the start of a Danielson baby face turn, which I have to disagree with simply because of how stellar his heel work has been in recent months and I really think there's more for him to do as a heel before he goes back to a baby face role. Moxley gets the win to set up the tag team with Danielson, which at the very least, creates some intrigue as to what the duo will do as a team since there were established so strong on their own previously.
Speaking of promos, the verbal jabs between Eddie Kingston and Chris Jericho were tremendous. There are very, very few in the industry that will eclipse Jericho in a promo battle, but Kingston got the shine during this segments because his authenticity is undeniable. On the flip side of Danielson's potential baby face turn, this feud might be the start of another stint as a heel for Jericho. In truth, it gives Jericho more to work with going forward because he already reached legend status so it's rather easy for him to use a paint-by-numbers approach and let the crowd sing Judas during his entrance. Jericho isn't known as someone that's content to play the greatest hits so a heel turn freshens things up for him. That being said, Kingston should get the victory at the pay-per-view. Jericho is more or less untouchable in terms of his level of star power in AEW so a loss doesn't do anything to diminish his status, whereas a win for Kingston could cement him as a star. I could be wrong about this, but I sincerely believe that Eddie Kingston is a main event talent that should eventually get a title run. As mentioned, Kingston has a level of authenticity that very few bring to the table and that credibility is what connects with the audience, which is ultimately how you draw money.

The ladder match for an eventual title shot is tough to pick a winner because it's totally based on who Tony Khan thinks is the most valuable to push right now instead of down the road. Wardlow could win if Khan is ready to run with the MJF/Wardlow angle, but MJF might have more to do with Punk after the dog collar match. Ethan Page is a potential winner because he has the talent to be in the title picture, but he hasn't exactly been a featured competitor on television. Keith Lee, who recently debuted in the company, is the athlete that I'm going to guess is going to win the match and then put over the AEW champion. As far as the match itself, these types of ladder matches are usually either spectacular or a total cluster so it remains to be seen how it unfolds at the pay-per-view.
Britt Baker vs. Thunder Rosa is another match that I'm really looking forward to on the card, and while it would be very difficult to top their initial match from a few years ago, there's two are very capable of a stellar bout that could standout on an already stacked show. This one is a toss up because if there are plans for the trilogy bout then Rosa might win the championship, but Baker has a lot of momentum so it wouldn't be a shocker if she retained, but that's one of the aspects that makes this contest compelling this weekend. I will pick Baker to retain, but that's more of a guess than anything else.

The dog collar match is probably the biggest selling point of the entire show and the MJF attack on CM Punk this past week on Dynamite is how you sell a pay-per-view. As much as some people want to debate star ratings on social media, sometimes pro wrestling is simple. If you have a hated heel and an over baby face then it can draw money. I have to pick CM Punk to win in what should be a bout with great drama as the match goes back and fourth to its conclusion. This sets up for a rubber match and hopefully it will continue the feud.

The main event is surprisingly a little underwhelming. Adam Page continues to evolve in his role as champion, which was boosted from the wild Texas death match he had against Lance Archer. As talented as Adam Cole is and he definitely has the ability to be the AEW champion, his tenure so far in the company is rather lackluster. Has anything Cole done so far in AEW made him look like threat to the championship? I hope I'm wrong, but I have rather low expectations for this main event, but it seems like a rather easy decision that Page retains the title.
What do you think? Comment below with your thoughts, opinions, feedback and anything else that was raised.
Until next week
-Jim LaMotta
E mail drwrestlingallpro@yahoo.com | You can follow me on Twitter @jimlamotta