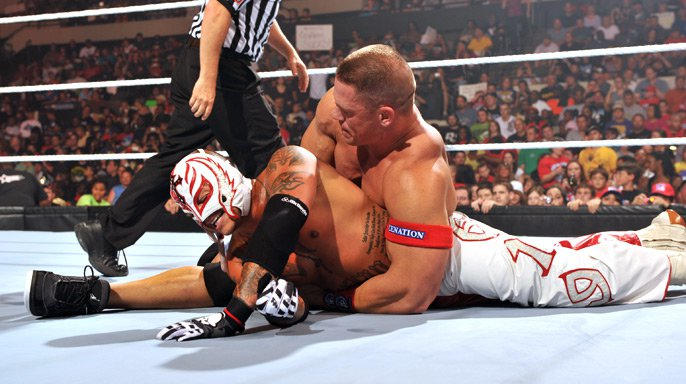 Wrestling is always full of memorable moments.
There are moments that make you so happy, you cry! The return of CM Punk, or Kofi Kingston's WWE Title win for example. But the moments that make you, so angry, so bitter, that it still bothers you 12 years later, are the ones that hit the hardest.
I'm talking about John Cena defeating Rey Mysterio, TWO HOURS after Rey won the WWE title.
Oh what a series of events that was!
CM Punk had just walked out with the WWE Title in an amazing match vs John Cena at WWE Money In The Bank. The next night, WWE held a tournament on Monday Night Raw, to see who would be crowned the NEW WWE Champion. The biggest shocker, was John Cena being ABSENT in this tournament. Maybe he was there and we couldn't see him!
But I knew in my heart,  this way Rey Mysterio's time.
WWE were the biggest menaces putting the match between The Miz and Rey Mysterio the NEXT WEEK after a night of buildup and hype. But we waited, and the pay off in the opening match a week later, was spectacular. Rey Mysterio had defeated The Miz, finally capturing the WWE Championship.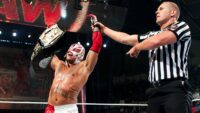 I was ready for all sorts of feuds Rey was going to have, and was looking forward to a hopefully decent title reign. But no. Those were Shattered Dreams, and I ain't talking Goldust! An hour later, the most confusing graphic was shown for the main event that night. John Cena would be wrestling… Rey Mysterio? For the WWE Title? "But didn't Rey just compete tonight? Wow, I guess John Cena is losing tonight"!  Oh the young wrestling mind. So innocent…
The Main Event starts, and for the first time since 2003, two of the biggest names would be fighting for the WWE Title in the main event of Monday Night Raw. It pains me to even say this, it was a great match! John and Rey have amazing chemistry together, and they put on a really fantastic match that night. Until… John Cena beats him, to capture his 11th World Championship. Later, CM Punk shockingly returns with a new theme of Cult of Personality, and both men are instantly thrown back into their feuds.
Rey Mysterio? Goes immediately back to the undercard… No rematch, no promo, no indication he ever lost it
In what should've been a huge moment, WWE did Rey Mysterio so incredibly dirty for his first WWE title win. There were so many better options they could have done. First off, have it be CM Punk vs Rey Mysterio at SummerSlam! That way we aren't repeating the same thing, and we get a fresh match between the two, and John didn't need to lose twice in a PPV row to Punk. Even better, make it a Triple Threat at SummerSlam! They could have even set up the match the next week on Raw between Rey and John, brought a good mini feud between the two, and drag it out a little bit longer.
But in the end, we got an alright match between Cena and Punk, with a returning Kevin Nash attacking Punk, that led to… nothing between the two.
But even worse, Rey never got a chance to rewrite that shameful reign he was given.
There have been numerous moments that make me angry to be a wrestling fan. But nothing is worse, than Rey losing the title in 2 hours.
What do you think? Share your thoughts, opinions, feedback, and anything else that was raised on Twitter @PWMania and Facebook.com/PWMania.