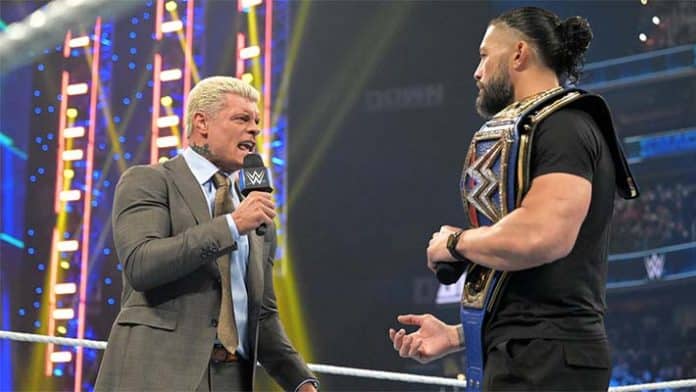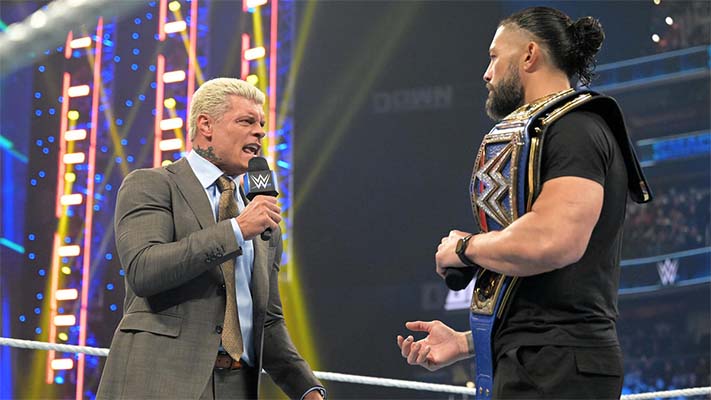 As we all know, Cody Rhodes is set to face Roman Reigns at WrestleMania 39 for the Undisputed WWE Universal Title! I am very excited about this match and have been anxiously awaiting it ever since Cody returned to WWE last year at WrestleMania 38. (You can read the article I published last year on the subject at this link). Since his return, we all knew Cody was destined to face Roman for the title, which will finally happen!
While Roman has been at the top for a while and is a great champion, it would be a fresh change to see someone else up there too. Now I am not taking anything away from Roman. He has been great, has worked hard, and has paid his dues. The Bloodline has been a dominant faction for WWE and has helped carry the promotion for some time now. Roman has also been the face of WWE, as Cody was the face of AEW while he was employed there.
As talked about in their promo exchange this week on Monday Night Raw, another thing that Cody and Roman both have in common is that wrestling runs in their families. If you haven't watched their exchange on Raw this week, you should.
Roman comes from a long line of wrestlers like Yokozuna, Rikishi, the Wild Somaons, and Umaga.
And, of course, everyone knows about Cody's family. His brother Dustin Rhodes who was known as Goldust in WWE. And then there is Cody's father, Dusty Rhodes, who is commonly known as one the greatest of all time.
Roman and Cody are arguably the biggest stars in the business today. They are both great performers, and both have high wrestling IQs. This match has the making to be a great match, maybe even a classic.
Roman is also the longest-reigning WWE Universal Champion and the current WWE Champion. He has been competing at the top for years and is considered to be one of the best active wrestlers today.
I would also like to note what a moment this is for Cody. He requested his release from the WWE in May 2016 when there were no other "major" promotions to go to. So what did he do? He went and worked hard in the indies, ROH, NJPW, and Impact Wrestling (formerly TNA) and eventually won the NWA Worlds Heavyweight Championship. He and his father, Dusty, are the only father and son to do so.
Cody was also a major part of starting AEW, which is now WWE's largest competitor. He wasn't only the face of AEW, he was also an executive within the company. So for Cody to come back full circle and be in the main event at WrestleMania after all of the success that he has had while he was away is huge.
The build for this match has been slow, and I think that's okay. There are deep storylines here with The Bloodline, Sami Zayn, and Kevin Owens. Cody has confronted Paul Heyman and Roman and has also had a few run-ins with The Bloodline.
I am confident that this next week before WrestleMania should ramp up their feud and help to gain a lot of steam for their match. Cody is set to face Solo Sikoa on Monday Night Raw and to go face-to-face with Roman on SmackDown next week. I believe Cody going over is the best for the business at this time, and I think he is ready to be the face of WWE.
What do you think? Share your thoughts, opinions, feedback, and anything else that was raised on Twitter @PWMania and Facebook.com/PWMania.