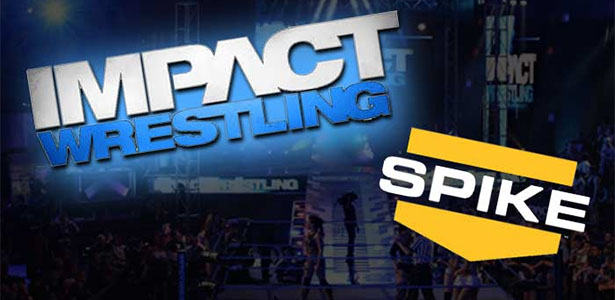 This week it was reported on TMZ that Spike TV has decided not to renew TNA Impact when the TV contract expires in October and there are several rumors that it could lead to the company shutting down. However, the story has more to it, as there are reports that Vince Russo confirming that he works for the company as a consultant, led to Spike's decision not to renew the contract. Supposedly, Spike TV isn't a fan of Russo because of some of the angles he booked during his run as a writer for the program that aired on the network and TNA hid that he was still involved with the company. There was a rather bizarre incident that led to the information being revealed, as Vince Russo accidentally E mailed production notes to PWinsider's Mike Johnson that were supposed to be sent to the TNA announce team. Initially, Russo denied it and he claimed he "swerved" Johnson to prove the dirt sheets would report any rumor. Mike Johnson, who is a reporter that confirms the content he publishes as much as possible in wrestling, said he would post the e mail online if Russo didn't confirm the truth. After that Russo confirmed on his website that he's a consultant for TNA and then it was reported that Spike TV wasn't going to renew the TV deal. The report generated a lot of discussion online and Russo was dismissed from the company.
Did Russo get TNA cancelled? While, TNA hiding Russo's involvement with the company probably didn't help, it's doubtful that Russo is the reason that Spike announced they won't renew the deal. The Spike executives are the only ones that know the answer, but if I had to guess, I would say it's probably a variety of reasons. TNA has a steady 1.0 ratings, which is decent, depending on the network, but after nine years on Spike, the numbers are basically the same so as a TV program, Impact hasn't increased viewers. The stagnate numbers are only one aspect of the show and the goofy booking probably didn't do them any favors either. Spike TV owns Bellator MMA so it's possible they are going to try to put their own entity into the prime time spot, but at this point, who knows? It's always possible that Spike is using the announcement to negotiate a lower deal to resign TNA because at this point, Spike can say, "here's the deal, sign it or get cancelled." Dixie Carter claims on Twitter that negotiations with Spike are continuing, but what else is going to say? Spike not willing to renew the program doesn't exactly help the perception of the TNA brand and it could effect the prospects of another network signing a deal.
I doubt that another network will sign TNA, mostly because the perception of pro wrestling in the United States is at somewhat of a low point and more specifically, TNA itself is known more for it's blunders as a company than the talent on the roster. In some respects, TNA today is very similar to WCW in 2001, as there's not much that can be done to improve the product. The company has been too bush league for too long for it to be considered a competitive or profitable product. The laundry list of mistakes that TNA has made to get to this point are numerous and they were discussed previously so there's no reason to discuss them again. As much as some people might want to blame Vince Russo, he's not the only reason TNA might shut down and there's certainly many different things that led TNA to getting canceled. Dixie, Hogan, and others can get the blame for the decline of the company. So, will TNA shut down?
Without TV, there's no doubt that TNA will shut down because without the TV contract and ad revenue, there's really no way for the company to generate money. If the company shuts down, it sets wrestling back ten years because competition fuels business. It would be extremely disappointing if competitors such as, Samoa Joe, Rhino, etc. didn't have a stage and there aren't many options in the United States. The WWE has a main roster and an entire roster at NXT so how many spots would there be for TNA talents? Realistically, there's only a few wrestlers on the TNA roster that might be offered a WWE deal, not because they don't have the skills, but the WWE seems to want to make its own stars. If nothing else, TNA shutting down might be an opportunity for Global Force Wrestling to get a spot, but again it would set wrestling back because it would take years for a new promotion to become competitive for the wrestling business.
What do you think? Comment below with your thoughts, opinions, feedback and anything else that was raised.
Until next week
That's My Story and I'm Sticking To It
E mail drwrestlingallpro@yahoo.com | You can follow me on Twitter @jimlamotta