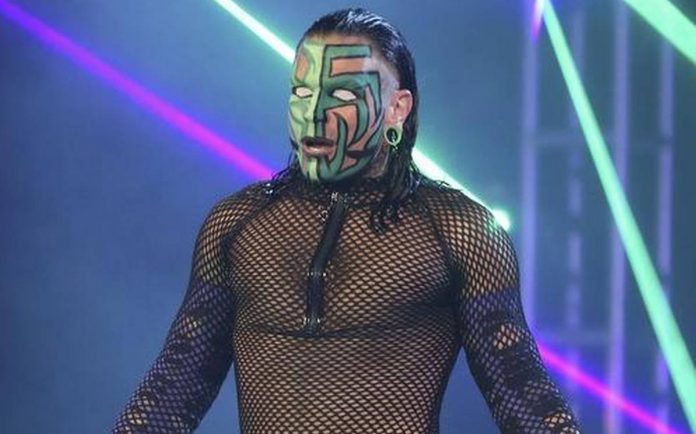 Yesterday, All Elite Wrestling star, Jeff Hardy made news online when it was reported that he was arrested for DUI with a blood alcohol content of more than three and a half times the legal limit. Reportedly, Hardy was detained early Monday after he performed a concert at a Dave and Buster's in Orlando, Florida. Hardy was weaving in and out of traffic and his erratic driving prompted calls to the authorities of a possibly intoxicated driver.
This was just days before the advertised three-way ladder match on this week's edition of Dynamite, as well as a main event tag match the Hardys are scheduled for this weekend in Mexico. As of this writing, All Elite has yet to comment on the incident, and according to The Wrestling Observer's Dave Meltzer, there are attempts to find Matt Hardy another tag partner for the bout scheduled in Mexico.

However, all that is completely irrelevant because the real-life consequences of Hardy's behavior could've had a much bigger impact than cancelled pro wrestling matches.
The career of Jeff Hardy is as complex as it is thrilling. He's a charismatic star that could connect with an audience, and his unique style made him a commodity in the sports entertainment business. The risks he took made him a staple of highlight videos for years, but it also became the downside of the other narrative of his run in pro wrestling. For the past two decades, there was the sporadic narrative that Jeff battled addiction throughout his career. When he was on the cusp of major stardom in the WWE in 2003, he was released after he refused to go to rehab for his drug use. After a stint in TNA, Hardy returned to the WWE and actually had two wellness policy violations in the mid-2000s. Eventually, WWE management put a level of trust in him, booking him to win the WWE championship in 2008. He spent most of 2009 in the main event scene before his contract expired in August of that year and he opted to take a hiatus from the company to heal from various injuries. Less than a month later, Jeff was arrested when massive amounts of pain killers and drugs were found at his home.
In January of 2010, Hardy inked a deal with TNA and as we know, there was the infamous Victory Road match against Sting in 2012 when Jeff showed up on a live pay-per-view completely intoxicated so the match went to an impromptu quick finish to get him out of the ring.
Jeff has gone back and fourth to different organizations over the years, including making a memorable return with Matt at Wrestlemania in 2017. Obviously, it's clear that Jeff was a valuable star because he received several chances from the WWE, and when the legal trouble would've been negative publicity, he had chances to go elsewhere because of his name value.
At some point, that should stop, but the sports entertainment business isn't known for its ethical standards.
In some ways, Jeff's arrests in 2019 at least seemed manageable because he was under contract to the WWE and while the corporation isn't perfect, it's well-known that talent are offered help with substance problems. Ironically, when Jeff walked out of a house show contest late last year, it was assumed that he was intoxicated and he was offered help, but declined so he was released from the WWE before the results of a drug test were negative.
That opened the door for Jeff to sign a deal with AEW for a Hardys reunion in March, but it was clear that this wasn't the same tag team that made waves two decades earlier. It's not meant as a knock against either of them, but particularly Jeff looked to be physically limited during some of his AEW appearances. Unfortunately, that's not surprising after several years of big bumps and high risk matches. That's why I said when Jeff originally debuted in All Elite that it would probably be better for The Hardys to play the greatest hits and allow their name value to be the main draw of this All Elite stint. Instead, Jeff did a dive through a table just a few weeks after his debut, and more recently, took some unnecessary bumps in a match against Darby Allin.

Just two weeks ago, Hardy appeared to be injured in a match against the Young Bucks at Double or Nothing, which prompted criticism from fans when the previously mentioned ladder match was announced for Dynamite.
By all accounts, Jeff Hardy is a great guy, and he probably is a genuinely good guy, but there was absolutely no excuse for his decision to drive when he was intoxicated. It goes without saying that Jeff is a tremendously talented performer, which is why so many people want to see him be successful and maintain a healthy lifestyle, but that isn't an excuse for his behavior either. Swerving on the road while intoxicated more than three times the legal limit is the path to a tragedy, not a hurdle to a success story.
Many will say that Jeff needs help and they are probably right, but that's a decision that only he can make for himself. The decision to allow Jeff Hardy to work on national television is Tony Khan's decision, and while I doubt he will be released from AEW, I really think that would be the right decision in this situation. If some indy promoter wants to pay big cash to book Jeff in North Carolina, where he can be a major hometown draw then let him be a big fish in a small pond there. But, an aging star that clearly has a problem will be nothing but negative press for AEW. Again, the wrestling business isn't known for its ethical standards, but if Tony Khan wants to protect Jeff Hardy from himself then he should release him from the company so that Jeff has to really consider his next move since WWE won't be an option until he gets some help.
I say this with all sincerity, I hope that Jeff Hardy find a way to maintain a healthy lifestyle. I truly hope that he can overcome his substances problems and retire from pro wrestling. The results of this situation will be that Jeff has a legacy as a wrestling star or his story will be a tragedy when he hurts himself or someone else. Sadly, the Sunny scenario is probably an indication of what will happen if Jeff doesn't get some help for the problems.
What do you think? Share your thoughts, opinions, feedback, and anything else that was raised on Twitter @PWMania and Facebook.com/PWMania.
Until next week
-Jim LaMotta
E mail drwrestlingallpro@yahoo.com | You can follow me on Twitter @jimlamotta