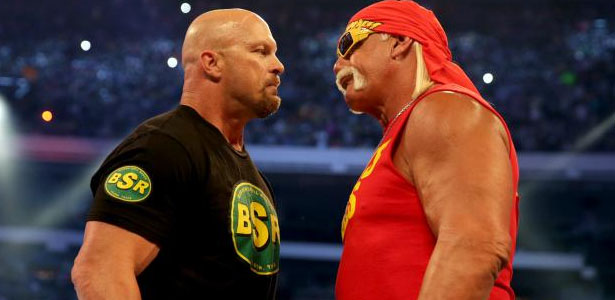 I was set to continue writing a column about some of the new WWE signings (that should be posted next week) and I planned to publish it tomorrow, but as I was scrolling through the recent wrestling news, I read a story that should be addressed. WWE ambassador, Hulk Hogan is once again trying to work his way into a big money match, this time with Stone Cold Steve Austin, as Hogan called out Austin during a recent interview. Hogan concluded his statement when he said that if the match with Austin couldn't happen, he wants to wrestle John Cena. Isn't it ironic that Hogan is trying to get a match with the biggest star of all time and the current top star? The quotes from the interview can be here.
Hogan is a smart business man, but his recent attempts to spark potential matches through outside media outlets are laughable. He went as far as hinting that he could wrestle another match previously, even though it was reported that he didn't pass the WWE physical for his return to the company, which is why he hasn't done anything other than promos. At this point, Hogan should only appear for promos and a PR role when it makes sense. Hogan trying to cash in on another match is ridiculous and the results would probably be embarrassing, for both Hogan and the WWE. Before Hogan's attempt to draw Austin into a match, he actually named Lesnar as a potential opponent during a TMZ interview because the WWE champion informed him, "Party's over grandpa." As ridiculous as Hogan's attempt to work another match is, it's not really that surprising, considering his career.
Hogan has always looked for a way to maximize his pay check, which is somewhat understandable, but he damaged companies in the process with no regard to what it did to the business. The argument could be made that Hogan drained TNA and that it was one of the contributing factors for the current TNA situation. You can't blame Hogan for taking the money, but the reality is, Hogan needed the money and he wasn't there to help TNA. There was also a similar pattern during Hogan's WCW run and while he used his creative control stipulation if he didn't want to do the job, he will probably take a different approach when trying to pitch a WWE match.
Hulk knows that he doesn't have the political power to insist that he gets a win during a match with the WWE champion or the top star in the company, which is why he would volunteer to do the job because the pay check is the only reason he is trying to promote a potential match. As embarrassing as a current Hogan match would be, the money is more important to Hulk than tarnishing his legacy. Let's be honest here, Hulk is 61 years old and Brock Lesnar just destroyed John Cena so how would it be logical for Lesnar to do anything other than squash Hogan? The same could be said for a Cena match, why would he sell anything for Hogan? That being said, Hogan's lame attempt to get a match probably won't generate a demand for it and it seems doubtful the WWE would book it.
What do you think? Comment below with your thoughts, opinions, feedback and anything else that was raised.
Until next week
That's My Story and I'm Sticking To It
E mail drwrestlingallpro@yahoo.com | You can follow me on Twitter @jimlamotta