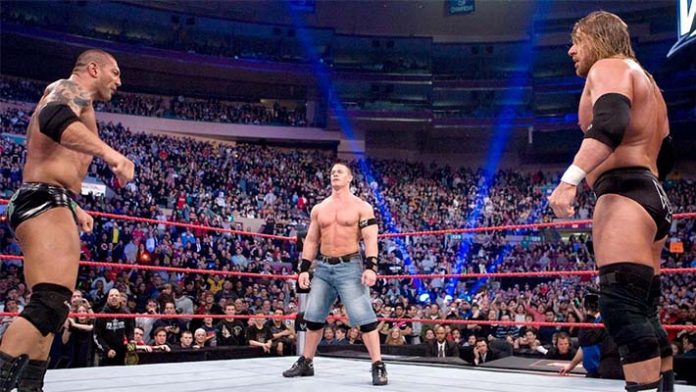 The 2008 Royal Rumble. A rumble remembered mostly for the unbelievable return of John Cena, who came back from an injury that was meant to set him back until beyond Wrestlemania, he made it back for the Royal Rumble. But it wasn't all Cena, the rumble was entertaining, from how many top guys were in the match, to the legends that showed up.
The way this one started off, was fantastic. The Undertaker out at number 1, after winning the previous years rumble from number 30. Then Shawn Michaels at number 2, the two that finished the rumble the previous year, started this rumble, which was a fantastic decision. One of the best parts about this duo this time around, was everytime Undertaker was distracted, Michaels would attempt to eliminate him, which eventually HBK did eliminate him, but was eliminated immediately after, landing right at Undertaker's feet, and in a comical manner, looks up and makes sure he goes the other way around the ring to avoid Undertaker.
From when Hardcore Holly came in at number 5, the ring was filling up and more or less stayed at a point where there were at least 5 guys in the match at one time. Batista came out at number 8 and had a staredown with Undertaker after their epic rivalry in 2007. The middle is fairly fun with CM Punk, Cody Rhodes and Umaga being some names within the middle of the match.
The legends that appeared were Jimmy Snuka at 18, crowd went insane and started delivering some headbutts. Then Roddy Piper was out at 19 and this was amazing. He got into the ring and it was like time stopped while Snuka and Piper went at it, where literally everyone in the ring stopped what they were doing to watch the two legends go at it, it was absolutely brilliant. They were eliminated by Kane who came out next though.
Carlito came out at 21 and comically spat apple in the face of Cody Rhodes, next was Mick Foley, just dealt with everyone that came at him. The ring continued to fill up, the big guys came in over the next few entries, like Big Daddy V and Mark Henry. Fast forward to 29 and Triple H entered the rumble, eliminating Cody, Big Daddy V, Mick Foley and Elijah Burke.
Then came the ultimate surprise of this rumble, John Cena at number 30 who had only just gotten injured around 4 months before this, made an insanely quick recovery, which started to become a theme throughout his career. It's probably the best rumble return, not to mention, he got the entire crowd to cheer for at least until he got into the ring, which is brilliant, for a short time at least, Cena had everyone cheering him. Triple H sold his surprise fairly well too.
Cena and Triple H had a big confrontation, just before Batista eliminated both Umaga and Kane to leave the final three of Triple H, Batista and Cena. They each did their signature taunt to each other before going at each other. Batista was eliminated leaving Cena and Triple H, which was a great back and forth before Cena manages to haul The Game over the ropes to win the 2008 Royal Rumble.
A little bit like 2007, its quite a fun time in this rumble, between the stories and the returns, it all worked out to have a great rumble. It really showed that the main event scene was strong back in 2008, with the show having Randy Orton and Jeff Hardy competing for the WWE Championship, while Rey Mysterio challenged Edge for the World Heavyweight Championship.
Moving onto Wrestlemania 24, John Cena would use his Rumble shot at No Way Out the following month, but Orton got himself disqualified in their match. On the same show, Triple H won the elimination chamber to become number one contender to the WWE Championship, Cena ended up getting back into the picture over the next couple of weeks until it culminated into a triple threat match at Wrestlemania, which Orton would go on to win but ultimately drop the title to Triple H soon after at Backlash.
What do you think? Share your thoughts, opinions, feedback, and anything else that was raised on Twitter @PWMania and Facebook.com/PWMania.