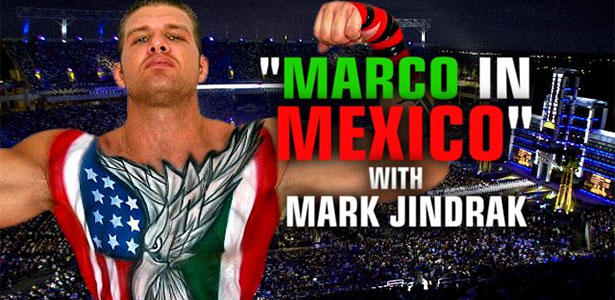 Welcome to my debut column exclusively on PWMania.com! On July 5, 2005, I received the call from then head of talent John Laranitus, saying that WWE had released me. It sure was a weird feeling. Wrestling was the only real job I had ever held. Was it the end? Was my career going to be best remembered for a "Reflection of Perfection" gimmick? Or would I be remembered as the henchman in the Kurt Angle faction along with Luther Reigns? Actually what most people now remember about my WWE days is something that never happened. I was locked and ready to be the fourth member of the prestigious group Evolution. But…. at the last moment they pulled the plug on me and later replaced me with Batista. Damn!! (Ron Simmons voice) haha.

Now I wasn't just going to quit. Shortly after my release in '05, I linked up with Matt Morgan and we did numerous tours to Japan as a tag team in New Japan and Hustle. This went on til early 2006. I had decent success but the truth of the matter was Japan wasn't for me. The tours were few are far between, jet lag and long flights killed me and the language barrier was really difficult. Although I loved Japan, I didn't think it was a place that I would further my wrestling career.
However in May of 2006, my my wrestling career took a turn for the great. I was invited by Ultimo Dragon to participate in his event and first ever DragonMania held in the cathedral of lucha libre, Arena Mexico, in Mexico City. While I was in town I also had a chance to perform in CMLL(one of biggest wrestling companies in Mexico) (CMLL.com) Every Friday they have their main television taping. The night I performed, there were over 12,000 people in attendance. I tagged with ex WWE superstar Johny Stamboli in an Italian gimmick. So, instead of Mark Jindrak, my real name, I was now known as Marco Corleone. A new name, a new start, and a style that was more me. I fell in love immediately. So, I started coming to Mexico for 3-4 weeks at a time for the remainder of 2006 to feel it out.
I came to Mexico as a rudo, or heel, as American wrestling fans have come to know it. The "Gringo" always comes off good as the bad guy starting off in Mexico. However, I was received differently. The girls really liked me, which got early 1950 Elvis Presley screams haha. The "Reflection of Perfection" was working finally haha. I started using my athleticism to create a style that blended well with Lucha Libre. And, I really liked how luchadors(wrestlers) were very respected on a cultural level in Mexico. So in early 2007 I decided that I wanted to live and work regularly in CMLL. I moved to Mexico and really started putting effort into Spanish. I really grew on the fans which changed me immediately to the tecnico side, or babyface side as we refer to it in the states. For the first time in my career I felt the connection with the fans. I mean I was finally "over" haha. But I really was. The years to follow got real interesting in and out of the ring. Now the marketing I saw put into wrestlers like John Cena in the WWE, I was applying to my own career.
From 2007-2010, my wrestling career kept on pace. Continued success with the fans, main eventing with the like of Alberto Del Rio(Dos Caras Jr.), Sin Cara(Mistico), and Dr Wagner(Mexican great). Meanwhile out of the ring was incredible. I had been on every main stream Mexican talk show, morning show, game show, linked and dated various Mexican models, actrices, and singers and started getting small roles in big time Mexican tv soap operas. With the more Spanish I learned the more television opportunities I was getting. The more television I got the more outside opportunities came my way.
* my own cologne called "Strong Mind" by Fuller
* big campaigns and spokesperson for companies like Proctor&Gamble/Gillete, Nike
* wrote first book called "Marco Corleone: Las Primera Luchas de mi Vida" translation:
"The first fights of my life"……a book helping kids with bullying.
* featured in huge Latino magazines like "People Espanol", and was on the cover of 20 main
stream magazines from 2008-2010
* participated in 3 more Mexican soap operas
* worked with the top actors in Mexico and was received well
In Febuary of 2012, myself, Maximo, and Rush became CMLL world trios champions. We kept the titles well over a year and we defended the titles successfully 9 times. It was the longest and most successful run of my career. Out of the ring I also had the best and most successful run in acting. I landed an important part on a comedy called "Porque el Amor Manda". We were #1 in Mexico for months with ratings between an incredible 25-31with shares of 50-56%. The show went to Univision recently in the United States and we had viewers of over 3,000,000 million nightly viewers Monday -Friday on Univision's prime time spot. It felt good to see many Mondays I was on a show in the USA that drew more viewers than a Raw or Smackdown show I was once on. This part cemented me as an up and coming Mexican actor and am currently taking Spanish classes in the television channel's school of Televisa.
So that is pretty much what I've been up to. Mexico has been my home for over 6 years and it really has been a great experience. Coming to Mexico and spending some time in Japan after WWE it has showed me that there is a world of talent outside of the United States. In my column "Marco in Mexico" with Mark Jindrak I will highlight and bring you all up to speed on a lot of what is going down south of the border. I will include video links of great Lucha Libre action and do talent profiles on some of the best talent coming out of Mexico. Alberto Del Rio and Sin Cara got their starts here in Mexico and I can promise you there is much much more….mucho mas!!!
Don't miss my special entry next week. In light of the recent news coming out on HHH's DVD that I was slated to be originally in Evolution(true), I will go in depth and share what was the real story on what happened. And with the holiday season upon us I'd like to wish you and yours a blessed time with family and friends . God Bless Thank you
Mark Jindrak/Marco Corleone (@MarcoCorleone23)
Feel free to post your thoughts, opinions, feedback and comments below.
Mark Jindrak/Marco Corleone Acting Reel:
Marco Corleone's "Top Ten Moves" Throughout His Years In Mexico: