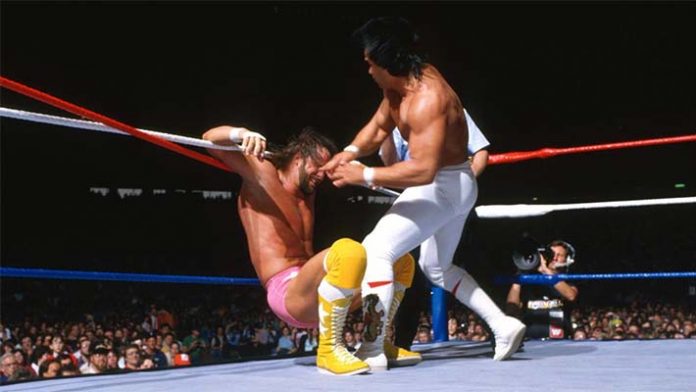 Before the Ric Flair and Ricky Steamboat trilogy of matches in 1989, there was the rivalry between Randy "Macho Man" Savage and Ricky "The Dragon" Steamboat. This rivalry started during a match between Savage and Steamboat in October of 1986; during the match, Steamboat was up against the railing when Savage jumped off the top rope with a double axe handle landing on Steamboat causing him to grab his throat in an immense amount of pain. Later on in the match, Savage jumped off the top rope yet again only this time with the ring bell in hand as he drove it across the injured throat of Steamboat. Moments later, Steamboat was taken to the back on a stretcher as Vince McMahon yelled on commentary "He can't breathe, look at that, he can't breathe."
A few months later after the injury. Steamboat would return to action following the crushed larynx he suffered at the hands of Savage and had the look of revenge in his eyes.
Another element of this match was the corner man of Steamboat, George "The Animal" Steele, who had an affliction with Randy's valet Miss Elizebeth. Not only did Savage have to worry about Steamboat during the match, but he had to also keep his eye on Steele on the outside to make sure his wife/valet was safe at all times and out of harm's way.
Savage and Steamboat were always known for being meticulous when plotting matches. With this match, it was not shocking to know just how meticulously they planned for it. The two opponents spent months planning their bout, using house show matches to come up with new ideas and adding them to the match if they got a good reaction from live crowds. Sequences were written out on legal pads as a numbered list, and they would frequently quiz one another on which numbers correspond with which moves. If it sounds astounding even Steamboat himself was stressed out when it came to remembering each precise sequence.
Not only did Randy pick Steamboat for this match but he also picked the referee for it as well. Savage decided that David Hebner was the man for the job. What set Hebner apart from the rest was the way he would intensely dive to the mat to count. This was yet another element that shaped this match both for in-ring work as well as storytelling.
Wrestlemania 3 stage was set before over 93,000 people at the Pontiac Silverdome in Detroit, Michigan. This event drew 1.6 million dollars in ticket sales with a pay-per-view revenue of 10.3 million dollars which was the highest for the time until 2019 and Wrestlemania 32 from AT&T Stadium in Dallas, Texas. That Wrestlemania grossed 17.3 million dollars and a claimed attendance record of 101,763. However, with that being said the stage was set for Savage and Steamboat to make history; even though it was on a card that was main evented by Hulk Hogan and Andre the Giant.
Leading to the match Randy Savage would defeat Tito Santana amidst some controversy over the finish to win the Intercontinental Championship at the Boston Garden. Steamboat would later go on to say that " this was the moment in time that defined me as a wrestler." As they were making their way to the ring in the famous ring carts the WWF had at this time you could feel the immense severity of this match because of all the build going into this match. This was arguably the moment that put both Savage and Steamboat on the map for two of the most legitimate professional wrestlers of all time.
Throughout the match, there was so much to keep your eyes on as David Hebner attempted to keep order as well as he could, but at times it was clear that it was a daunting task for him. The match went from a strictly mat-based affair to exploring the ringside area in the attempt of Savage to win by count-out. With their 22 reported false finishes both competitors made you believe that this next one could be the one to end the match for good.
However, as Dave Hebner took a turnbuckle bump Savage went up to the top rope to hit his trademark elbow drop but to the chagrin of Savage Hebner was not able to count the fall. As he ascended the ropes again, this time with the ring bell, George Steele made sure Savage was not going to win that way and pushed him off.
With Hebner back up as Savage and Steamboat were trading blows back and forth, Steamboat countered with what would go down as the most iconic roll-up of all time. Steamboat would win the Intercontinental Championship this night from Randy Savage but at the end of the night, Randy Savage would go on to be a household name because of this match and what he did. This match propelled both competitors into a stratosphere that they would be in for many years to come.
This match would go on to be the Pro Wrestling Illustrated and Wrestling Observer Newsletter match of the year for 1987 and be the measuring stick for Intercontinental Championship matches for decades.
For fans watching at home, Steamboat's triumph over Savage was the end of the rivalry. However, the two men continued to battle on house shows as early as four days following Wrestlemania when Savage won a rematch by countout. There would be 22 singles matches in total, including 14 steel cage matches and one lumberjack match. The last singles match in this rivalry would happen in mid-June, two months after WrestleMania 3 and after Steamboat had dropped the Intercontinental Title to the Honky Tonk Man.
Finally, when current wrestlers and fans talk about the best watches of all time this match is high up on their lists. Furthermore, it goes to show how to tell a story and at the same time make a match shape the business for many years to come.
What do you think? Share your thoughts, opinions, feedback, and anything else that was raised on Twitter @PWMania and Facebook.com/PWMania.