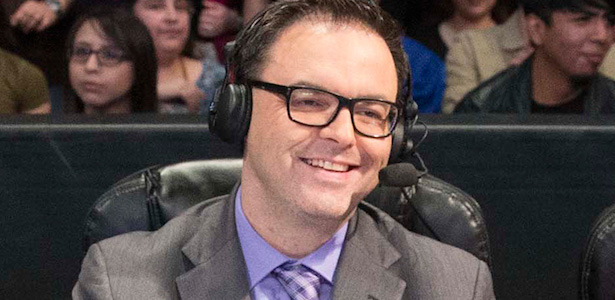 It looks like SmackDown LIVE commentator Mauro Ranallo is leaving WWE.
Fans noticed today that Ranallo has removed any references to WWE from his Twitter bio; it used to say he is a WWE commentator, but now the bio simply reads, "SHOWTIME Boxing/@rutten_ranallo/ COMBAT SPORTS CAROUSEL/ Mental Health Advocate."
In addition, Ranallo has deleted several tweets about his absence from the WWE.
On Mar. 24, Ranallo tweeted, "I'm deeply touched by your tweets of support. My doctor wants me to stay off social media for now but I wanted to thank you."
On Mar. 29, Ranallo also tweeted about WrestleMania, saying that he won't be there and that he wishes everyone luck.
He wrote, "Feeling love from everyone. I am stronger. I want to wish my @WWE family another AMAZING #WrestleMania #KeepUpTheGoodFight #MentalHealth."
One tweet Ranallo has kept up, however, is a quote from Khalil Gibran.
"Out of suffering have emerged the strongest souls;the most massive characters are seared with scars."-Khalil Gibran #KeepUpTheGoodFight

— Mauro Ranallo (@mauroranallo) April 1, 2017
Ranallo suffers from bipolar disorder and depression, and this is the reason he has been absent from SmackDown LIVE for several weeks.
Bas Rutten, Ranallo's co-host on the Rutten & Ranallo podcast, recently said on Sirius XM that his friend is doing okay.
"As everybody knows — he's very vocal about it — Mauro is bipolar," Rutten said. "Sometimes, a couple of times a year, things are going too fast and he needs to just simply slow down. But he's doing good. I talked to him, he's sending me funny video clips, he just sent me something — I didn't take a look at it… but a happy thing – it's all in good spirits. I think he will be back to normal very soon."