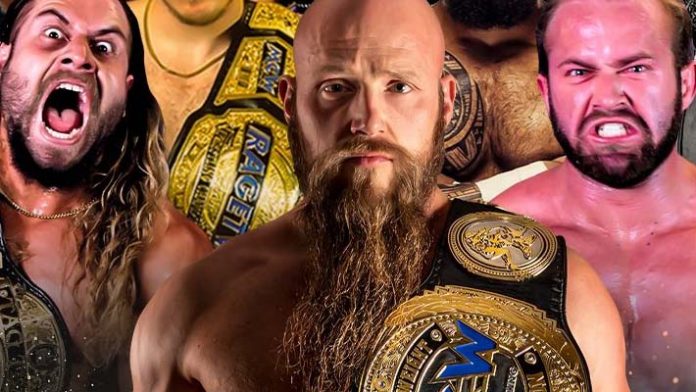 Thanks to MCW for the following:
MCW Pro Wrestling Presents Anniversary 2023: A Night of Non-Stop Action and Excitement
Joppa, MD – MCW Pro Wrestling presents its first event of 2023, Anniversary 2023, taking place this coming Friday night, February 3, 2023, at the RJ Meyer Arena. With nine matches on the card, including three championship matches, this show is a must-see for any wrestling fan. Starting at 8:00 PM, the evening will be filled with bone-crushing power moves, high-flying aerial maneuvers, and special surprises that will leave you on the edge of your seat. The pre-show meet and greet starts at 6:30 PM, giving fans the opportunity to meet their favorite wrestlers and get their autographs.
Grab your tickets now and be a part of the action at MCW Pro Wrestling's Anniversary 2023.
For more information, visit our website at www.MCWProWrestling.com
MCW Pro Wrestling Presents:
"Anniversary 2023"
Friday February 23, 2022
8:000 PM Bell Time – Doors open at 6:30
The RJ Meyer Arena
1000 Joppa Farm Road
Joppa, MD 21085
Impact Wrestling X Division Non Title Match
"Impact Wrestling X Division Champion" Trey Miguel vs Alex Divine
**Tag Team Challenge Match**
"The Soldiers Of Savagery Reunite" Moses & Kaun vs "MCW Rage TV Champion" Miami Mike Walker & Hellfire McGuire
"The Hawaiian Warrior" Kekoa vs "The Mushmaster" Tim Spriggs
**MCW Women's Championship Match **
Becca (C) vs Ray Lyn
Tag Team Grudge Match
Black Wall Street (Drolix & Solo) vs Sigma Males w/ Zayda Steel
Ashley D'Amboise vs Christina Marie
**MCW Tag Team Championship**
Dante Caballero & Joe Keys (C) vs Brandon Scott & Eric Martin "The Trade"
**Bounty Match**
Myles Hawkins vs Demarcus Kayne w/ Gia Scott
**MCW Heavyweight Championship**
Ken Dixon (C) vs Robert Locke w/ Portia
Click Here For All Event & Ticket Information >> https://linktr.ee/MCWProWrestling
Event Hashtag; #MCWAnniversary
Text Or Call MCW: 443-422-3713
– "Like" Us on Facebook Click here—> https://bit.ly/3LfSwoe
– Follow Us On Twitter: @MCWWrestling
– Follow Us On Instagram @MarylandWrestling
– Subscribe To Our YouTube Channel: https://bit.ly/3Hvv980