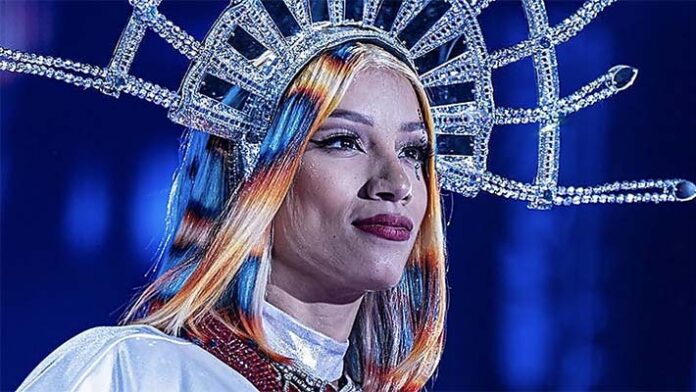 Mercedes Mone recently took part in a panel at the Emerald City Con event in Seattle, WA. where she spoke with fans and media members in attendance.
During the panel, the former WWE Superstar known as Sasha Banks and the current IWGP Women's Champion explained how her experience working on Disney's "The Mandalorian" helped her become a better wrestler.
Featured below are some of the highlights.
On her experience filming The Mandalorian and how it helped her grow as a performer: "I never experienced anything where you had to repeat yourself over and over and over and over. I'm so used to just one take, live and then go and just be like, okay, that's my anxiety and stress but I know I can get it done but, to do it 20 times, maybe 40 times, great. Okay, now we have to change angles, now we have to do it 40-50 times from your left side, from the back, to the right, above you, behind you, underneath you. I never, ever experienced that so to do 14 hour days, I would just look at Katee (Sackhoff) and I would just be so blown away. I learned so much from you and I grew from watching you."
On how being a part of the show made her have her best wrestling year yet in 2019-2020: "I was just so empowered by everything you did on set. She knew Bo as a tea that she would go to Jon (Favreau) and Dave (Filoni) and be like, 'I think Bo would do this or say this' and I learned so much from Katee because I brought that back to wrestling. I'm like, you have to remember what you are and what you're gonna bring to the table. You are the character. You're gonna be this the rest of your life and bring it to people's viewership so she knew so much about being a strong woman that I brought that back to wrestling and I felt that was like one of my best years in wrestling in 2019 and 2020 because of everything I learned from you and Bryce (Dallas Howard)."
(H/T: PostWrestling.com)