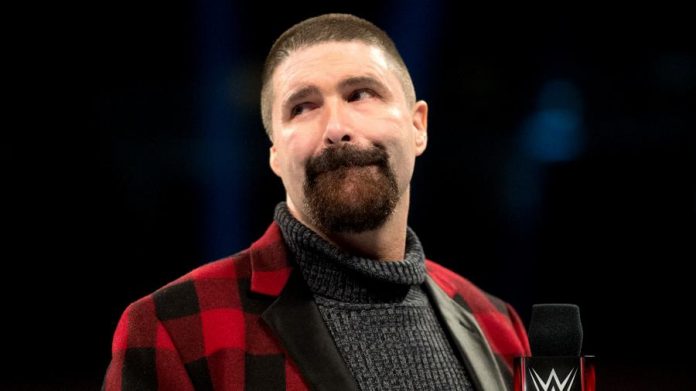 WWE Hall of Famer Mick Foley recently posted a blog entry on his Facebook page. The blog is about members of The Bullet Club – The Young Bucks, Marty Scurll, and Kenny Omega. You can check it out below:
"BUCK-A-MANIA RUNNING WILD
I'll admit, I did not foresee
A time #BUCKAMANIA would run wild on me.
The question is, what will you do,
When #BUCKAMANIA runs wild on you…brother?
Sure, on a certain level, I understood The Young Bucks were getting over strong. I understood, to some extent how well the whole #BulletClub thing was working. Not only were the Bucks blazing their own trail in tag-team wrestling; passing on a rumored WWE offer, because they were perfectly content with their #NewJapan and #RingOfHonor deals, but Kenny Omega had earned the right to call himself a human #MOTY factory, with near superhuman performances on New Japan's biggest shows in consecutive years. And to my surprise, the Marty Scurll #VillainClub T's were beating my #WANTED T's like a government mule at #OTT shows in #Dublin and #Belfast . It's not that the venerable Cactus shirts weren't selling; they were – just at a pace about 1/4 the pace of Marty's. I thought perhaps it was just a fluke…..and this past Friday, at a packed #NortheastWrestling show in Connecticut, it did in fact turn out that those sales figures from Ireland were a fluke.
You see, this time around, with the Jackson boys and Mr Scurll in attendance, that 1/4 nonsense turned into something closer to a 1/100 ratio – as in, for every Foley shirt I saw in attendance, there had to be 100 Bullet Club/Villain Club T's in the audience. No, I'm not joking, either. Like I said, the house was packed, with about 2,000 fans jammed into a high school gym in Waterbury, CT, on a night so nasty that serious thought had been given to postponing the show. And out of those 2,000 fans, I would say there were 400 repping either The Bucks or Marty Scurll.
It's not like those fans didn't like me, either. Many stood in line to meet me, pose for a photo, get a signature. They liked me for sure. But man, they loved those guys! I even had a flashback to the time Owen Hart and I did a signing after a West Coast PPV, where hundreds of fans stood in line. I commenced to signing as quickly as I could to take care of the overwhelming demand, but after 10 minutes had passed, not a single soul approached our table. Owen took great pleasure in explaining to me that the vast majority of those fans were actually not there to meet either me or Owen – but were in fact, waiting to meet Stone Cold Steve Austin. Owen then commenced to comparing our existence that evening to being not even a side-dish to Steve's main entree, but more like the sprig of parsley accompanying the side dish; something either minimally enjoyed, or just disregarded immediately.
Terry Funk, my mentor and idol once described his feelings on Dwayne The Rock Johnson's meteoric success by saying,
"You like to see your friends do well…..you don't want to see them do that well." When it comes to The Young Bucks, though, I just can't help but be genuinely happy for them. I remember those poor guys in TNA, working their hearts out, tearing down the house on several occasions, but never really getting the big break; inevitably flying coach on those cross-country flights back to Rancho Cuccomungo – banged up, wearly, and usually just a few hundred dollars richer for their considerable efforts. But if it ever got them down, I certainly never saw it. Always smiling, always polite, always respectful to this particular grizzled veteran.
When I heard they'd parted ways with the company, I assumed they'd do some indies on the West Coast and fade from the scene.
They didn't. Somehow, likeAJ Styles, they turned the traditional promotional model on its head (the model that says wrestlers need TV promotion to get over) and found a way to make themselves far more valuable as independent wrestlers than they had ever been when wrestling for a national promotion. I ran into Matt and Nick at the Atlanta airport about a year ago, and told them how happy I was for them – and meant it too! Although I still consider myself to be a WWE Raw guy, I think I'm a #ProWrestling guy first, still more concerned about what's best for the wrestling business first – and what's best for WWE second.
Even in the messy midst, and nasty aftermath of the great Waterbury T-shirt massacre, I couldn't help feel happy for Nick and Matt, as well as Marty, and Kenny, and any of the other guys out there who have a choice in where they go and why. The Jacksons are still the same down to earth young men I met nine years ago – who just happen to have considerably larger quarterly royalty statements than they did back in the day. Come to think of it, considerably larger royalty statements than I received back in the day too!
Comedian/podcaster/announcer Joe Rogan sent out a message thanking his fans following one of his comedy shows saying there was no better time to be a comedian, or a comedy fan. I feel the same way about the professional wrestling business. There are more opportunities for more wrestlers – men, and women – and more opportunities for fans to find the product they enjoy the most with the performers they most enjoy seeing.
Every once in a while, the decisions fans make – who to cheer, and how loud, what to buy, and how many, can turn a popular act into a phenomenon. Trust me, I saw that phenomenon on Friday night – the night BUCK-A-MANIA ran wild on me!
Let me know how you feel about The Bucks, Marty, Kenny or the Bullet Club in the comments below.
I'll be at #TheBigEvent in #QUEENS on MARCH 10, and #WrestleCon in #NewOrleans on APRIL 6 & 7. The #20YearsOfHell tour begins April 11 in #Rosemont IL http://realmickfoley.com/events/."