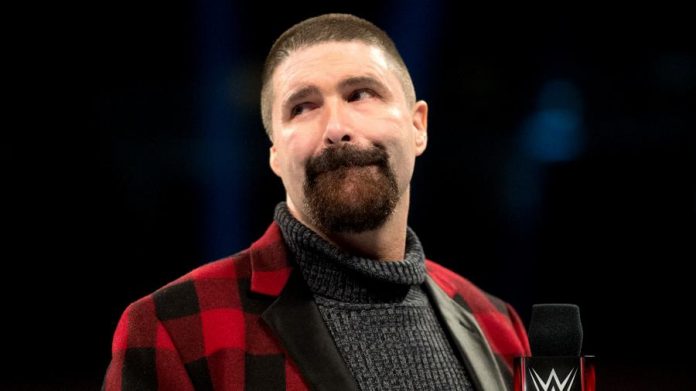 – Mick Foley commented on Facebook about recently being involved in the "Dick Flip" spot with Joey Ryan:
"So last night in Dublin, there was an incident involving a case of mistaken identity, and a leapfrog that turned an innocent attempt at a mandible claw into something far, FAR more sinister! I know Joey Ryan's #DickFlip has divided the wrestling Community in a way we previously thought only John Cena or Roman Reigns could! It has become the #IWC equivalent of the Trump/Hillary election – ending friendships, even turning brother against brother…brother! Son against Daddy…daddy! It's quite possible Jim Cornette will never speak to me again after seeing this photo – a solid 28 year friendship over in a matter of seconds! So why, you may ask, would I participate in such a potentially divisive penile palming? The answer is simple – look at the smiles. JUST LOOK AT THE SMILES! There is a smile, literally on EVERY face! In the end, isn't that what it's all about? If applying the mandible claw to Joey Ryan's genitalia last night was wrong…I don't want to be right!
Please let me know how YOU feel about this gripping problem!
The #MickFoleyMemorabiliaAuction begins tomorrow at http://rainn.org with 100% of profits going to #RAINN."
Joey Ryan uses his penis to block Mr. Socko and flip @RealMickFoley at @OTT_wrestling in Dublin, Ireland. pic.twitter.com/sq9kZ6l6ZB

— Joey Ryan (@JoeyRyanOnline) 6 August 2017
Joey Ryan also commented on the spot with the following:
How long do I need to kill the business for before it dies? Or even shows any damage? Because wrestling is in a fantastic upswing right now.

— Joey Ryan (@JoeyRyanOnline) 7 August 2017
– When asked what were the best things about working for WWE besides the money, here is what Cody Rhodes said:
WrestleMania, Connors Cure, all kinds of stuff

(The money, nah. In my case being non exclusive my gross is almost triple what it was there) https://t.co/4bqaIEouTN

— Cody Rhodes (@CodyRhodes) 6 August 2017
– On his recent podcast, Eric Bischoff commented on WWE giving away the first John Cena vs. Shinsuke Nakamura for free on television:
"Hard to judge if it's right or if it's wrong but I was faced with the same thing in Hogan vs Goldberg. "How could you possibly give that away?" Well because we had to stimulate television ratings. Our backs were against the wall. More so now than where WWE is right now. Sometimes you have to do it, there are reasons to do it."