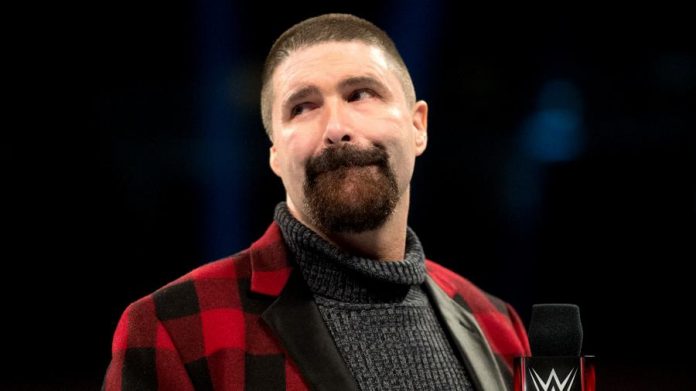 – WWE Hall of Famer Mick Foley had a one-man show on his 20 Years of Hell tour on Thursday night in Phoenix. After the show, a fan asked Foley who he wishes he could have wrestled.
I really wish I could have wrestled Bruiser Brody or @HulkHogan. I hope you had a great time tonight! https://t.co/TspRzx49oB

— Mick Foley (@RealMickFoley) May 25, 2018
– WWE issued the following:
LOS ANGELES – BOOM! Studios and WWE unveiled a first look at "Fight Forever," the new storyline beginning in "WWE #18," available Wednesday, June 20.
WWE Superstars Kevin Owens and Sami Zayn joined forces at WWE's Hell in a Cell event after a grueling rivalry, but how did Owens convince Zayn to put aside their differences and join his mission? The story of this alliance is told by the acclaimed "WWE" comic book creative team of writer Dennis Hopeless (Marvel's "Jean Grey") and artist Serg Acuña."WWE #18" features a main cover by Dan Mora ("Saban's Go Go Power Rangers"), along with variant covers by Adam Riches ("G.I. Joe"), Brent Schoonover ("Captain Marvel") and Marco D'Alfonso ("I Am Groot").
"The friendship — and rivalry — between Kevin Owens and Sami Zayn is one of the greatest stories in modern WWE history," said BOOM! Studios editor Chris Rosa. "When we saw there was an opportunity to go behind the scenes and show more of their story than fans have seen before, it was a no-brainer."
Print copies of "WWE #18" will be available on Wednesday, June 20, at your local comic book store or at the BOOM! Studios webstore. Digital copies will also be available from ComiXology, iBooks, Google Play, and the BOOM! Studios app.
For continuing news on the "WWE" comic book series and more from BOOM! Studios, stay tuned to www.boom-studios.com and follow @boomstudios on Twitter.