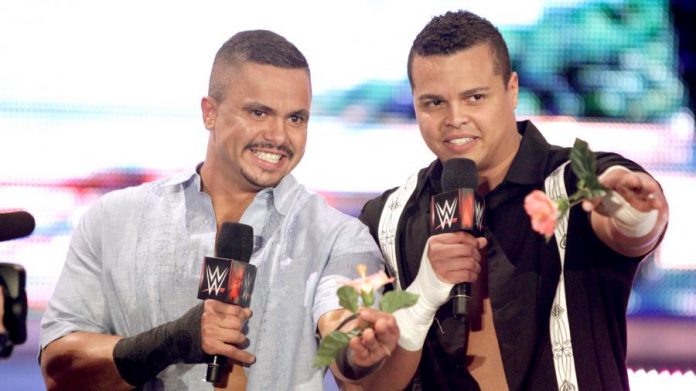 The personal rivalry between The #WWEChampion @JinderMahal and @WWE's Rockstar @ShinsukeN will be settled at #HIAC! #WWENoMercy pic.twitter.com/P5MoynuThQ

— WWE (@WWE) September 25, 2017
– Above is a promo for Shinsuke Nakamura vs. WWE Champion Jinder Mahal at the October 22nd WWE Hell In a Cell pay-per-view.
– Primo Colon returned to the ring at Saturday's WWE SmackDown live event in Rio Rancho, New Mexico. He also worked Sunday's live event in Las Cruces, NM as The Colons teamed with Erick Rowan and Baron Corbin for a loss to Luke Harper, Sin Cara and The Hype Bros. Colon had been out of action since late June with a knee injury. He reportedly underwent knee surgery in mid-July and was back on the road traveling with WWE the second week of this month.
– As noted, RAW Women's Champion Alexa Bliss appeared on RAW Talk last night and took shots at Mickie James to set up a potential match for tonight's RAW. Bliss said she could beat Mickie in less than 2 minutes and called her an old lady, among other knocks. Mickie took to Twitter last night after No Mercy and responded with these tweets. Also below is an Instagram post that Mickie made before No Mercy, noting that she is back and she's coming for the winner of the Fatal 5 Way.
Lol @AlexaBliss_WWE tall talk 4 some 1 who can't see over the top rope much less reach the Bar I hold. Ps… you're "OLD" jokes are old! ?

— Mickie James~Aldis (@MickieJames) September 25, 2017
Let me remind you @AlexaBliss_WWE of who I Am! It's obvi you've studied @trishstratuscom But study my matches. Might learn somethin' lil one

— Mickie James~Aldis (@MickieJames) September 25, 2017
Remember when @marilynmanson schooled @justinbieber ?! Yep That's what's happening right now. No offense Beebs! You're Totes adorbs #HowTall

— Mickie James~Aldis (@MickieJames) September 25, 2017
They are all stars in my eyes but I am the SUN! I shine brightest of all & they all revolve around ME. #TakesABow #PutThatQuoteInYourPocket

— Mickie James~Aldis (@MickieJames) September 25, 2017
Having a me day at the Mecca while In deep thought. Tonight #wwenomercy brings you a #rawwomenschampionship without the History Maker herself. I've sat back… patiently… humbly… on the sidelines long enough watching while Girls with half my accolades… etc… get the opportunities I came back with my sights on. It seems In all this sideline sitting I forgot who I am! It seems You have too! But I remember… and soon so shall all of you! I will sit no longer. I want to wish all you ladies luck! But know this…. whomever holds that championship at the end of the night… I'm coming for you! Not some bell bottom wearing, smiling, happy to be here, yes sir girl, but a grown a$$ woman with battle scars you've yet to understand! Hardcore Country reigns again… Un-humbly yours~ MJ #igotanewadditude #ImBack #ImComing #HardcoreCountry #wwewomenschampionship