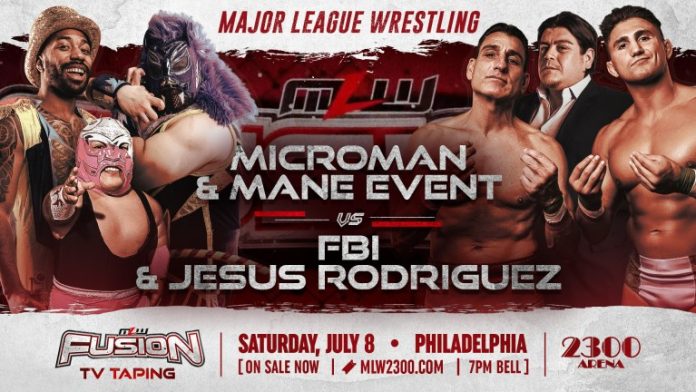 You can officially pencil in a Trios match featuring Microman for the next MLW taping.
Major League Wrestling issued a press release on Tuesday announcing a new Trios match featuring popular wrestler Microman, for their MLW Fusion: Never Say Never show in Philadelphia, PA. on July 8, 2023.
MLW.com released the following announcement:
Microman trios match signed for July 8
Bout part of FUSION TV tapings portion of event
MLW today announced Microman & The Mane Event vs. The FBI & Jesus Rodriguez at the FUSION TV taping portion of the July 8 Never Say Never event Saturday, July 8 at Philadelphia's 2300 Arena.
🎟 Grab tickets at MLW2300.com and the 2300 Arena box office. Tickets start at $15.
Come one! Come all! Witness The "World's Greatest Wonder" as three feet of fury thrills as Microman teams with the sizzling sensation known as the Mane Event!
For the first-time-ever "The Ring Leader" Midas Black and the flipping and ferocious Jay Lyon will team with Microman as the trio bring the big top to South Philadelphia.
Midas Black promises they'll astonish and amaze… that is unless the FBI and Jesus Rodriguez put this newly formed trio in cement shoes.
The "Sicilian Shooter" Little Guido feels Microman (and Micromania) disrespects the sport and is getting undue recognition by the league, its fans and the media… and he intends to do something about it July 8.
This trios bout is a part of the FUSION portion of the card.
Get your tickets and see it go down Saturday, July 8 in Philadelphia at http://www.MLW2300.com.