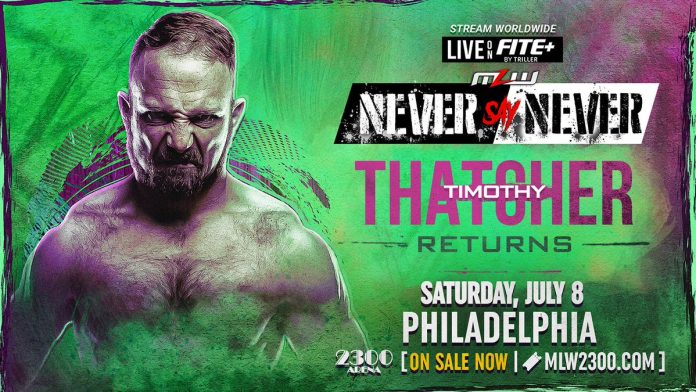 Timothy Thatcher is coming back to Major League Wrestling.
On Friday, the promotion announced Thatcher will be appearing at their MLW Fusion: Never Say Never show live on FITE+ on July 8, 2023 at the 2300 Arena in Philadelphia, PA.
MLW.com released the following announcement today with all of the details.
Timothy Thatcher returns July 8
See Thatcher's return at Never Say Never LIVE on FITE+
MLW today announced the return of Timothy Thatcher at Never Say Never live and exclusively on FITE+ Saturday, July 8 at Philadelphia's 2300 Arena.
🎟 Grab tickets at MLW2300.com and the 2300 Arena box office. Tickets start at $15.
After nearly four years away from an MLW ring July 8th's Never Say Never will see the return of Timothy Thatcher! Watch it go down LIVE on FITE+. Sign up for your FITE+ subscription now.
Considered one of the best scientific pro wrestlers in the world, Timothy Thatcher has signed the dotted line to fight in South Philadelphia.
Who will he battle? Stay tuned to the Never Say Never Control Center on MLW FUSION to find out.
See Timothy Thatcher LIVE Saturday, July 8 in Philadelphia. Get tickets now at http://www.MLW2300.com.
After 4 years Timothy Thatcher IS BACK.

Never Say Never LIVE on FITE+ July 8 #MLWNsN

🔗https://t.co/WPZJszndQz @fitetv pic.twitter.com/QyK1Hsmq5Z

— MLW (@MLW) June 2, 2023