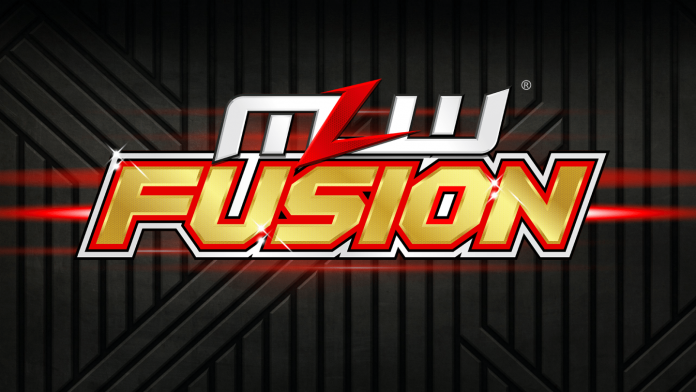 MLW Fusion Results – February 2, 2023
Juicy Finau delivered a brief in ring promo and said they want the World Tag Team gold. Anoa'i called for EJ Nduka, who is one half of the World Tag Team Champions. FBI came out instead. Guido spoke about winning gold in the same venue 20 years ago and said that he & Jaz would win gold again.
Tag Team Match
Samoan Swat Team vs. FBI
Juicy Finau headbutted Little Guido after he delivered his line to start the match. FBI got some brief offense which included a double elbow drop on Lance Anoa'i.
Finau hoisted up FBI and hit them with a Death Valley Driver and then Anoa'i performed a Polynesian Plunge for the win.
Winners: Samoan Swat Team
Footage aired of World Champion Alex Hammerstone & World Tag Team Champion EJ Nduka, while Striker hyped their Last Man Standing match for the MLW World Title for Tuesday's MLW Underground premiere on Reelz.
EJ Nduka delivered a promo in front of the MLW backdrop about challenging for the MLW World Title. He said he didn't have a silver spoon or anyone coaching him when he came to MLW. Nduka said his muscles are not just decoration. This is real life Nduka said while flexing. He said there was no more talking and he will be the next MLW World Champion.
Striker hyped the match again for Tuesday on Reelz & he also hyped Davey Boy Smith Jr. and the Billington Bulldogs appearing after a commercial break.
Striker touted MLW's online gambling website sponsor.
Davey Boy Smith Jr. was shown The Billingtons how to apply a double wrist lock in a small gym. They turned their attention to the camera. Smith said the human body is a submission hold waiting to happen. He spoke about the Bomaye Fight Club. One of the The Billingtons said they are ready.
Striker hyped Alex Kane's Peach State Prize Fight for Tuesday's Underground.
Doctor Dax vs. Vinny Pacifico
Dr Dax put Vinny Pacifico down with a clothesline and then followed up with a splash. Pacifico avoided a charging Dax in the corner and then hit him with a couple of running uppercuts. Pacifico dropkicked Dax into the corner and then played to the crowd. Dax came right back with a popup Saito Suplex for the win.
Winners: Doctor Dax
Featherweight Champion Taya Valkyrie delivered a backstage promo and boasted about beating Trish Adora. She said it was hot and called for someone to turn up the AC. She said it was about to get real hot in MLW because someone is coming real soon.
A teaser aired for Lio Rush returning to MLW.
Dombrowski played up the mystery of the calling card attacker.
The upcoming fights graphic was shown. MLW will be in Tijuana, Mexico on February 10, War Chamber will be held on April 6 in New York, and they will be in Philadelphia on April 8
Striker hypes up the MLW World Title Last Man Standing match for Tuesday.
Alex Hammerstone delivered a promo about the match while standing in front of the MLW backdrop. Hammerstone said that Nduka should have put half as much time learning a wrist lock as he's put into his catchphrases. Hammerstone said Nduka couldn't cut it in football or in bodybuilding, and he would prove that he can't cut it in the wrestling business. Hammerstone said he doesn't respect Nduka. He said that's not the frame of mind that Nduka should want him to be in heading into a Last Man Standing match.
A graphic listed Real1 shooting on the Reelz premiere.
Alex Kane and Mr. Thomas delivered a promo in front of the MLW backdrop. Kane said the people are with the Bomaye Fight Club rather than Davey Boy Smith Jr. because Bomaye is for the people. Kane said the UK is trash and nobody cool ever came out of the UK. He said nobody from the UK has been over in the United States in fifty years. Yes, he yelled Bomaye a bunch of times…
Striker recapped footage of Sam Adonis winning his MLW debut last week and spoke about him being part of Cesar Duran's growing army.
Sam Adonis delivered a promo in front of the MLW backdrop. He said the difference between him and everyone else is that he doesn't care about going viral or being famous. He said he wants to be the best in the world at what he does. He said he's with Azteca Lucha. Adonis said a genius is crazy before he is rich, and thanks to Cesar Duran he is just about a genius.
6 Man Tag Team Match
Middleweight Champion Lince Dorado,La Estrella & Microman vs. Delirious,Azteca 31 & Mini Abismo Negro
Lince Dorado & Estrella performed stereo dives onto Mini Abismo Negro & Azteca 31. Microman fired up the crowd and then acted like he was going to perform a dive but Delirious cut him off with a kick.
Delirious & Azteca took turns chopping Microman who then came back and threw a series of chops on both men before slamming their heads onto the mat. Dorado & Estrella performed stereo crossbody blocks for a two count. Delirious shoves Dorado into Estrella, who didn't see what Delirious did. Estrella shoves Dorado and left the ring. Duran followed and could be seen talking to Estrella before he went backstage.
Dorado was isolated by Azteca Underground. He eventually made the hot tag to Microman, who performed his usual spots on Negro. Microman dodges Delirious and then stomped on both of his feet, which caused Delirious to fall into a seated position. Microman headbutted Delirious's balls. Microman put Azteca 31 down with a kick and ended up performing a DDT on him.
Dorado placed Microman on the top rope and then Microman dove onto Delirious and Negro. Dorado went up top and performed a shooting star press on Azteca 31 to get the win.
Winners: Middleweight Champion Lince Dorado,La Estrella & Microman