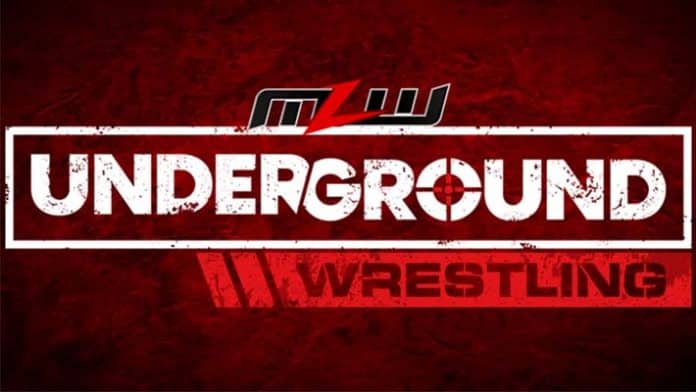 MLW Underground Results – April 25, 2023
40 Person Battle Riot Match
Alex Kane vs. 1 Called Manders vs. Akria vs. Calvin Tankman vs. Davey Boy Smith Jr vs. Delirious vs. Dr Cornwallis vs. Duke The Dumpster Droese vs. Gene Snitsky vs. Jacob Fatu vs. Jay Lyon vs. Jesus Rodriguez vs. Jimmy Lloyd vs. National Openweight Champion John Hennigan vs. World Tag Team Champion Juicy Finau vs. Ken Broadway vs. Kim Chee vs. World Tag Team Champion Lance Anoa'i vs. Middleweight Champion Lince Dorado vs. Lio Rush vs. Little Guido vs. Los Azteca #9 vs. Los Azteca #33 vs. Mance Warner vs. Microman vs. Midas Black vs. Mr Thomas vs. O'Shay Edwards vs. Raven vs. Ray Jaz vs. Ricky Shane Page vs. Sam Adonis vs. Shigehiro Irie vs. Featherweight Champion Taya Valkyrie vs. The Beastman vs. The Calling #1 vs. The Calling #2 vs. TJ Crawford vs. Tracy Williams vs. Willie Mack
Alex Kane & Willie Mack starts the 2023 Battle Riot & Kane gets hit with 2 dropkicks from Mack. #3 was Jesus Rodriguez & he helps Kane double team Mack.
#4 was Middleweight Champion Lince Dorado. Dorado works over Rodriguez with a series of moves. Rodriguez reversed a Dorado whip and sent him over the top rope but Dorado skinned the cat and stayed alive.
#5 was Calvin Tankman then #6 is World Tag Team Champion Lance Anoa'i. #7 was Microman & he headbutted the balls of Rodriguez he was in the corner then #8 was Los Azteca #33. Microman ended up pinning Los Azteca #33 to eliminate him from the match.
The 9th entrant was World Tag Team Champion Juicy Finau & he brings out a shopping cart filled with weapons and tossed a bunch of them inside the ring. Finau & Tankman picked up cookie sheets and took turns hitting one another with them. Finau picked up a white board and nails Mack with it & fired back with a kendo stick. Finau headbutted Mack.
#10 was Beastman & after crushing Rodriguez, Beastman knocks Tankman down with a running crossbody. #11 was Little Guido. Microman was stuck on the top turnbuckle and Guido went after him. Tankman pulls Guido into electric chair position. Dorado pulled Microman off the ropes and helps him dropkick Guido in a failed spot.
#12 Sam Adonis comes out & after performing a rope walk move, Adonis covers Tankman but Beastman pulls him off. Beastman squares off with Finau and then Tankman & Microman walks over. Microman bites Beastman and then works him over with a kendo stick to the groin. Microman, Tankman, & Finau eliminated Beastman.
#13 is Mance Warner & he brought a 2×4 to the ring with him and used it as a weapon. Warner pinned Rodriguez to eliminate him from the match as we go to a commercial break.
After the break we see footage aired of Warner & Adonis eliminating one another and brawling to the back, and of Kane choking out Microman to eliminate him.
#14 was Jimmy Lloyd & #15 is Mr. Thomas then #16 is TJ Crawford then #17 is Ken Broadway. They all entered the match during the commercial break and were still alive coming out of it.
#18 is The Calling making the entrys as Broadway was eliminated by someone, and then Tankman was eliminated by Page. Akira and a couple of gas mask guys forced Crawford for submit. Raven pinned Lloyd to eliminate him and then Raven sat down in the corner again. Delirious eliminated Mr. Thomas as we go to a another break.
Footage aired from during the break of Los Azteca #9 entry at #24 setting a new match record for fastest elimination when Page sent him over the top rope. Finau was tied to the ropes by The Calling and they brought a gasoline can into the ring.
#25 was Jacob Fatu & The Calling went after Fatu but he quickly eliminated Dr. Cornwallis, Delirious & both of the gas mask henchmen. Fatu unties Finau from the ropes. Akira ran the ropes and dove at Finau which sent both men over the top rope to eliminate them.
Page suplexed Fatu over the top rope but Fatu held on and pulls Page to the floor with him eliminating both men. Raven took cheap shots at Fatu & Finau on the floor.
#26 is Kimchee & as soon he gets in the ring Kane caught Kimchee in a submission hold and taps him out to eliminate him. Kane stood alone in the ring.
#27 is Midas Black & Black went up top and leapt at Kane, who caught him and suplexes him to eliminate him. #28 is Featherweight Champion Taya Valkyrie & Kane hits fisherman's buster to end Valkyrie's night.
#29 is Jay Lyon & he went right after Kane with strikes, but Kane hits a suplex and then chokes him out. Footage aired from outside the building of Matthew Justice fighting The Calling in the parking lot area.
#30 is Ray Jaz & he puts Kane down with a suplex. Jaz went to the ropes and dove at Kane but he caught him & suplexed him and then taps him out with a dragon sleeper.
#31 is Lio Rush & he hits a springboard cutter and got a near fall on Kane. Rush tried to toss Kane over the top rope but Kane blocked it and came back with a clothesline.
#32 is Tracy Williams & Williams DDT'd Rush on the top turnbuckle and tried to toss him over the top rope but Rush held on. Rush spears Williams. Kane covered Rush for a two count.
#33 is O'Shay Edwards & Edwards performed a spinebuster on Williams and then fought with Rush.
#34 Duke The Dumpster Droese & he heads to the ring with a trashcan. Droese smashes the trashcan over the head of Edwards. Kane took Droese down and put him in an ankle lock.
Rickey Shane Page made his entrance. Jacob Fatu ran out and brawled with Page and tossed him into the shopping cart at ringside.
After the break we see footage aired from during the break of #36 1 Called Manders entering the match and using a bull rope as a weapon. A graphic noted that #35 Matthew Justice missed his entrant number and was therefore eliminated from the match.
#37 National Openweight Champion John Hennigan comes out next & he threw kicks at multiple opponents and then survived when multiple opponents tried to force him over the top rope.
#38 Davey Boy Smith Jr & Manders survived a knee strike from Hennigan by hooking his feet under the bottom rope. Hennigan went through the ropes and then double stomped Manders to eliminate him.
#39 is Shigehiro Irie & he went right after Smith.
#40 & Final Entrant is Gene Snitsky & he chokeslams Rush and then worked over Hennigan.
After the break we see some footage aired from during the break of a group of wrestlers eliminating Snitsky, Smith eliminating Rush and then Smith eliminating Edwards.
The final 4 were Kane, Smith, Hennigan & Irie. Kane & Hennigan paired off and fought while Smith & Irie didn't do much. Kane caught Hennigan in a choke on the apron. Once Hennigan passed out, Kane released the hold and then kicked him off the apron to eliminate him.
Smith & Irie battled. Smith caught Irie with a clothesline and then eliminated him from the match by tossing him over the top rope.
Out final 2 are Alex Kane & Davey Boy Smith Jr. Smith & Kane traded forearm strikes in the middle of the ring. Smith suplexes Kane but he came back with 2 of his own.
Smith rolled Kane into a pin and held the tights for a two count. Kane immediately caught Smith in a rear naked choke and Smith taps out.
Winner Of The 2023 Battle Riot By Submission: Alex Kane (41:59)