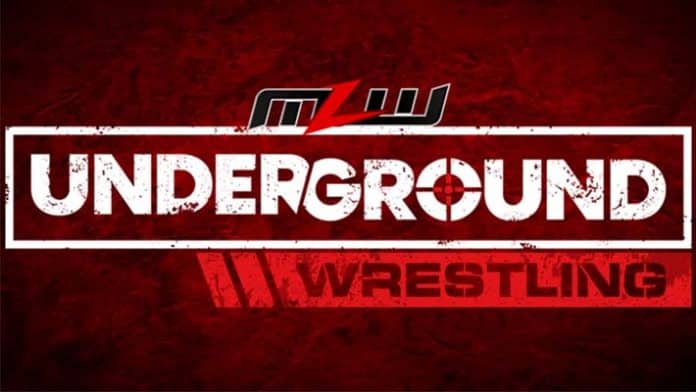 MLW Underground Results – February 28, 2023
Kicking off this week's Underground with a recap of John Hennigan debuting last week and attacking Davey Richards.
Bomaye Fight Club stood on the stage & Alex Kane said he would take the family legacy of Davey Boy Smith Jr. & The Billington Bulldogs and place it inside the Opera Cup and then burn it. Smith & The Billingtons came out and brawled with Bomaye Fight Club on the stage.
Dombrowski hyped the main event and then said there would an update on Mance Warner hitting Real1 with his car last week.
Tag Team Match
Middleweight Champion Lince Dorado & Microman vs. Azteca Lucha (Delirious & Mini Abismo Negro)
Lince Dorado performed a standing moonsault on Mini Abismo Negro and then kicks him to ringside. Dorado ran the ropes but Delirious held the top rope down, causing Dorado to fall to the floor. Abismo returned to the ring and performed a dive onto Dorado heading into a break.
After the break Dorado hits Azteca Lucha with a double cutter then the screen flashed to something presumably involving the calling card people. Microman took a hot tag and hit 6.19s on both opponents. Microman ended up rolling up Abismo to get the win.
Winners: Middleweight Champion Lince Dorado & Microman
After the match the lights went out and then three gas mask attackers (calling card guys) hit the ring and attacked Microman,Dorado & MSL as the masked guys left Dorado,MSL & Microman laying.
Footage aired of one of the gas mask men presenting Alexander Hammerstone with a gift box that contained a dead octopus.
Footage aired of a cameraman approaching Alexander Hammerstone as he drove up to a hotel. Hammerstone said Calvin Tankman was the 1st person the gas mask guys targeted. Hammerstone assumed that the Samoan Swat Team was behind the attacks and told Jacob Fatu to do better next time.
Footage aired of Mance Warner getting out of jail while Matthew Justice & 1 Called Manders were waiting for him. They gave Warner a beer and he said he owed them money for bailing him out of jail. They took delight in Warner being arrested for hitting Real1 with his car.
Billie Starkz vs. Kayla Kassidy
Kayla Kassidy attacks Billie Starkz to start the match off then Starkz eventually rallied and connects with a suplex into a bridge for a near fall. Starkz nails Kassidy to the mat with the Super Boat Driver for the win.
Winner: Billie Starkz
Sam Laterna interviewed Featherweight Champion Taya Valkyrie on the stage. Valkyrie said that she and her husband John Hennigan would be husband & wife champions in MLW. Starkz made her way to the stage and said she respects Valkyrie for her journey from Mexico to MLW. Valkyrie said of course Starkz is a fan because everyone is. Valkyrie said that based on what she just saw, Starkz needs to keep studying her tapes.
A Davey Richards video package aired.
Alex Kane delivered a backstage promo while Mr. Thomas stood behind him. Kane said that Bomaye Fight Club doesn't fight for free. He said they would do a little community service by giving the Billington Bulldogs a match against Thomas & Myron Reed. Kane said that if the Bulldogs actually win the match, he would give Smith a match.
EJ Nduka stood backstage with a chair in hand and called out for Jacob Fatu. Juicy Finau showed up and attacked Nduka, who fought back and was getting the better of the brawl when they cut away.
National Openweight Title Match
Davey Richards (c) vs. John Hennigan 
Davey Richards sent John Hennigan to ringside early in the match. Richards went to the apron for a move but Taya Valkyrie stood in his way. Hennigan took advantage of the distraction by sweeping the leg of Richards.
Richards put Hennigan down and then howled while standing on the ropes. Richards went for a double stop, but Hennigan avoided it. Hennigan set up for a move, but Richards countered into a Trailer Hitch. Cezar Duran pushed the bottom rope to Hennigan, who grabs it to break the hold.
Richards threw 3 running kicks at Hennigan and was unable to knock him off the apron. Richards went for a suplex, but Valkyrie trips the leg of Richards so Hennigan fell on top of him and got a near fall.
Hennigan threw a knee to the head and then performed Starship Pain but Richards avoided the finishing move. Richards threw a kick at Hennigan and then went up top and howled again before performing a double stop for a near fall. Richards followed up with a brainbuster for another near fall.
Richards put Hennigan in an ankle lock. Hennigan rolled over and then threw kicks at Richards, who caught his leg and countered into a Texas Cloverleaf. Duran climbs onto the apron and distracted the referee while Valkyrie entered the ring and hit Richards with the National Openweight Title & Hennigan rolls over & pins Richards to get the win.
Winner & New National Openweight Champion: John Hennigan (NEW CHAMPION!!!!)
Next week's Underground
MLW World Title Match
Alexander Hammerstone (c) vs. Lance Anoa'i
Tag Team Match
The Billington Bulldogs (Mark & Thomas) vs. Bomaye Fight Club (Mr Thomas & Myron Reed)
Jacob Fatu vs. Lio Rush