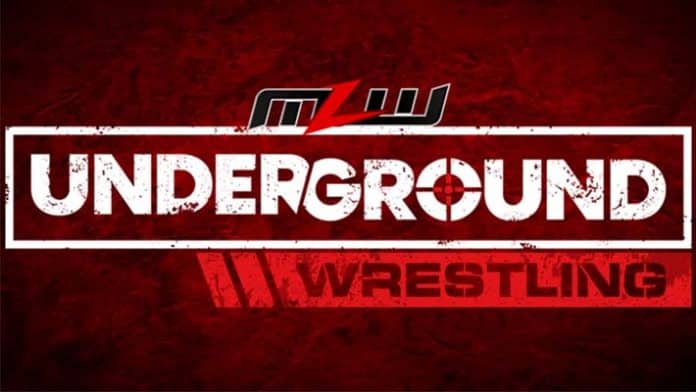 MLW Underground Results – March 7, 2023
Jacob Fatu vs. Lio Rush
Lio Rush hit him with a suicide dive and an Asai Moonsault then Rush used his quickness to avoid Fatu and then slaps him across the face. Fatu counters a headscissors takedown and hits a uranage.
Rush targets Fatu's left leg with a series of kicks. Fatu caught Rush's leg and then headbutted him. Fatu sent Rush into the corner aggressively and then Rush tumbled out of the ring head into a commercial break.
After the break Rush hits a Poisonrana. Fatu came right back with a pop up Samoan Drop follow by Best Moonsault Ever gets the win.
Winner: Jacob Fatu
After the match Fatu got a mic and calls for Hammerstone who joined him inside the ring. Hammerstone & Fatu went face 2 face and jawed at one another. Fatu shoves Hammerstone, who then shoved him back. Fatu & Hammerstone traded punches until security ran out and pulled them apart.
After the break Fatu & Hammerstone were still at ringside behind held apart. Dombrowski said they'd been brawling throughout the commercial break.
A video package recapped John Hennigan winning the National Openweight Title
Sam Adonis introduced Cesar Duran, who boasted that they are dripping in gold. National Openweight Champion John Hennigan & Featherweight Champion Taya Valkyrie entered the picture & Hennigan said he didn't feel good. He said someone better call a doctor. Hennigan removed his jacket and said his pythons are pretty sick. They all laughed at the corny joke.
Tag Team Match
The Billington Bulldogs (Mark & Thomas) vs. Bomaye Fight Club (Myron Reed & Mr Thomas)
Bomaye Fight Club attacks The Billington Bulldogs but they came back quickly and cleared Mr Thomas from the ring with a double dropkick, and then the bell rang to start the match. Mark Billington ended up performing a top rope moonsault onto Bomaye Fight Club heading into a break.
After the break Myron Reed caught Mark with a kick and then Thomas Billington suplexes him. Reed covers Mark for a two count. Bomaye Fight Club isolated Mark then Thomas steps on him while the referee made a two count. Mark eventually tagged in Thomas but the referee didn't see it, so the beatdown on Mark continued.
Thomas finally took a hot tag and the Billington Bulldogs hit simultaneous dropkicks on Bomaye Fight Club. They followed up by slamming the heads of Reed & Thomas together. Thomas powered up Thomas and bodyslams him. The Billington Bulldogs clotheslines Thomas to ringside and then performed stereo tope suicida onto Thomas & Reed.
Thomas threw Reed back inside the ring. Mark held up Reed while Thomas went to the ropes but Alex Kane climbed onto the ring apron and distracted the Billington Bulldogs. Davey Boy Smith Jr ran out and pulled Kane off the apron. Reed hit Mark with a kick but Tom hit Reed with a crossbody from the ropes.
Thomas tags into the match and took a dropkick from Mark, who had tag back in. Mark held up Thomas and then Thomas hits him with a missile dropkick to get the win.
Winners: The Billington Bulldogs
Joe Dombrowski & Matt Striker recapped the saga of Mance Warner hitting Real1 with his car and then being bailed out of jail by his buddies the 2nd Gear Crew.
A Real1 promo aired. A man pushed Real1 in a wheelchair. Real1 threatened a lawsuit and called Warner a piece of sh*t.
World Tag Team Champions Hustle & Power delivered a promo & EJ Nduka says Jacob Fatu needs to start putting respect on his name. Calvin Tankman interrupted and said Nduka was talking about himself rather than the two of them as a team. Tankman said they are supposed to be family and said no more of this I stuff. Nduka said he was right and they would take over MLW.
A Hammerstone video package aired. It included comments from Hammerstone, who said he has to put his best foot forward for himself and the company. He said he thinks there are some dream matches left to be had. Hammerstone said he lives for the big fights. He said 2023 will be the year that he proves once and for all that he is champion for a reason…
Highlights aired of last week's calling card attack on Microman & Middleweight Champion Lince Dorado.
Mance Warner delivered a promo from a stairwell while Microman sat behind him. Warner said he always has Microman's back. Warner said the calling card crew now has to deal with him and told them to come either 1 on 1 or bring the whole team.
A calling card attacker video aired. It featured Raven as the leader along with two wrestlers
MLW World Title Match
Alexander Hammerstone (c) vs. Lance Anoa'i 
Alexander Hammerstone sends Lance Anoa'i to the outside with an clothesline & Jacob Fatu stood up at the broadcast table and jawed at Hammerstone, who left the ring and brawled with him on the floor & the ref calls for the bell.
Winner: No One (No Contest) (Hammerstone retains)
Once they were separated Hustle & Power had the be pulled apart from Samoan Swat Team.
Security led Hustle & Power to the back. Hammerstone stood in the ring and held up his MLW World Title while Fatu stared him down while Samoan Swat Team stood behind him.
Next Week's Underground
MLW World Tag Team Titles Street Fight
Hustle & Power (EJ Nduka & Calvin Tankman) (c) vs. Samoan Swat Team (Juicy Finau & Lance Anoa'i)
Hardcore Match
Mance Warner vs. Ricky Shane Page