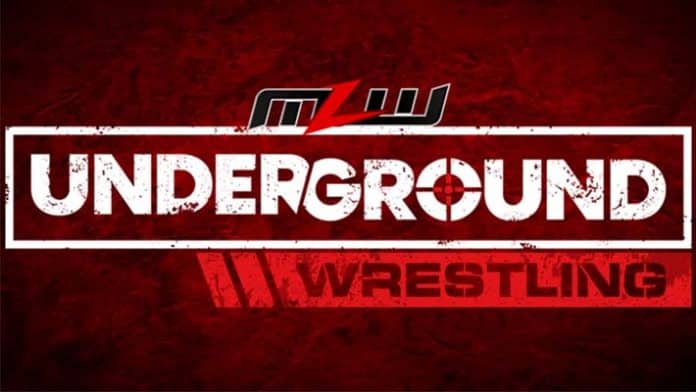 MLW Underground Results – May 2, 2023
Kicking off Underground with a recap of Alex Kane winning the 40 Person Battle Riot match.
A fan yelled that he loved Kane, who told the fan he loved them back. Kane yelled Bomaye is for and the fans filled in the people repeatedly. Kane went to ringside and had individual fans yell their part.
Kane asked if there was anyone who wasn't for the people. Kane found 1 fan and said he would beat him up later. Kane returns to the ring and holds up a white bag with a $ logo. then he passes the mic to Mr. Thomas.
Thomas started by saying Bomaye and then said he is tired of being overlooked. Thomas said no one backstage could come out and beat him including Davey Boy Smith Jr, Jacob Fatu or Alexander Hammerstone.
MLW World Champion Alexander Hammerstone made his entrance. Kane said they could do it if Hammerstone wanted the match. The other members of Bomaye Fight Club went after Hammerstone at ringside but he quickly fought them off and enters the ring.
Non Title Match
MLW World Champion Alexander Hammerstone vs. Mr. Thomas
Mr. Thomas had the better of Alexander Hammerstone as we go to a commercial break.
After the break Hammerstone hits Nightmare Pendulum to get the win.
Winner: MLW World Champion Alexander Hammerstone
After the match Hammerstone clutched his wrap left hamstring afterward. He also held up the money bag which he won by defeating Thomas then we hear the music of The Calling and they walked onto the stage. A couple of henchmen ran to the ring and were quickly knocked off by Hammerstone.
The Samoan Swat Team ran out and brawled to the back with The Calling.
Joe Dombrowski said Court Bauer held a press conference to announce that MLW would go live with the July 8 Never Say Never event that will be available via Fite Plus. Dombrowski & Matt Striker announced the main event as Alexander Hammerstone (c) vs. 2023 Battle Riot Winner Alex Kane for the MLW World Title. Dombrowski also said they would have more matches to announce when a new season of Fusion kicks off in a few weeks.
We get a Mance Warner promo from outside the building & he spoke about farm life in Bucksnort, Tennessee and then shifted his focus to fighting Sam Adonis.
World Tag Team Titles Match
Samoan Swat Team (Lance Anoa'i & Juicy Finau) (c) vs. The Mane Event (Jay Lyons & Midas Black)
Midas Black held up the hoop next to the ropes and then Jay Lyons dove through it and the rope and onto Samoan Swat Team at ringside then they were in control heading into a break.
After the break Juicy Finau comes in and takes down The Mane Event with a running crossbody then Lance Anoa'i whips Finau into The Mane Event on the opposite corner of the ring.
Finau hits Lyons with the Cocoa Driver then Anoa'i connects with Polynesian Plunge to score the victory.
Winners & Still World Tag Team Champions: Samoan Swat Team (STILL CHAMPIONS!!!!)
Dombrowski said Fusion will return to beIN Sports on Thursday May 25th and will feature the beginning of the Opera Cup tournament.
We get a video package of The Calling.
Becca came out with a mic in hand and said she had her party hat on. She called for music to play and then sang horribly about being a pop star when the fans booed, she hung her head low for a moment, then skipped to the ring. Blake climbed onto the apron and said she couldn't hear the music. She sang her song without the music in the middle of the ring. Matt Striker say ring the bell.
Becca vs. Brittany Blake
Becca sends Brittany Blake to ringside and set up for a suicide dive but Blake caught her with a punch from the floor. Blake hits Becca with 609 Kick.
Back inside the ring Becca regained control and puts Blake down with a middle rope missile dropkick. Becca hits a rolling somersault splash onto Blake at ringside. They returned to the ring where Becca performed a crossbody from the ropes for a near fall.
Becca hoisted up Blake on her back but Blake slips out and then threw a kick and a knee strike. Becca rallied with a release German suplex. Becca went up to the top rope and hits a 450 splash for the victory.
Winner: Becca
Backstage Sam Laterna is with Delmi Ex & she said her one goal is to become the Featherweight Champion.
Footage aired of the final 4 through the end of last week's Battle Riot match.
National Openweight Champion John Hennigan was shown warming up backstage while his wife Featherweight Champion Taya Valkyrie stood by.
Footage aired from during the break of World Tag Team Champions Samoan Swat Team brawling with FBI.
Dombrowski hyped that the new season of Fusion would start with the Super Series from Tijuana. He also hyped up Never Say Never.
A tale of the tape was listed for the main event.
National Openweight Title Match
John Hennigan (c) vs. Jacob Fatu
Jacob Fatu made his entrance for the main event. He was hit from behind by a chair and then The Calling attacked him. Fatu started to fight them off but he took a chair to the face and was worked over by gas mask henchmen. Akira hits Fatu from behind with a running knee. Raven, Akira & Rickey Shane Page stood over Fatu and then The Calling headed to the back while crew members checked on Fatu.
Winner: No One (Match Never Got Started)