Welcome to the first #ModernDayNitro review column, by yours truly, Rich Latta. With the release of the WCW Nitro's of 1995 and 1996 on the WWE Network, I will watch them at random and bring you all into a virtual deloreon with this column. If you have any specific shows you find interesting, let me know where to find it on WWE Network, below or on Twitter @DangerRich32. Our first show is labeled "Nitro 103." The main attractions were a Ric Flair vs Randy Savage WCW Championship match, and Arn Anderson taking on Hulk Hogan
However, it is only the 25th episode of Nitro, as they are still on their 1 Hour format, which is cut to a slim 46 minutes minus the commercials.
Live from Salibury, Maryland we opened with Eric Bischoff, Bobby "The Brain" Heenan, and Steve "MONGO" McMichael. Mongo is wearing a western style jacket that could double as a teenage girls purse. For some strange reason he has a fully dressed dog in his arm named Pepe, just thought I should mention.
ARN ANDERSON VS HULK HOGAN
How did Arn Anderson get away with not shaving his chest for all those years? Anderson is accompanied by Woman who would later, Never mind.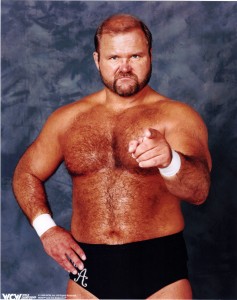 American Made Hulk Hogan came out to a rather large ovation, proving not everyone was sick of the prayers and vitamins. Eric Bischoff then throws a grenade at WWE by saying, "Do you hear that sound? The incessant whining coming from the north east part of the building? Sounds like, never mind." Bischoff wouldn't hesitate to shoot, as we would soon find out.
Immediately, Hulk Hogan opens the match as a complete heel. Complete with back scratching, choking Anderson with his own jacket, and choking him with his hands square in the middle of the ring. Maybe he was just practicing for being Hollywood Hulk Hogan.
Suddenly, Bischoff begins plugging a Baywatch appearance for all of his wrestlers, including, Hogan, Savage, Flair, and Kevin Sullivan. But not before shooting on VADER, by saying… "Oh yeah that other guy that left here with his tail tucked between his legs, Vader will be there too." "He was on the receiving end of a rather physical conversation with Paul Orndorff not long ago." The balls of Bischoff.  Vader had recently debuted in WWE, so we could chalk that up to sour grapes.
As the match went on, it just became clear that Mongo might have been one of the worst announcers ever.
Hulk Hogan is kicking the crap out of Anderson for pretty much the whole match; kind of weird considering that's not how any Hogan matches from then are remembered.
The finish comes when Hogan applies a figure four that the IWC would have roasted him for had it existed in 1996. As Anderson looked to be fading, Kevin Sullivan sprints toward the ring, and is met by the Macho Man Randy Savage who stopped his interference. At once, the bell was called for. However, Savage never made contact with Hogan or Anderson. Arn was given a DQ victory. WCW everyone.
Alex Wright vs The Loch Ness Monster & Belfast Bruiser vs Brad Armstrong
These two matches were pretty much here to fill time. I was slightly disappointed when Alex Wright didn't enter the arena doing the "Alex Wright Dance." Apparently he hadn't started doing it yet. One has to wonder what went wrong for him? He had a look and was extremely athletic.
The Loch Ness Monster, who looked like a 55 year old Bray Wyatt, who gained 100 LBS, pretty much squashes him then yells something into the camera about Hulk Hogan. Watch it back and comment below or tweet me what you think he said.
As we continued, I was surprised by the appearance of one Fit Finlay, who was going by the name "Belfast Bruiser." Having gotten so used to his short haircut, I forgot how absurd his mullet was. He had a shoulder length black and gray mullet to go with a mustache that you must see to believe.
His jacket was like a football player meeting a Rock Star.
He was taking on Brad Armstrong who entered wearing a USA Jacket. Hey maybe he can fight Rusev? As Armstrong enters, Bischoff begins putting over his cruiserweight credentials, while mentioning an upcoming international event WCW was holding.
Shortly after we were treated to the #MONGOGEM of  "WE CALL IT WORLD CHAMPIONSHIP WRESTLING, BECAUSE IT'S HAPPENIN' ALL OVER THE WORLD NOW!!"
Yes Mongo, it is. (If you find anymore #MONGOGEMS feel free to share them below)
Very technically sound match, but I just couldn't get past the double MULLETS of Armstong and Belfast. I mean people were growing these things out and wearing them, ON NATIONAL TELEVISION. Belfast Bruiser defeated Armstrong while the announcers talked about the main event. Speaking of that.
THE MAIN EVENT!
WCW Championship
Ric Flair ( C ) vs Macho Man Randy Savage
Flair is out with Elizabeth and Woman, who is out for her second appearance of the evening. 2 CHECKS! What I thought of immediately was Flair wasn't lying about Elizabeth wanting him back around Wrestlemania 8. Flair was crazy to go after, That Guy's woman.
Bobby Heenan finally comes alive after seemingly falling asleep during the last two matches, when all of a sudden, Flair is shown ringside with the title on his waist with two women on his arm singing…
"I'VE GOT THE WHOLE WORLD IN MY HANDS! WOO!!"
How were we supposed to boo Flair?
A few things,
•        I forgot how much Woman used to scream
•        Flair left Savage's name on the title and used that to taunt him.
•        Liz figured out the sexy part.
•        THIS IS A FORMER WRESTLEMANIA MATCH ON LIVE TELEVISION, OF COURSE NITRO WAS MORE INTERESTING.
The storyline going into this match was, basically, Flair was ruining Savage's life. Flair beat up Savage's dad, took his woman, his title and was now living in his house. Again, how were we supposed to boo Ric Flair?
Savage and Flair take turns gaining and losing the advantage in the match, highlighted by Savage stealing Flair's finisher, until Woman throws her shoe to Flair, only for it to be intercepted by the Macho Man who clunked The Nature Boy with it.
Savage looked to have scored a dirty pin until Kevin Sullivan once again runs down, only this time he was stopped by Hulk Hogan from interfering. During the confusion, Arn Anderson slips in and DDT's Savage with the fury of 1000 Suns, to give Flair the pin.
Flair's pin gave way to a Sullivan/Flair/Anderson beatdown until Brutus Beefcake runs down to clear the ring. The WCW Announcers play like they have zero idea who he is, while the rest of the world wondered where his hedge clippers were.
While this is happening, Flair stormed the set and cut an insane anti-Hogan promo where he referred to himself, Sullivan and Anderson as "The New Kids On The Block" (Flair had been wrestling for over 20 years at this time) until they were chased off.
Hogan, at the height of his cheesiness, immediately stares into the camera and books a 6 man tag match for the following week, Hogan/Savage/Bootyman vs Sullivan/Flair/Anderson, while Randy Savage threatened to knock Bischoff out. Heenan fled the scene. Hulk puts Bootyman over by saying, "If He Can't Kick Your Can, Nobody Can!" Painful.
The 46 Minutes were just right for this broadcast. For 1996 standards, this wasn't a bad show at all. It's not a chore to sit through, as some Nitro's would later become. However, WCW was in clear need of an injection of fresh talent, which would arrive in a few months.
POSITIVES:
•        Hulk Hogan, Ric Flair and Randy Savage are all in action
•        Bischoff Shooting on Vader
•        THE MULLETS
•        Flair being Flair
•        Title match on free TV
DISAPPOINTMENTS
•        THE MULLETS
•        Weird finishes
•        Mongo Commentary
•        No Luger or Sting
•        No Das Wunderkind Dance
NITRO MVP POWER RANKING
1.      Ric Flair
2.      Hulk Hogan
3.      Randy Savage
What do you think? Comment below with your thoughts, opinions, feedback and anything else that was raised.