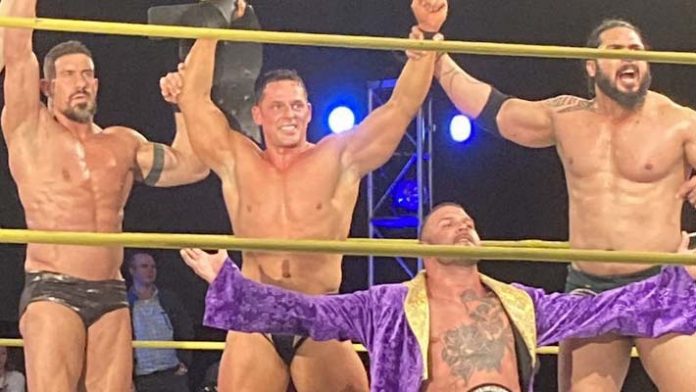 "Mr. PEC-Tacular" Jessie Godderz is once again the OVW National Heavyweight Champion.
He won back the title at the 2023 OVW Nightmare Rumble PPV on FITE+. He has now held the title two times, earning his 11th title in his pro wrestling career, including 2 Impact Wrestling Tag Team Championship Title Reigns with The BroMans.
He also formed a new faction that is going by the name, The Godderz Gang, which consists of EC3, OVW Heavyweight Champion Mahabali Shera, OVW Rush Division Champion "Certified" Luke Kurtis, Adam Revolver, and Shannon The Dude.
Godderz spoke exclusively to PWMania.com last year, revealing offers he's had from WWE, you can check out the complete interview by clicking here.
The winner of the 2023 NIGHTMARE RUMBLE #AndNew OVW National Heavyweight Champion…"MR. PEC-TACULAR" JESSIE GODDERZ! pic.twitter.com/zyclB4Wglz

— OVW Wrestling (@ovwrestling) January 8, 2023
I FINALLY GOT MY TITLE BACK!

Meet Your NEW OVW NATIONAL HEAVYWEIGHT CHAMP!

The #GodderzGang is THEE STRONGEST, MOST DOMINANT FACTION IN PRO WRESTLING HISTORY:

ME
SHERA
EC3
LUKE KURTIS
ADAM REVOLVER
All Led by MY AWESOME MANAGER SHANNON THE DUDE!#LEGENDS #11xCHAMPION pic.twitter.com/2MzfndqAsw

— Mr. PEC-Tacular®️ (@MrPEC_Tacular) January 8, 2023
Godderz issued the following statement:
"HAPPY NEW YEAR…TO MYSELF!!!
FINALLY, MY OVW National Heavyweight Championship Title is back around my waist. Or should I say…back around my 8 PACK ABS!!! I told you it would happen. It was just a matter of time.
Everything is right with the world once again.
Also, you just witnessed the coming together of THEE MOST DOMINANT, MOST DESTRUCTIVE, and MOST POWERFUL FACTION in Wrestling History.
It's made up of some of the Top Superstars in all of wrestling today:
ME
EC3
THE INDIAN LION MAHABALI SHERA
CERTIFIED LUKE KURTIS
ADAM REVOLVER
and
THE BEST MANAGER in Pro Wrestling today SHANNON THE DUDE.
We are known collectively as THE GODDERZ GANG!!!
Never before have such EXTRAORDINARY talent from around the world all formed a single union this strong and this devastating. Every single member of THE GODDERZ GANG is truly an EXCEPTIONAL ONCE-IN-A-LIFETIME TALENT.
Mark my words, we are going to run roughshod over all of OVW and, frankly, all of wrestling!!!
This is a warning to EVERYBODY at OVW and to EVERYBODY in our sport. THE GODDERZ GANG is taking over and there is nothing you can do about it. WE ARE UNSTOPPABLE!!!!!"