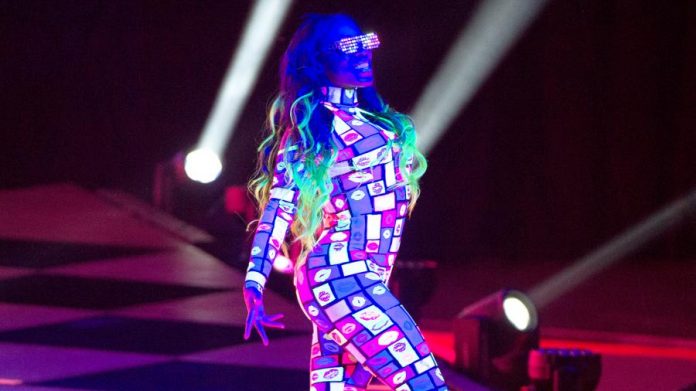 The following was issued the following:
WWE Superstar and Total Divas star Trinity aka Naomi is the special guest on AfterbuzzTV Total Divas Aftershow
Get it on YouTube: https://youtu.be/-GDr_nnVMzg or download the podcast version on iTunes:  https://itunes.apple.com/us/p odcast/total-divas-s-7-trinity -fatu-interview-afterbuzz-tv/ id680982706?i=1000396638916& mt=2  with highlights below:
Naomi says she wants to wrestle Beyonce someday: I would have to say Beyonce, because she's my idol. Beyonce is great at everything, you can't be great at wrestling too. I think that is one thing she's not good at & I would be better at her.
Naomi mentions how she would like to face Melina, Lita, Trish & more :I would bring back some woman from the attitude era. Lita , I think she's freaking amazing! Melina, that is definitely someone who influenced me. Trish of course! I thought some of those woman were killing it back then & I feel like because of the time period, a lot of those woman didn't get the credit they deserve but they were kicking ass back then & also opened a lot of door for us.
Naomi brings up the thoughts of opening up a bar with her husband Jimmy Uso (Jon Fatu):Jon (her husband) and I eventually want to open some business. We've been talking about having our own bar, naming it the square circle, but it would be wrestling vibe and something relatable to us and for our fans.
Naomi comments on having her own hair line or company in the future:I would love to have my own hair company. My own hair line, when I tell you I know everything is to know about hair, I've experience every type of hair, I've had every hair stylist, I've re-grown my hair out so many times I know so much about that witch is why once I get my hands into it, I would be so good with it. I'm so passionate about hair! Especially as a black woman it's just another whole – ya'll don't know the struggle (laughs). It's an amazing business that I'm very interested in, it's a multi billion dollar company.
Get it all on this week's brand new episode Total Divas Aftershow on AfterBuzz TV.  Two words for you…DOWNLOAD IT!