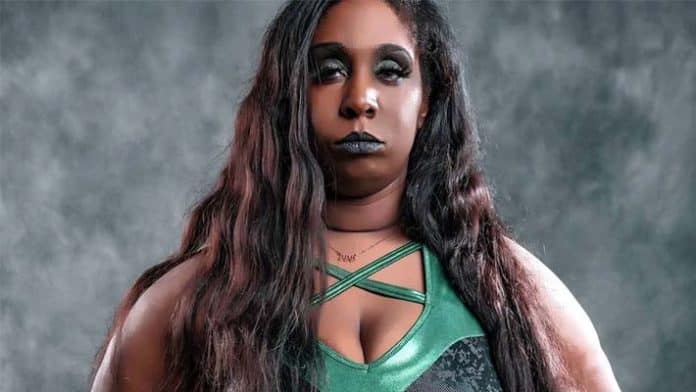 In an exclusive interview with PWMania's Scott Mitchell (@ScottsScoop44), independent wrestling star Nevaeh Chantelle shares her story about how she got her start in wrestling, her time on the indies so far, and what's next for her.
The Beginning of Nevaeh Chantelle
"As a kid, I was always kind of quiet and just kept to myself," Chantelle tells PW Mania. "I was very introverted and was always picked on. I had friends, but it was just one or two girls that I hung out with."
"My uncle has a collection of wrestling tapes, and one day I just popped one in which turned out to be Unforgiven 2000," says Chantelle. "I was just in awe. I loved the stories and just fell in love with it overall."
Over time, Nevaeh started watching Smackdown, and Raw and was hooked from the first moment she saw professional wrestling. "It's always been that one consistent thing for me that I enjoyed," says Chantelle. "WrestleMania 17 was the first pay-per-view that I ordered." Recently, Nevaeh and her sister went to Dallas and watched WrestleMania live together, this was a full-circle moment for Nevaeh.
Growing up, Nevaeh was always a big fan of Chyna, Triple H, and Edge. "Growing up, I was always the devil's advocate," says Chantelle. "Anyone who grew up in that time knew Triple H was about as bad as it gets. My friends loved The Rock, and Stone Cold, but Triple H was always my guy."
Growing up, Nevaeh never considered herself to be "athletic," so she knew wrestling training wouldn't be easy. "I did the college thing, but I got in trouble a lot," says Chantelle. "The bullying I received made me a miserable person. I was drinking, partying, and in the wrong crowd."
"I had some very low points with depression," says Chantelle. Nevaeh was looking for a sign on what to do with her life… she received one. "I was watching AAA in Mexico and I saw Taya Valkyrie. This was around the time she became the Reina del Reinas champion for the first time."
"I just thought her story was amazing," says Chantelle. "She didn't know the language, but her passion for wrestling took her to a brand new country. It embedded in my brain that your limitations don't forbid you from being the best at something you're passionate about."
Nevaeh Chantelle Begins Her Journey
While she was nervous, over the next few months professional wrestling training was always on her mind. When she started training, she was 24 years old and was dealing with other responsibilities as well.
"In late 2015, I saw an ad for Monster Factory," says Chantelle. "They were offering a tryout, which I signed up for. My tryout was with Danny Cage, QT Marshall, and Damian Priest. I just remember being a nervous wreck. I took my first bump and thought I was concussed, which I wasn't."
That night, Nevaeh got a phone call that she would be accepted to Monster Factory and was able to start her journey. While her time with Monster Factory may have been a "bumpy road," Nevaeh had a few trainers who she liked a lot.
"Damian Priest was such an amazing trainer," says Chantelle. "While I didn't get to work with QT Marshall that much, he gave great advice when we spoke. The main trainer I had was LSG. He was a phenomenal trainer. He took on all the trainees and taught me basically everything that I know. I'm so grateful for his patience."
"It took me a while to pick stuff up, but I'm so grateful for him," states Chantelle. "That first year I went through a lot personally. Wrestling was the escape, and it made me realize that this was the right decision. I'm grateful for the learning experience I had at Monster Factory."
In late 2017, Nevaeh knew her first match was coming up. "January 5, 2018," states Chantelle. "I wrestled Riley Shepard, and it was so cool. I was nervous and it didn't click until I was dressed in my gear and looking into the mirror. That's when I realized this was actually happening."
"I wrestled my heart out," states Chantelle. "Riley Shepard was an amazing opponent. She's a leader in the ring, and I'm really proud of that match. It was two and a half years in the making. While it was still the beginning, it also marked the end of just being a trainee. I had good confidence too. That whole experience was amazing."
After Covid, Nevaeh decided she needed a change and switched to the Fallout Shelter in Brooklyn as her new school. "I just needed a break and needed a change," says Chantelle. "I live in Philly, and at the time, their school was in Queens. I happened to see an ad for them and saw it was reasonable for me to go there."
For most of her career, Nevaeh wrestled in North Jersey or New York, so making the trip to New York from Philadelphia wouldn't be too much of a challenge. "I went to the open house," states Chantelle. "I started there the first week of June 2021 and never looked back. I train under Mike Law, Masha Slamovich, Steve Pena, and Jorge Santi. I took some time off from taking bookings, and just got a new mindset of how wrestling should be."
Rivalry with Mother Endless at We Want Wrestling
One of the hottest rivalries on the indie scene of recent memory came from We Want Wrestling. Nevaeh Chantelle and Mother Endless put on quite the show and told some incredible stories in their matches together.
"At the end of the pandemic, a lot of wrestling was still closed," says Chantelle. "I was doing CZW Dojo Wars the year before, and that's where I first met Mother Endless. We worked a match together there, and then we did the We Want Wrestling bookings."
This was the first time that Nevaeh was ever able to have a story and perform in stipulation matches. Nevaeh and Mother Endless faced off in a Kendo Stick match and finished off their feud in a Falls Count Anywhere match.
"I liked the fact that they had a reason and weren't just booked to be booked," states Chantelle. "The first two matches, Mother Endless beat me because of Kendo Sticks, which led to the Kendo Stick match. Then we had the finale which was our Falls Count Anywhere match. I enjoyed the feud a lot. If we did it again, I know we could top that. We both progressed a lot for sure."
Teaming with Karen BamBam and wrestling on CZW
Over the course of her time in CZW, Nevaeh got the chance to team up with another talented independent wrestling star, Karen BamBam. "We had similar body frames, and I think they put us together because of that," says Chantelle. "I enjoyed it so much. The whole tag experience forced me to grow as a wrestler."
Combat Zone Wrestling was one of Nevaeh's first more frequent promotions outside of Monster Factory. "It was basically doing TV because this was a weekly thing," states Chantelle. "Working with Karen and watching her from the apron was probably one of the best learning experiences I ever had. Karen was a great teacher. She is one of the most underrated talents in the indies and deserves so much more. She should be booked all over."
What's Next for Nevaeh Chantelle?
Coming into the new year, Chantelle has a couple of different goals in mind. "I want to win my first championship by the end of this year," states Chantelle. "I want to make new debuts, and face new opponents."
Nevaeh would also like to do work in AEW, and work in Japan one day as well. "I've been on a huge Joshi kick," says Chantelle. "For the first time in years, while I have real concrete goals, I also have plans on how to reach those goals."
If you wish to follow her, you can find her on Instagram, and Twitter. You can also support her by buying her merch here.